Last updated on May 2nd, 2002 by Karen Shelton
Introduction
The Big Ponytail Prom Hair is one of the hottest Prom hairstyles for the present.
Back in the 1980s hair was big and beautiful. Madonna wore a big hairspray infused high ponytail to the AMA Awards in 1985 and set off a big ponytail craze.
Scrunchi and similar elastic bands were hot and were the hair accessory of the period for holding big ponytails securely in place.
Related Content: Prom Hair Countdown Prom Hairstyles & Related Articles
Back combing was a must to get the big bodacious hairstyle look.
The va-va voom big ponytail has been modified to be more contemporary.
The good news? Big ponytails can be worn with the base either at the top of the head near the crown, halfway between the crown and nape or tucked down at the nape with hair flowing out into big beautiful fluffed and puffed strands like shown in the image to the side.
How To Create Big Ponytail Prom Hair
Courtesy PromGirl.net All Rights Reserved.
1. Wash by washing hair in lukewarm water with the best products for your hair type, texture, length and condition. Utilize the best cleansing process for your strands such as Conditioner Only Wash (CO-Wash), Diluted Shampoo (DS), Water Only (WO) or a range of shampoo formulations including LoPoo and NoPoo.
If you have chemically treated or colored hair be sure to use a product designed to extend the color or add needed moisture like Phytobrush. If you wish to enhance your natural texture consider using a texture enhancing product mix like PhytoCurl which helps define curls.
2. Rinse well and apply a rinse-out conditioner. With the conditioner in your hair use your fingers or a wide tooth comb to detangle strands. Work from the ends to the roots.
3. After detangling rinse well. Finish with a cool or cold water final rinse to seal in moisture, add shine.
4. Carefully squeeze out any excess water with your fingers. Do not rub wet strands. Use a combination of techniques from squeezing out the excess water and then blotting strands with a towel.
5. Towel blot with a thick towel to remove excess moisture. Avoid towels without rough fibers and loops. It's best to wait until hair is no longer dripping before applying styling products.
DC Media All Rights Reserved.
6. Apply cocktail of designed styling products including, but not limited to, a leave-in conditioner, a defrisant, styling cream and/or mousse to the middle and ends. Use styling products which work best for your hair type, texture and styling needs. Don't be afraid to layer products to get the most appropriate results.
Note: Avoid applying product near the roots which may weigh them down except in the case of adding volume sprays like Phytovolume Actif or similar. You may wish to mix a defrisant products along with your styling product to add texture and block frizz at the same time. It is possible to mix Phytodefrisant with your favorite mousse, glaze or paste.
7. Separate hair into 6-8 equal sized sections. The ideal sectioning would include two sections on either side and 4 in the back.
8. If a fringe is desired create it at this point. With a comb create desired side part on either side of your head. Blow dry the fringe before drying the rest of the hair.
9. Use a boar bristle paddle brush along with a blow dryer to blow dry each of the 6-8 sections straight. Use a cool setting on a low speed to avoid blowing out the newly formed texture.
10. When hair is completely dry separate into 6-8 individual sections.
11. Create beautiful body by misting each section with a volumizing formula. Roll the hair on hot rollers.
DC Media All Rights Reserved
12. Roll each section onto hot rollers. Allow roller to completely cool before removing.
13. Separate out the front side-swept fringe from the rest of your hair. Pull the remaining hair back into a low ponytail with the base of the ponytail resting right about the nape of the neck. Secure with a hair friendly elastic in the same color as your current hair.
14. Take 1-2" sections of hair from the newly created ponytail. Use a 100% boar bristle brush and backcomb the section until you have achieved the desired fullness and height. For more fullness backcomb the section of hair before smoothing with fingers.
15. Lightly tease front fringe section. Smooth strands down and softly sweep back low across forehead to create a soft fringe.
Optionally this gorgeous updo hairstyle can be created without a fringe. The hairstyle can be modified to work with your specific goals.
16. Finish by using a shine serum like Phyto's PhyoLisse or Rene Furterer's Spray Gloss.
Apply the shine serum or spray of choice to the palms of your hands. Rub the product into the palms and then lightly glide over the top of the teased style to add instant shimmer and shine and remove any roughness.
Optionally you may prefer to spray well with hairspray like Phytolaque or Phytolaque Soie made with real silk that adds a soft sheen to the final look and will also help soften the overall finish.
Allow the hair spray or shine products to completely dry. Glide a beautiful jeweled comb or other crystal encrusted hair accessory at the base of the pony to finish the Big Ponytail Prom Hairstyle
Big Ponytails For Naturally Curly, Kinky Or Curly Hair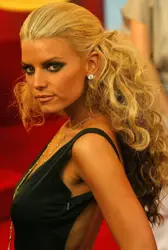 DC Media All Rights Reserved.
One option to create a big ponytail is to take a headband or cut the elasticized part off the top of a pair of pantyhose, pull it onto your neck like a necklace, then slide it up, and keep on pushing it backwards until your hair becomes a ponytail of the size you desire.
The less you push it back the larger the ponytail will be. The key to a huge ponytail is pulling all of your hair together-but as loosely as you possibly can.
You can also take an individual knee-high pantyhose, stretch it out a bit, and then wrap it around your head and tie it at the bottom like a head band. Pull ends tighter to pull hair back and stop when the ponytail puffs out the size you like.
Summary
The Big Ponytail Prom Hair is one of the hottest Prom hairstyles for the present.
You can also custom design the hairstyle for your face shape by experimenting with different parts and fringes.
Social Media Network Information
Please follow me on Twitter at: http://Twitter.com/HairBoutique.
I look forward to meeting new people
from all walks of Twitter and learning from their Tweets. Visit us at Hairboutique.com located at: http://www.HairBoutique.com, on Facebook, MySpace and YouTube.
Thank you for visiting us at The HairBoutique Blog and for leaving your comments. They are very much appreciated. We apologize in advance but must remove any direct advertisements or solicitations.
- Revised Publication Date: 04/26/11
If you want to talk more about this or other hair care articles on HairBoutique.com or anywhere else, please post a message on HairBoutique.com's Hair Talk Forums.