Last updated on August 28th, 2000 by Karen Shelton
Introduction
Vanessa Anne Hudgens hit the big time with her original role in Disney's High School Musical (HSM) first shown back in 2006. In HSM she played the brainy but shy Gabriella who discovers she has a secret passion for singing. She overcomes her shyness and tries out for the student musical.
She instantly became the "It Girl" to copy due to her mass of thick shiny black curls and her chic fashions.
Vanessa's rising popularity skyrocketed in 2007 when HSM2 was released. After HSM1 and HSM2 captured global adoration, the anticipation for the release of High School Musical 3: Senior Year was apocalyptic.
Vanessa recently appeared on the Red Carpet to promote High School Musical 3: Senior Year wearing a fresh white Calvin Klein dress. Her makeup was perfection.
Her cloud of rich dark chocolate tresses cascaded from an off-center part into ultra long layers of soft waves and curls. Along the sides of her face adjacent to her part her hair was coiffed into very loose forties-style finger curls ala Rita Hayworth 1946.
Vanessa has a combination face shape with a square chin and jaws but a wider forehead. The way her hair parts on either side of her eyebrows with matching side sweeps of strands definitely minimizes her wide forehead.
The rest of Vanessa's hair is arranged to nestle into her face from her check bones down below her chin, to the middle of her back. In essence Vanessa's hairstyle is one part Glam 40s, one part 1970 center part ala Ali MacGram ending with one part 2008 lush natural tousled curls.
The hair style hints at Vanessa Anne's wide side but is still groomed enough to provide a more innocent appeal.
Steal Vanessa's Long Lush Strands
Vanessa Anne Hudgens knows how to achieve a great balance with her raven hued hair by combining cool and casual softness with glammed up sassiness for special events.
Step By Step Instructions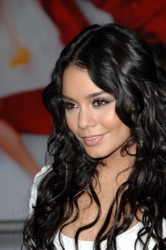 DailyCeleb.com All rights reserved
The High School Musical cutie has a squared off chin with a face shape that's a cross between a heart and oval. Her jaw is pronounced and depending on how she wears her hair, gives the illusion of a square facial shape.
Vanessa's hair rocks loose S shaped waves intertwined with ringlets which cascade off a deep side part and a full side-swept fringe. The swooping bangs helps to minimize the young star's forehead and make her eyes look bigger.
This hair style works best for hair that has natural bend such as natural waves or loose curls. If your hair is stick straight, you will have to use hot rollers and/or curling irons to achieve the same results.
Follow the steps listed below to steal Vanessa Anne's tousled spiral curls and waves:
1. Cleanse hair with a product designed to address your hair's special texture needs.
Depending on the texture (straight, naturally curly, wavy, kinky, etc.,) of your hair you may wish to either cleanse with a diluted shampoo formulation (1 part shampoo to 3 or 4 parts water) or wash with conditioner only (CO). Choose the best historical cleansing steps for your hair's natural texture.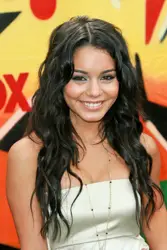 DailyCeleb.com All rights reserved
If you color, highlight or chemically treat your strands, select a shampoo that supports those treatments as well as your natural texture.
Note: One to try - Ken Paves gentle moisturizing Healthy Hair Daily Shampoo
2. Apply the appropriate rinse-out conditioners. (Avoid if hair is super thin, fine or tends to flatten easily). Rinse out or deep conditioners are excellent steps to take for strands which may be damaged.
Note: One to try - Ken Paves Healthy Hair DailyConditioner.
If you wish to amp up your hair color like Vanessa Anne's use 1-2 pumps of Ken Paves Boost Up color with your daily conditioning rinse. Select from a variety of colors depending on your current hair hue.
3. Finish with a cool/cold water rinse to close cuticles and encourage natural shine.
4. Towel blot and apply very light cocktail of desired leave-in detangler, conditioner or other styling products (firm holding mousse or gel).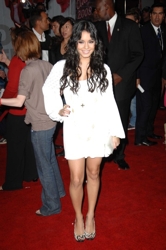 DailyCeleb.com All rights reserved
Ken Paves Boost Up color can also be added to your leave-in or other styling products for extra color oomp.
If hair frizzes easily, apply a defrisant balm like Phytodefrisant or similar to damp strands to prevent frizz while still allowing barely-there waves to form.
5. For extra volume and control around the face, crown and sides, apply a firm holding hair cream or sculpting gel.
Note: One to try: Ken Paves Healthy Hair Curl Balm.
6. Separate hair into individual 2" sections. Working from side to side around the entire head blow dry hair with blow dryer with long finger diffuser.
Avoid touching your strands with your fingers as you work to avoid frizz. When possible, use the slowest, coolest setting. Allow strands to rest in the base of the diffuser cup as you direct air flow through the strands.
7. Once each section of hair is 100% dry, clip or pin the section into a twisted ringlet pattern against your scalp and continue drying the next section.
8. When hair is completely dry and pinned against the scalp, spray entire the entire head with a firm holding spray like PhytoPro Strong Finishing Spray or Ken Paves Healthy Hair Shaping Finishing Spray.
Allow spray to dry completely before removing pins or clips.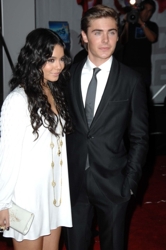 DailyCeleb.com All rights reserved
9. Right before leaving the house unpin all the hair sections and use fingers to tousle the newly formed barely-there waves. If desired, use a small or medium barrel curling iron to touch up any disconnected curl sections.
Note: For more defined waves set hair in hot rollers or use a medium barrel curling iron and use fingers to deconstruct.
10. Finish with a swipe of Ken Paves Healthy Hair Shine Serum. Apply one drop of the Shine Serum to the palms of your hands, rub together and then lightly brush over the top of your gorgeous new soft waves.
Accessorize your newly formed curls and waves with a crystal encrusted headband, or attach an accent flower or crystal clip.
Vanessa stays stylish by incorporating funky beaded jewelry pieces and headbands to many of her outfits. You can pick up cool hair accessories reminiscent of Vanessa's from the HairBoutique.com Marketplace.
Summary
Vanessa Anne's career is sizzling. Besides her role on High School Musical 1, 2 and 3, the ambitious actress is in high demand for a wide range of activities. She has wowed audiences with her singing, dancing and all around acting ability.
Note: If you would love to try the Ken Paves Healthy Hair products check out his convenient Healthy Hair Try Me Kit which includes 2 oz of the daily shampoo, conditioner, shine serum and shaping hair spray. All Ken Paves Healthy Hair products are available at the HairBoutique.com Marketplace.
For more on Vanessa Anne check out the following web sites:
If you want to talk more about these or other hair care articles on HairBoutique.com or anywhere else, please post a message on HairBoutique.com's Hair Talk Forums