Last updated on March 19th, 2008 by Karen Shelton
Introduction
Taylor Alison Swift (born December 13, 1989) is an up and coming American country music singer and songwriter who was signed to an independent label in 2006. She made her singing debut on Billboard with the release of her single - Tim McCraw.
Born in Reading, Pennsylvania, at age 14 she began to visit Nashville where she wrote songs with local songwriters and was soon discovered and signed to a record label.
Her self titled album was released in late 2006 and has been certified double platinum by the RIAA.
Her family decided to move to a Nashville suburb to help promote her budding career. She was signed to Big Machine Records by Scott Borchetta.
Besides being quite tall and lanky, Taylor is known for her curly hairstyles and the fact she plays a Taylor Grand Auditorium acoustic guitar made of koa wood.
Getting Taylor's Curly Hairstyle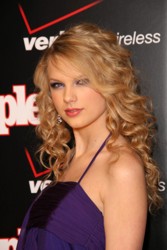 DailyCeleb.com All Rights Reserved
At the recent 2008 Grammy Awards Taylor wore her naturally curly hair in a cascade of perfect ringlets that were stunning.
Taylor has a combination face shape which involves a wide forehead, square jaws and a rounded chin. The full side sweep of hair that falls down over her eyebrows and top of one eye is great for providing balance and symmetry to the gorgeous young music star's face shape.
The songstress showed off her beautiful big eyes by wearing a deep side part with her hair brushed over her crown and cascading down into a soft side-sweep with a gorgeous big wave nestling into her cheeks. The ends of the curls were allowed to spill over onto her collar bone and play across the top of Taylor's collarbone.
At the Grammy's the normally blonde Taylor had a stunning creation of highlights and lowlights with what appears to be a very light coffee bean base.
The skillfully created underlayers were topped off with frothy vanilla cream-colored highlights positioned along her face to pull all of the colors together into a rich deep chocolate blonde creation.
How To Recreate The Hairstyle:
Taylor Swift has naturally curly hair. This style is most suitable for those with naturally wavy or curly hair.
Taylor's ringlet infused hairstyle can be created on long strands with the help of hot rollers and curling irons to weave an array of ringlets.
Complete the following steps listed below:
Step 1: Shampoo and condition your hair with your normal products designed for your current hair type, texture and condition.
If your hair is highlighted like Taylor's use either a moisture enhanced or color enriched formula. If your hair is dry from chemical processing, consider diluting the shampoo formula to protect your strands.
Shampoo products to try: Phyto - Phytojoba Hydrating Shampoo, PHYTO - Dry Hair System, Phyto - PhytoBrush Shampoo. If you have baby fine or thin hair and wish to build in the same lush movement and volume that Taylor has, use a volume enhancing shampoo.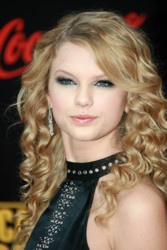 DailyCeleb.com All Rights Reserved
Skip any rinse-out conditioning products that might make hair too soft and flat. If you must use a rinse-out conditioner, make sure that you limit how much you use and that you concentrate on the middle to the ends. Rinse well with a cool water spray which helps build natural volume and increases shine.
Step 2: Towel blot strands. Do not rub wet hair which is more fragile and can break. Detangle strands from the ends to the roots.
Step 3: Apply your favorite texture enhancing mousse or styling cream. Distribute from the top of the ears to the ends. Distribute well. If you prefer, mix with a good leave-in conditioner for super shine and softness. To protect against blow drying heat and add body, distribute a leave-in conditioner, mousse or gel from the top of the ears to the ends. Distribute well.
If your hair is fine or thin, apply a volumizing gel or similar products to the roots to get lots of body and movement.
If your hair tends to frizz or is naturally wavy or curly, you may wish to combine a volume product for the roots with a smoothing serum for the rest of the hair. Anti-Frizz Product to try: Rene Furterer - Control Emulsion Anti-Frizz) Root volume products to try: Phyto - Phytovolume Actif, PHYTO - Volume System, Phyto - Phytovolume Shampoo).
Step 4: If your hair is naturally wavy and/or curly, use a long finger diffuser to create a natural wavy style.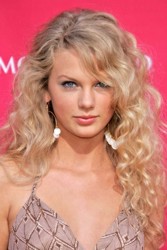 DailyCeleb.com All Rights Reserved
Working from side to side and separating hair into 2" sections, use a long finger diffuser attached to a blow dryer and allow strands to nestle into the bowl to dry and enhance waves and curls.
Continue to use diffuser until entire hair is dry. Avoid touching hair as little as possible to prevent frizz.
Step 5: If your hair is naturally straight you will need to build in volume at the roots for a more balanced look with the ringlets forming at the middle of the strands and cascading towards the ends.
To build in volume at the roots, use the round brush to lift your tresses up and direct the air flow from the dryer up the hair shaft to the root. This "ruffles the cuticle" helping to add natural fullness.
If you prefer, bend over at the waist and direct the air flow of the dryer up the hair shaft towards the roots. When hair is 90% dry, bend right side up and work on the hair from the ears down to the ends.
Seal the style by finishing up with a blast of cool air, if possible, from your blow dryer.
Step 6: If you used a long finger diffuser to create natural waves and curls, once your hair is completely dry, use your fingers to arrange waves and curls into the desired pattern. If you wish, you may use a Marcel style curling iron to create a tighter ringlet or wave pattern.
Step 7: If you used a round brush, when hair is completely dry, separate into 2" sections and roll with medium to large sized electric rollers. Let rollers cool in the hair. Remove and arrange new curls and waves with fingers. Use a Marcel style curling iron to create tight ringlets.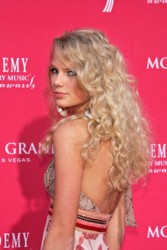 DailyCeleb.com All Rights Reserved
Step 8: Spray the finished style with a good holding hairspray.
Hairspray to try: PhytoPro - Instant Hold Spray #15).
Step 9: Apply a tiny drop of shine serum, drops or spray into the palms of your hands. Lightly brush the palms over the top of your style and you are ready to rock.
Shine products to try: Phyto - PhytoLisse (Formerly Phytodefrisant RelaxSerum)
If you prefer, you can use a curling iron to turn under the ends a little bit or use a straight iron on selected pieces around the face to give a contrasting texture to the finished look.
Summary
Taylor has naturally curly hair and she wears it in an array of ringlet infused hairstyles the majority of the time.
She favors either side-swept long slices of hair that nestle into her face and over one eye or she wears her hair pulled back slightly off her gorgeous face.
Taylor is just at the beginning of her music career. Expect to see this lovely performer and her stunning curly hairstyles dominate the music world in the very near future.
If you want to talk more about this or other hair care articles on HairBoutique.com or anywhere else, please post a message on HairBoutique.com's Hair Talk Forums