Last updated on October 12th, 2018 by Karen Marie Shelton
Beth Pearson's Natural Hair On This Is Us (TIU) on NBC is one of the many great new hair stories included in the new Fall 2018 TV season shows.
Actress Susan Kelechi Watson (November 17, 1980) plays the strong, sassy wife of Randall Pearson (Sterling K. Brown) on the critically acclaimed hit drama which highlights the lives and families of two parents, and their three children, born on their father's birthday.
Showcasing Gorgeous Natural Hairstyles
Since the very episode, Beth has showcased an array of beautiful natural hairstyles ranging from stunning box braids to a spectacular afro which works in perfect harmony with her steely character as a mom to two natural and one adopted daughter.
Yes, she's also been shown with a simple, but elegant ponytail which highlights how natural hair can be worn in a dizzying array of gorgeous styles.
Just like everything else the writers have so thoughtfully presented on TIU, Beth's hair is just one component of the entire Randall/Beth marriage.
It's not a perfect marriage, but it's presented as realistically as possible.
Beth Pearson's Natural Hair On This Is Us – A Black Queen

Last season when talking to Deja' (Lyric Ross) mother about his wife Randall described Beth as "a Black Queen" who sleeps in "a headscarf and coconut oil".
While it may seem like a small thing to most people, the way Beth wears her hair on TIU helps to shape her character and underlines her relationship not only with Randall and her family, the rest of the world.
Watson has shared in the media that she intentionally is constantly showcasing her naturally textured hair as Beth with the blessing of NBC. She has explained her constantly changing natural hairstyles on the show is her very personal "shout-out to black women" everyone.
She is demonstrating the death of the old American standard of beauty.  Women of all ages and color can do "beautiful things" with their hair to honor all different textures.
The 37-year-old actress who is directly descended from Jamaican and Nigerian ancestors has confessed to thinking through her story lines in advance with thoughts about how to wear her hair.
Watson has confessed she creates new hairstyles with the help of her on-set hairstylist which are most appropriate for the story's message.
Once she has figured out in her head what she wants to do with her hair, she works with her stylist Renee to create it.
Constantly Changing Hairstyles – Beth Pearson's Natural Hair On This Is Us

Watson has shared with the media in the past that she loves to play around with her hair and try out lots of different looks.   The actress plays with her hair both on and off screen and loves to experiment.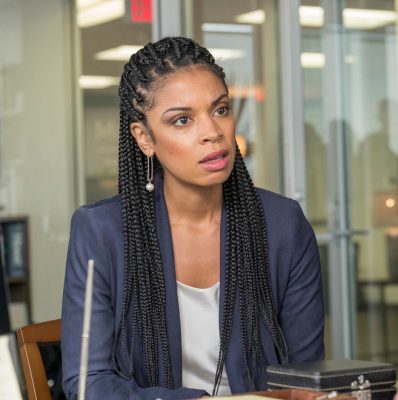 Since she likes to constantly change up her hairstyle, Watson is a big advocate for add-on hair. She also embraces an array of clip-ins, add-on braids, and various crochet hair options.
Not only does Watson as Beth showcase her fabulous naturally texture hair in an array of beautiful hairstyle, but her story lines also have included hair related issues with her family.
Summary – Beth Pearson's Natural Hair On This Is Us Is A Key Theme

Last season her character developed growing concern over the well-being and self-esteem of her adopted daughter Deja who was refusing to deal with her hair.
After a touching bonding moment between Beth and Deja in the family home, the hair challenges of the newest member of the family seemed resolved.
That is, until an awkward Randall intrudes on the new trust Deja was building with Beth.
Trying to help Deja feel comfortable in their home and with her own natural beauty proven to be a major Pearson challenge.  Even though the outspoken teenager eventually chopped all her own naturally textured hair off, the ultimate message was delivered.
This Is Us provides so many hair stigma busting messages for 2018 that it's inspired many devoted fans.
The hit TV serious has launched a new appreciation and awareness that all hair is beautiful, regardless of the type, texture, length or hairstyle.
THIS IS US — "Katie Girls" Episode 303 — Pictured: Susan Kelechi Watson as Beth Pearson — (Photo by: Ron Batzdorff/NBC)