November 9th, 2009 by Karen Shelton
Introduction
Stephanie Jacobsen who is sometimes billed as Stephanie Chavez Jacobsen co-stars as the angst ridden character of Lauren Yung in The CW's revamped show Melrose Place.
Lauren is full of conflict because her lifelong goal is to become a doctor. She has succeeded to the point that she is actually in medical school but now her family has let her down with their promise to help pay her tuition.
As you can imagine, medical school is very expensive. As a result, Stephanie has the good fortune to bump into a man who offers to pay her a large sum of money to sleep with him. She goes through a lot of anguish trying to figure out what to do and finally decides that sleeping with a man for money is her only choice.
From that point on the character finds herself sucked even deeper into the world of high priced call girls. She also finds herself in compromising situations with one of her male neighbors who appears to be a trust fund baby but in reality is a cat burglar.
By day Lauren Yung is a "good girl" who studies hard, is loving to her neighbors and is best friends with Riley Richmond (Jessica Lucas) who is a hard working teacher who is newly engaged to be married to a equally financially strapped wannabe film producer.
Lauren and Riley do battle against bad girl Katie Cassidy as Ella Simms. All three young women are very different in their looks and on-screen personalities which makes for interesting fashion, hair and make-up trends. Stephanie is especially interesting to watch as she morphs from good girl doctor in training by day and high priced call girl at night.
Hairstyle Changes - Daytime Ponytails to Evening Boho Waves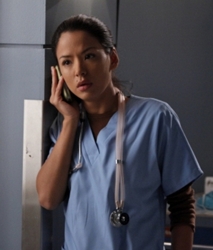 Patrick Ecclesine/The CW ©2009 All rights reserved
As you can imagine Stephanie's hair changes dramatically when her character moves back and forth.
As the young future doctor the character of Lauren wears her thick black hair pulled off her face and worn in a series of ponytails. It's a perfect hospital hairstyle and one that is favored by the interns and residents on ABC's Grey's Anatomy.
By night Stephanie's character pulls out all the stops as Lauren the high priced call girl.
She usually wears her hair with tons of volume and with Boho chic softly defined waves which cascade down her back towards the top of her bra strap.
Although Stephanie has glossy Raven black thick tresses it appears she has lot of natural waves with possibly a hint of curls.
Some TV and movie watchers have compared Stephanie's exotic good looks to actress Lucy Liu.
Making Waves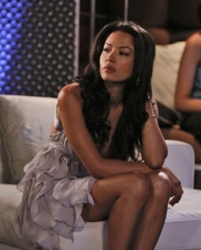 Patrick Ecclesine/The CW ©2009 All rights reserved
Stephanie has a combination of face shapes and depending on the angle, her face appears to be oval or oval + heart shaped. Some hairdressers suggest that face shape never play into the equation of selecting a hairstyle which is definitely a positive viewpoint.
However, many people still want to know the general face frame and in Stephanie's case her face is perfect for her very long tresses which cascade down towards the middle of her back.
Although it's hard to say for sure, in some of her hairstyles, especially her Lady Of The Evening looks, it appears her hair may either be blown out to take advantage of her natural fullness or she may be wearing clip-in extensions to instantly add that lush thickness.
It's hard to know for sure whether all of that lush hair is completely Stephanie's or enhanced with temporary or more permanent hair extensions.
In one shot from the show CW provides an image of Stephanie in the apartment's pool and her hair is wet. From that angle her tresses do appear very thick with lots of natural bend.
So far Stephanie has appeared to prefer her hair, whether pulled back or around her gorgeous face, without any type of fringe.
Since her eyebrows, eyes and lips are gorgeous, it makes sense she would want to show them off whenever possible.
Battlestar Galactica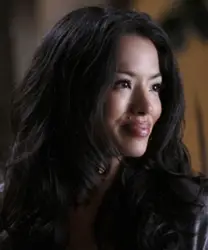 Patrick Ecclesine/The CW ©2009 All rights reserved
Stephanie made her mark on Battlestar Galactica when she played Kendra Shaw, the blindly obedient protege of Admiral Helena Cain (Michelle Forbes), the ruthless leader of Battlestar Pegasus who was pushing for dominence of the Razors.
Stephanie was part of a key plot twist with Admiral Cain which shocked long term Battlestar fans.
Thus our second season introduction to Admiral Helena Cain (Michelle Forbes), the ruthless leader of Battlestar Pegasus, shocked the system of "Battlestar" watchers.
Admiral Cain eventually made Stephanie Jacobsen her second in command but suffered from pangs of conscience and had to wrestle with grim memories in the process.
Stephanie was haunting in her role as Kendra Shaw and her full-blown struggle with her own inner angst.
Is that any different from her struggles with whether or not to sell her body for money to pay for her medical school training.
Steal Stephanie's Lush Waves And VaVa Voom Volume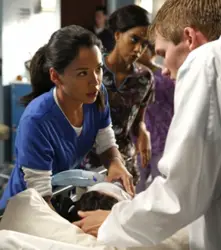 Patrick Ecclesine/The CW ©2009 All rights reserved
Stephanie is famous for having lots of great volume throughout her crown. Hair volume, bumps and humps are hot trends.
She also appears to have thick lush strands although with Hollywood actresses it's impossible to know whether her thick tresses are all Lauren's or helped along with well-placed hair extensions.
Regardless whether Lauren has real or extended strands she wears them brushed off her face with or without a part. Often Stephanie amps up waves which indicates her hair has natural waves.
From time to time she has been spotted on the Red Carpet with her natural waves coiffed in soft twists and updos.
Regardless whether she wears her hair up or down, Stephanie is gorgeous.
Step By Step Instructions
Although it's possible to achieve a similar hairstyle for those with naturally straight or tightly curled tresses, it would take a lot of time, energy, styling products and hot tools. Ultimately Stephanie's hairstyles are best suited for those lucky people born with natural bend and waves.
Follow the steps listed below to steal Stephanie's wavy hairstyle: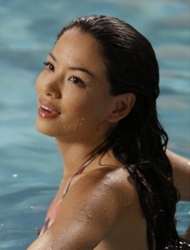 Patrick Ecclesine/The CW ©2009 All rights reserved
1. Natural waves require special TLC. To duplicate Stephanie's wavy style, shampoo tresses with a product designed to address your hair's special wavy needs.
Although Stephanie's hair appears to be without any chemical treatments (color, relaxers) the waves and thickness may make her hair more dry than normal and require conditioning and moisture.
Depending on the texture of your natural waves you may wish to either cleanse with a diluted shampoo formulation (1 part shampoo to 3 or 4 parts water) or wash with conditioner only (CO). Choose the best historical cleansing steps for your curls.
If you color, highlight or chemically treat your waves, select a shampoo that supports those treatments as well as your natural curls.
Note: One to try - Myrrhea - Anti-Frizz Silkening Shampoo 5.07 fl oz
2. Apply the appropriate rinse-out conditioners. (Avoid if hair is super thin, fine or tends to flatten easily). Rinse out or deep conditioners are excellent steps to take for curls which may be damaged.
Note: One to try - Rene Furterer - Myrrhea - Anti-Frizz Silkening Mask (Tube)
If you wish to amp up your hair color like Stephanie's use 1-2 pumps of Ken Paves Boost Up color with your daily conditioning rinse. Select from a variety of colors from Black to Platinum depending on your current hair hue. If you have blue black hair like Stephanie you might try the Black.
3. Finish with a cool/cold water rinse to close cuticles and encourage natural shine and to help close the cuticles.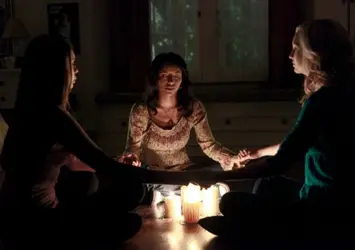 Patrick Ecclesine/The CW ©2009 All rights reserved
4. Towel blot and apply very light cocktail of desired leave-in detangler, conditioner or other styling products (firm holding mousse or gel). Ken Paves Boost Up color can also be added to your leave-in or other styling products for extra color oomp and richness.
If hair frizzes easily, apply a defrisant balm like Phytodefrisant or similar to damp strands to prevent frizz while still allowing soft curls to naturally form.
5. For extra control around the face, crown and sides, apply a firm holding hair cream or sculpting gel.
Note: One to try: Ken Paves Healthy Hair Curl Balm.
6. Separate hair into individual 2" sections. Working from side to side around the entire head blow dry hair with blow dryer with long finger diffuser.
Avoid touching your wet tresses with your fingers as you work to avoid frizz. When possible, use the slowest, coolest setting. Allow waves to rest into the base of the diffuser cup as you direct air flow through the strands.
7. Once each section of curls is 100% dry, clip or pin the section into a twisted ringlet pattern against your scalp and continue drying the next section.
8. When hair is completely dry and pinned against the scalp, spray entire the entire head with a firm holding spray like PhytoPro Strong Finishing Spray or Ken Paves Healthy Hair Shaping Finishing Spray. Allow spray to dry completely before removing pins or clips.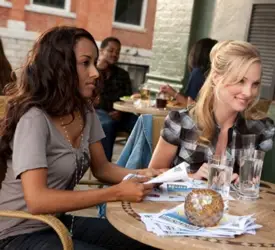 Patrick Ecclesine/The CW ©2009 All rights reserved
9. Right before leaving the house unpin all the hair sections and use fingers to tousle waves. If desired, use a medium barrel curling iron to touch up any disconnected wave sections.
10. Finish with a swipe of Ken Paves Healthy Hair Shine Serum. Apply one drop of the Shine Serum to the palms of your hands, rub together and then lightly brush over the top of your gorgeous new soft waves.
Top off your lush natural waves with a crystal encrusted headband, or attach an accent flower or crystal clip.
Summary
Stephanie's current dream is for Melrose Place to thrive and live to have more seasons. She enjoys the close friendships with all the other Melrose Place actors.
Note: If you would love to try the Ken Paves Healthy Hair products check out his convenient Healthy Hair Try Me Kit which includes 2 oz of the daily shampoo, conditioner, shine serum and shaping hair spray. All Ken Paves Healthy Hair products are available at the HairBoutique.com Marketplace.
Social Media Network Information
Please follow me on Twitter at: http://Twitter.com/HairBoutique. I look forward to meeting new people
from all walks of Twitter and learning from their Tweets. Visit us at Hairboutique.com located at: http://www.HairBoutique.com, on Facebook, MySpace and YouTube.
Thank you for visiting us at The HairBoutique Blog and for leaving your comments. They are very much appreciated. We apologize in advance but must remove any direct advertisements or solicitations.
Original Publication Date: Original Publication Date: 11/01/09 - Revised: 11/01/09
If you want to talk more about this or other hair care articles on HairBoutique.com or anywhere else, please post a message on HairBoutique.com's Hair Talk Forums.