Last updated on April 4th, 2008 by Karen Shelton
Introduction
Lauren Conrad or "LC" as she is sometimes called, is famous for her role as herself on MTV's The Hills for the past three seasons. The reality style series is based loosely on Lauren's real life adventures living in the Hollywood Hills, going to fashion school at FIDM in Los Angeles and working as an unpaid intern for Teen Vogue Magazine
Lauren has been such a hit on the show and captured the hearts of the fan that she won the 2007 Teen Choice Award for Favorite Female Reality/Variety Star.
LC first burst into the reality TV scene on the famous reality series - Laguna Beach - which included Kristen Cavallari. Lauren is considered by many to be a bona fide star even if it is in the reality genre.
Besides raising to reality TV superstardom, Lauren was recently featured on the cover of Us Weekly Magazine with an entire article on her public feud with ex-BFF Heidi Montag.
As part of the feud a rumor was leaked across the Internet that Lauren had made a sex tape with her former boyfriend. The rumors were never proven to be true (and were denied by both LC & Jason) but were linked to Heidi and her boyfriend Spencer as being the originators.
Spencer is the protagonist on The Hills and the one that everyone loves to hate, including Lauren and her friends. If you watch the show (I have never missed an episode) you would probably not be fond of Spencer either, unless you like bad boys.
Although Lauren's life is filled with a lot of relationship drama, in many ways the show holds a ring of truth. It is believed that many of the events that have happened throughout the series have been staged by MTV to encourage fan participation. It is also known that some scenes are specifically filmed for their dramatic appeal.
Is the show staged? Not according to Lauren who explained how filming is actually done to both Ellen DeGeneres and David Letterman when she appeared on their shows in March of 2008. Are some scenes filmed for their dramatic appeal? Probably.
How Did Lauren & Heidi Meet?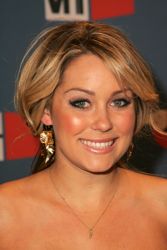 DailyCeleb.com All Rights Reserved
As the show has played out Lauren and Heidi got into a major feud as a result of Heidi's boyfriend, Spencer Pratt. The girls who used to be best friends are no longer friends and not connected in any way, according to Lauren.
Will they get back together and be friends? Probably not, according to Lauren who told both Ellen and Dave basically the same version of the fact "she has moved on."
Lauren told David Letterman she and "Heidi met in San Francisco at school where Lauren was going to school for one semester before transferring to LA for school at FIDM".
Lauren told Dave "Heidi actually moved to Laguna Beach with Lauren and stayed at Lauren's home with her family". When MTV approached Lauren about "following her for a brand new start with her life in LA she refused" to do the show "without her best friend Heidi" and so MTV said "okay" that Lauren could bring Heidi with her to The Hills.
In retrospect Lauren said "maybe not such a good idea". Does she care if Heidi and Spencer get married?". No, not at all, she told Dave.
The downside of the show's great popularity? "No privacy. Papps and photographers are always outside waiting for them to leave every morning" and caught Lauren recently in her "Care Bear PJs".
Lauren's Private Life?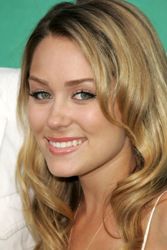 DailyCeleb.com All Rights Reserved
Lauren also manages to have a bit of her own private life that involves a rumored relationship with Entourage star Kevin Connolly. Is Lauren really having a connection with Kevin? She told Ellen DeGeneres "it's too difficult to have a relationship off camera" because of all the waivers that have to be signed and filming complications.
I guess we may never know for sure if Kevin and LC have had a romantic connection.
She has her own fashion line of clothing which is very popular. Lauren told Ellen she "has been wanting to be a clothing designer since she was a little girl".
On the Ellen show Lauren said she "misses the crew" when they are not filming. Lauren explained she has developed a closeness with many of the MTV crew members who film her 4-5 days a week based on "her schedule" for the week.
Lauren is currently "living with her two best friends, Lo Conrad and Audrina." She is constantly "being filmed and is used to it because is has been happening for the past four years". Lauren confessed that the MTV show "is just part of her job" and she is comfortable around filming after all these years of doing it.
Recently the three roomies moved into a house together and the entire move was filmed by the cameras. Lauren told Ellen the girls thought the "house was haunted" because it was so old". They dealt with the hauntings by "saging the house".
Lauren's Charmed Life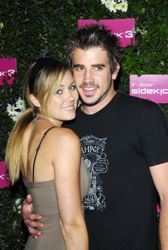 DailyCeleb.com All Rights Reserved
Many fans, especially younger girls, identify with Lauren's life. She is portrayed as an "all American girl" and a typical "California girl".
In reality Lauren lives a charmed life that is not typical of an average 18-20 year old. She arrived for the first episode of The Hills in a BMW convertible and currently drives a Mercedes convertible.
Getting a job at any branch of Vogue is very difficult to do. Lauren also seems to have an endless supply of funds to buy gifts for her boyfriends and BFFs.
It is important to point out that Lauren worked for free as an intern for Teen Vogue but does make money from her work on MTV and all her various commercial endorsements.
Lauren's Hair Accessories
Lauren is a huge fan of headbands and has worn several different types throughout the course of the shows. She also likes to wear her hair pulled back in a variety of ponytails and messy buns.
While Lauren cleans up nicely and has worn some stunning gowns throughout the course of the show, she also has that very cool and casual style that looks great in jeans and a top.
Being a fashion designer, she always has that chic style and her hair always seems to work with the clothing she selects.
Lauren & Hot Hair Iron Episodes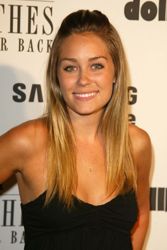 DailyCeleb.com All Rights Reserved
There has been a few funny episodes involving flat irons. In Season One when Lauren first arrived at her apartment, she received a call for her interview at Teen Vogue. She was in a hurry and used a flat iron to remove wrinkles from her skirt.
Lauren pointed out to Heidi (still her best friend at that time) she used the irons to straighten her hair....why not her skirt? Indeed, why not?
In the current third season she had a disaster with a gorgeous designer gown lent to her for a ball in Paris when her curling iron which was plugged in, made contact with the back of the dress burning it and staining it. It was rumored that Lauren had to pay for the stunning gown that was ruined.
Of course this was a lot of drama that had to be handled by begging for a new gown for the ball.
Yes, Lauren got a second gown from Givenchy, but ironically she hiked it up and hopped on a motorbike wearing the very expensive frock. It definitely made the episode fascinating.
About Lauren Conrad's Hairstyles
Unlike Heidi Montag whose hairstyles have changed significantly over the past three years of The Hills, Lauren's hairstyle has remained fairly consistent.
The biggest changes have been with color and the length which went from quite long in Season One to much shorter by Season Three. Over the course of the past three years Lauren has morphed from a very white beach blonde in the first season to a more sophisticated darker blonde.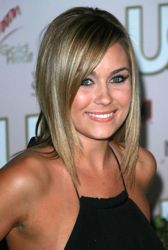 DailyCeleb.com All Rights Reserved
When Lauren first arrived at her apartment she shared with Heidi on The Hills, her hair was very long and worn in a tousled ponytail. For the current season - Season Three - she has worn her hair shorter and has mixed up her hairstyles with different textures, highlights, lowlights, partings and different fringes.
Lauren gets her hair done at the Warren Tricomi Salon in Los Angeles. Not only is the show filmed at the salon on more than one occasion, Lauren references it on her Blog.
Does Lauren have an on-set hairstylist? Since The Hills is a reality show it's hard to say whether a hairdresser is on standby or not.
On the March 10, 2008 Ellen show Lauren wore her hair in a faux short style with the back pinned up in soft curls with a side swept fringe with lots of gorgeous highlights. She looked amazing.
When Lauren appeared on The David Letterman show on March 18, 2008 she had her hair worn in a messy twist with a long side-swept fringe. She looked stunning while she discussed having ticks as a "tomboy" growing up.
Lauren Conrad & Hair Extensions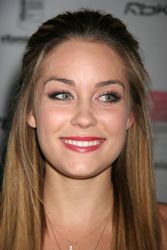 DailyCeleb.com All Rights Reserved
Does Lauren wear either clip-in or semi-permanent extensions? I would say she definitely does based on some shots I have seen on the show. I have watched every single episode of The Hills at least two times. Once to enjoy the show and the second time to study the hair, make-up and clothing on the show.
I would definitely say that Lauren has added hair from time to time for her various gorgeous hairstyles.
Afterall, the girls in Laguna Beach all went to the hair salon together to get extensions for their prom. That episode did not specifically show Lauren but her friends all went so its most likely she also have extensions.
Flaunting Lauren Conrad's Hairstyles
Lauren wears a variety of hairstyles on The Hills. Sometimes she wears her hair sleek and straight, other times she adds curls and waves along the perimeter. The reality star also wears her hair pulled up into a ponytail or wrapped into a messy bun. She also alternates between bangs and hair smoothed back off the face into a sleek hair bump.
Whether you wish to achieve Lauren's sleek and straight looks or some of her curly and wavy hairstyles it is imperative you start with the proper haircut.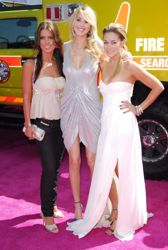 DailyCeleb.com All Rights Reserved
Lauren's hair appears to be mostly one length with some light layering around the face. It is medium thick with possibly a very small amount of natural wave. Although her face is mostly oval, she does have a slightly wider forehead.
If you have naturally straight hair, flaunting Lauren's style is easier than if your hair is naturally curly.
Can you achieve Lauren's curls with stick straight or wavy hair? Yes, with appropriate styling products and either hot curlers, irons or a combination of curling, waving techniques.
Naturally wavy strands could be coaxed into curls with a long finger diffuser, lots of appropriate styling products and a hot curling iron.
Step By Step Tips To Steal Lauren's Straight Hairstyles
To achieve the same tousled hairstyles and curly looks that Lauren displays both on and off The Hills complete the following steps listed below to copy and flaunt her hairstyle:
Step 1: Shampoo and condition your hair with your normal products designed for your current hair type, texture and condition.
If your hair is highlighted or chemically processed use either a moisture enhanced or color enriched formula. If your hair is dry from chemical processing, consider diluting the shampoo formula to protect your strands.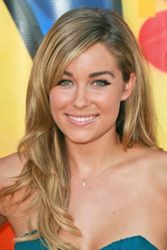 DailyCeleb.com All Rights Reserved
Shampoo products to try: Phyto - Phytojoba Hydrating Shampoo, PHYTO - Dry Hair System, Phyto - PhytoBrush Shampoo. If you have baby fine or thin hair and wish to build in the same lush movement and volume that Lauren has, use a volume enhancing shampoo.
Skip any rinse-out conditioning products that might make hair too soft and flat. If you must use a rinse-out conditioner, make sure that you limit how much you use and that you concentrate on the middle to the ends. Rinse well with a cool water spray which helps build natural volume and increases shine as well as helping the curls to form into their natural shape.
Step 2: Towel blot strands. Do not rub wet hair which is more fragile and can break. Detangle strands from the ends to the roots.
Step 3: For a stick straight style apply your favorite straightening balm or styling cream to towel blotted strands. Distribute selected product well from the top of the ears to the ends. If you prefer, mix with a good leave-in conditioner for super shine and softness.
To protect against blow drying heat and add body, distribute a leave-in conditioner, mousse or gel from the top of the ears to the ends. Distribute well.
To achieve lots of fullness and volume to the roots apply a volumizing gel or similar products to the roots to get lots of body and movement.
Root volume products to try: Phyto - Phytovolume Actif, PHYTO - Volume System, Phyto - Phytovolume Shampoo).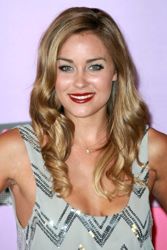 DailyCeleb.com All Rights Reserved
If your hair tends to frizz or is naturally wavy or curly, you may wish to combine a volume product for the roots with a smoothing serum for the rest of the hair. Anti-Frizz Product to try: Rene Furterer - Control Emulsion Anti-Frizz).
Step 4: Working from side to side and separating hair into 2" sections, use a paddle brush or large round brush in combination with a blow dryer with a concentrator nozzle. Blow dry directing the air flow down the hair shaft from the roots to the ends.
Seal the style by finishing up with a blast of cool air, if possible, from your blow dryer.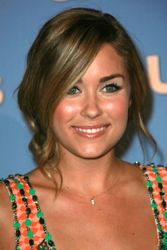 DailyCeleb.com All Rights Reserved
Step 5: When hair is completely dry separate into 2" sections and use a 1" medium barrel flat iron to remove any hair wrinkles or ridges.
After using the flat iron on each section, let hair cool completely.
Arrange newly ironed completely cooled straight strands with fingers.
Step 6: Spray the finished style with a good holding hairspray. Hairspray to try: PhytoPro - Instant Hold Spray #15).
Step 7: Apply a tiny drop of shine serum, drops or spray into the palms of your hands. Lightly brush the palms over the top of your style and you are ready to rock. Shine products to try: Phyto - PhytoLisse (Formerly Phytodefrisant RelaxSerum)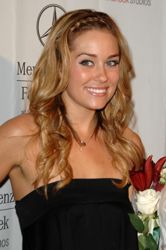 DailyCeleb.com All Rights Reserved
If you prefer, you can use a curling iron on a low temperature to turn under the ends a little bit or use a straight iron on selected pieces around the face to give a contrasting texture to the finished look.
When using a hot iron around the edges of the hairline be sure to work with triangular partings to help the strands blend better.
Note: It's better to go over hair more than once with a hot iron than to hold the iron too long on one section due to danger of frying delicate strands. Ideal temperature for curly hair would be 150 to 200 degrees. Hairstyles-&-Hair-Style-Articles - Visit our section devoted to hairstyles.
To Add Texture To Lauren's Straight Hairstyles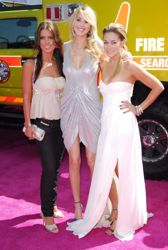 DailyCeleb.com All Rights Reserved
To achieve the same tousled hairstyles and curly looks that Lauren displays both on and off The Hills complete the following steps listed below to copy and flaunt her hairstyle:
Follow Steps 1, and 3 above. During Step 4 use a round brush and blow dryer to build in volume and bend. If your hair naturally has curls and waves, use a long finger diffuser.
Step 5: When hair is completely dry separate into 2" sections and use a 1" medium barrel curling iron to create a series of loose curls. If you prefer, separate hair into sections and roll on medium to large hot rollers.
For a tighter texture hold, roll hair on hot rollers and then unroll when cool. Roll the newly formed curl around your finger and pin with a bobby pin to your scalp or roll around a self-adhesive roller to get a curl with lots of hold.
Step 6: When you are ready to go out, remove the curls one at a time. Spray with a good holding hairspray. Hairspray to try: PhytoPro - Instant Hold Spray #15). Use your fingers to gently arrange and tousle. Touch up any loose curls with a curling iron. Step 7: Apply a tiny drop of shine serum, drops or spray into the palms of your hands. Lightly brush the palms over the top of your style and you are ready to rock. Shine products to try: Phyto - PhytoLisse (Formerly Phytodefrisant RelaxSerum)
Step 8: Add your favorite hair accessory like Lauren does. For a more formal look try a skinny headband worn a few inches back from the face. To go more casual, pull hair up into a pony or wrap into a tousled twist and attach a fun clip.
Summary
Lauren Conrad has a very interesting hair history she has shared with all of her fans and viewers on both Laguna Beach and The Hills over the past four years. If Lauren has a bad hair day, chances are she still may be filmed. Kudos to her for wearing her hair in stunning styles that work with her in-the-fishbowl lifestyle. She is truly a hair inspiration.
If you want to talk more about ther or other hair care articles on HairBoutique.com or anywhere else, please post a message on HairBoutique.com's Hair Talk Forums