August 3rd, 2002 by Karen Shelton
Introduction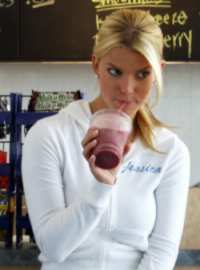 HairBoutique.com All Rights Reserved
Jessica Ann Simpson (born July 10, 1980) is an American singer, actress, television personality and fashion designer whose rise to fame began in 1999.
Since that time, Simpson has achieved many recording milestones, starred in several television shows, movies, and commercials, launched a line of hair and beauty products, and designed fragrances, shoes, and handbags for women.
She has devoted time to philanthropic efforts including Operation Smile and a USO-hosted tour for troops stationed overseas.
She has achieved seven Billboard Top 40 hits, three gold and two multi-platinum Recording Industry Association of America (RIAA) certified studio albums, four of which have reached the top 10 on the US Billboard 200.
Simpson starred with her then-husband Nick Lachey in the MTV reality show Newlyweds: Nick and Jessica. She ventured into the country music market in 2008 and released Do You Know.
Simpson has a total of records sales in Australia of more than 426,000 copies and was ranked No. 113 on the 1000 artists chart of Australian Recording Industry Association (ARIA) Music Decade Charts (1980–2010).
In 2009, Billboard named Simpson as the 95th overall best Artists of the Decade. Simpson also was ranked at number 86 on Billboard 200 Artists, based on album sales.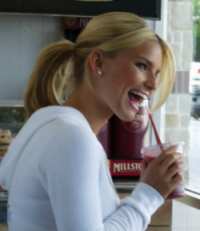 Jessica Simpson
HairBoutique.com All Rights Reserved
Jessica Ann Simpson was born in Abilene, Texas, as the daughter of Tina Ann (née Drew), a homemaker, and Joe Truett Simpson, a minister and psychologist.
She has a younger sister Ashlee, who is also a singer. As a child, Simpson began singing at her local Baptist church. At age twelve, she unsuccessfully auditioned for The Mickey Mouse Club.
While attending J.J. Pearce High School, she signed to Proclaim Records, a minor Gospel music record label.
She recorded an album, Jessica, but Proclaim went bankrupt and the album was never officially released except for a small pressing funded by her grandmother.
This small pressing gained her minor attention and she gave concerts with other acts such as Kirk Franklin, God's Property, and CeCe Winans.
Simpson left high school at age sixteen (she later earned her GED), and after Columbia Records executive Tommy Mottola heard Jessica, she was signed to the label.
Cosmetics And Clothing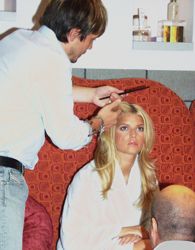 Jessica Simpson
HairBoutique.com All Rights Reserved
'Jessica Simpson Dessert by Jessica Simpson' was launched in April, 2004 after co-founders, Randi Shinder and Simpson designed a line of edible perfume, lip gloss and other beauty products under the Dessert Beauty brand. A parallel line named Dessert Treats was launched the following year in February, 2005. The new line was marketed at a much younger audience.
Simpson launched a line of hair and beauty products on the Home Shopping Network.
Simpson also created the Jessica Simpson Collection in which she designs and markets a line of handbags and (primarily high-heeled) shoes and boots. The Jessica Simpson's Intimates began selling in major department stores and online shopping sites in spring 2009.
Simpson has launched a fragrance line. Her fragrance was made by Parlux Fragrances.
Her debut perfume, Fancy, was launched in 2008. The success of Fancy spawned two more fragrances, Fancy Love and Fancy Nights.
Commercials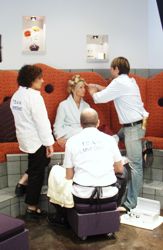 Jessica Simpson
HairBoutique.com All Rights Reserved
Simpson has made commercials for Pizza Hut, Proactiv Solution and a commercial with Ice Breakers with her sister Ashlee.
In 2005, she started advertising Proactiv Solution, an over-the-counter acne medicine.
In 2006, she premiered in another Pizza Hut commercial for the Super Bowl XL broadcast.
She sang "These Bites Are Made For Poppin'," in reference to the song "These Boots Are Made For Walkin'," to advertise the new Cheesy Bites Pizza.
In 2007, the Super Bowl featured her third Pizza Hut commercial, which again promoted the Cheesy Bites Pizza. She has also advertised DirecTV in character as Daisy Duke.
Philanthropy
Jessica Simpson is Operation Smile's International Youth Ambassador.
In March 2007, Simpson donated a new Chrysler minivan to the Elim orphanage in Nuevo Laredo. Simpson won a Chrysler Crossfire sports car at the 2006 MTV Video Music Awards, but exchanged the $50,000 luxury car for a minivan so she could help the orphanage.
A Young Bridgette Bardot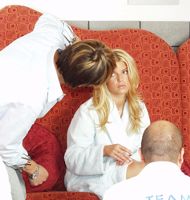 Jessica Simpson
HairBoutique.com All Rights Reserved
Jessica has been compared to a young Bridgette Bardot in the past for her Red Carpet hairstyles. Jessica has very fine hair but there is lots of it. Even more noteworthy "her current bra length locks are all her own sans her previous hair extensions".
At the beginning of her career when she put out her first CD her hair was "bleached to within one inch of her life" according to her hairstylist and hair colorist. After the disaster with that first CD Jessica let her hair grow out for four years.
Jessica has naturally light blonde hair but the bleach was too much for her fine hair. Not only did the excessive bleach "cause her hair to break and become very damaged, Jessica didn't really like the white blonde look".
As a result of the bleach damage Jessica's hair was temporarily cut shorter and supplemented with extensions as needed for a longer look. Eventually Jessica's haircolor was taken back to a softer, more natural blonde look.
Jessica's hues are usually "a combination of her own beautiful natural blonde and some well-placed highlights created with the Clairol Professional color line".
Jessica's hair is softly glamorous and very healthy. Her hairdresser in the past confided that her hair responded to red Phytolaque Soie non-aerosol spray was in constant reach while he worked on Jessica's hair.
Ken admitted that within the Phyto line his favorite products are the two Phytolaque sprays and the Phytodefrisant Balm. He loves the Phytolaque Soie on Jessica hair because it allows for a soft silky hold. He believes that the Phyto product protects and nourishes her hair.
Jessica's Fine But Thick Hair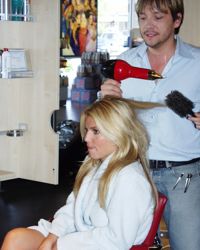 Jessica Simpson
HairBoutique.com All Rights Reserved
Jessica has perfect hair for long hair. Sometimes her hair has "gentle scissor cut layers around her face to add softness and shape within impacting the overall length".
Jessica's hair is so fine that it is thinnest around her face and would tend to split if cut with a razor so it's always cut with scissors.
Jessica wanted her hair a little longer for her Fall 2002 wedding to Nick Lachey. Her hairdresser helped her to strengthen and condition her hair with a special protein serum.
Jessica is a big fan of European hair care products. She has been known to use Phyto, Rene Furterer and Leonor Greyl, not necessarily in that order.
Social Media Network Information
Please follow me on Twitter at: http://Twitter.com/HairBoutique. I look forward to meeting new people
from all walks of Twitter and learning from their Tweets. Visit us at Hairboutique.com located at: http://www.HairBoutique.com, on Facebook, MySpace and YouTube.
Thank you for visiting us at The HairBoutique Blog and for leaving your comments. They are very much appreciated. We apologize in advance but must remove any direct advertisements or solicitations.
- Revised: 08/17/10
If you want to talk more about this or other hair care articles on HairBoutique.com or anywhere else, please post a message on HairBoutique.com's Hair Talk Forums.