April 21st, 2011 by Karen Shelton
Introduction
Jennifer Garner (born April 17, 1972 in Houston, Texas) is on the cover of the January 2010 W Magazine where she dishes on combining motherhood and acting.
W Magazine pulled out all the stops for their cover shoot employing the brilliant hair talents of legendary hairdresser Orlando Pita of Orly Salon in New York City.
After coiffing her light milk chocolate strands into a silky style cascading off her forehead and brushing over her lovely shoulders, Jennifer was dressed in a sensuous Dior tulle off the shoulder gown in dreamy orange.
Check out Jennifer's Hairstyle Gallery at HairBoutique.com.
The actress, who burst into stardom with her portrayal of Sydney Bristow on ABC's 'Alias' has built a successful film career and has also taken a very successful spin on the Broadway stage.
Jennifer's film credits include the well-known 'Juno', 'Where's My Car', '13 Going on 30', 'Catch Me If You Can', 'Daredevil', 'Elektra', 'Catch and Release', 'The Kingdom' and 'The Invention Of Lying'.
The talented and popular actress married to Ben Affleck also stars in the upcoming ensemble film, 'Valentine's Day' which hits screens on February 12, 2010.
Balancing Glittering Movie Career With Motherhood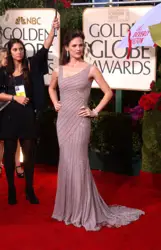 NBC.com All Rights Reserved.
In their in-depth interview with the former brunette spy W Magazine uncovered the fact that Jennifer is really an anti-diva more concerned with balancing motherhood to her two adorable little girls, Violet and Sera (short for Seraphina) and a budding career with several films in development into 2012.
Jennifer told W Magazineher priorities usually involve "getting the kids up and fed, getting one to school, the other down for a nap, going to the grocery store, picking one up from school, getting the other one down for another nap, cooking dinner."
She summarized her current life as "I live my life at these two extremes. I'm either a full time stay-at-home mother or a full-time actress."
Indeed, when Jen, as her friends and family call her, is in full-time mother mode she actually makes her youngest daughter's baby food from scratch at home.
One of Jen's secret pleasure is cooking and she told W Magazine one of her desires is to meet Ina Garten the famous chef known as the Barefoot Contessa. Jen's interest in being a foodie is not new. She has publicly expressed her admiration for Martha Stewart and even named her pet Labrador Retriever after the famed star.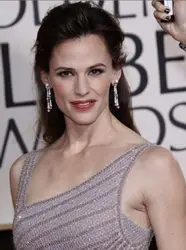 NBC.com All Rights Reserved.
Marriage To Ben Affleck
Married since 2005 to super star Ben Affleck who is not only a talented actor, but a writer, director and producer.
Because of all the media attention when her husband Ben was part of the Jennifer Lopez/Ben Affleck "Bennifer" phenomenon, the happily married couple works very hard at avoiding a public life any more than possible.
While Jennifer must make the obligatory appearances at film premieres and during Award Show Season, she and Ben never appear together on the Red Carpet and try to avoid being photographed separately.
Ben doesn't like Jennifer to talk about him, their marriage or children when she does interviews but she told W Magazine "Ben asks me 'How come when I do an interview I manage to keep you out of it completely?' and she told W "and I'm like 'Either because you don't think about me or because boy magazines don't care what I make for dinner.' Why should they?"
Being such a nurturing person, which her 'Alias' co-star Bradley Cooper has confirmed, Jennifer will probably continue to talk about her husband, whom she obviously adores and her two little girls.
Of course she gets annoyed when the papparrazzi make it impossible to even go to the grocery store back in LA, but she does a great job of coping and keeping a sense of humor.
The Accidental Actress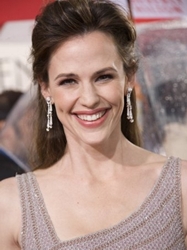 NBC.com All Rights Reserved.
Jennifer confessed to W Magazine, as she has in lots of other interviews that she never set out to be an actress. In fact, she had her heart set on becoming a doctor.
Growing up in Virginia she was completely removed from the whole acting scene and she was swept up into the profession by accident. Once she found her footing, she soared.
J.J. Abrams who discovered her as Sydney Bristow for 'Alias' has told the media he knew from the beginning she had what it takes to be a big star.
Indeed, Jennifer was an instant hit on 'Alias' and from that point there was no turning back as her acting career skyrocketed.
Although focused, dedicated and hardworking in her acting career, Jennifer hopes to eventually join her husband behind the camera. She hopes to eventually move to directing and has a few deals pending which may give her that opportunity.
Back To Jennifer's Long Lush Wavy Hairstyle
At the recent 2010 Golden Globe Awards the size zero 37-year-old actress wowed the fashion police when she stepped onto the Red Carpet wearing a spectacular figure hugging Atelier Versace spiral nude/silver gray gown, Casadei shoes, Judith Leiber clutch and adorned with Bulgari jewels.
Her naturally wavy hair was brushed up and off her beautiful face in a classic half up/half down style with her longer strands cascading down past her shoulders in soft waves. The top half of her style, coiffed by Frederic Fekkai celebrity stylist Adir Abergel, had lots of sexy yet sophisticated volume.
Note: Jennifer Garner's Wavy Hair
Her hairstyle worked perfectly with her stunning Red Carpet gown. All eyes were on Jennifer when she stepped onto the stage and presented one of the Golden Globe categories.
Jennifer Garner's Hairstyle 411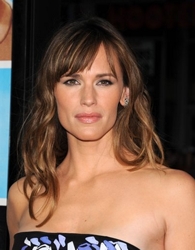 Matthias Clamer/FOX All Rights Reserved.
For her TV role in 'Valentine' her hair is worn either in an array of perky ponytails which showcase her natural waves or worn down around her shoulders in loose waves.
Jennifer became famous for all the wigs she wore in 'Alias' for her every changing spy assignments.
Note: Jennifer Garner: Black Ops Hair
Since Sydney Bristow retired, Jennifer has maintained a consistent array of hairstyles which are based upon letting her natural texture shine through.
Even when Jennifer wears her chocolate brunette tresses up, she opts for softer, tousled styles which showcase her natural texture and give her a softer look to match her true persona.
Changing up her naturally wavy hairstylesare as easy as alternating the styling products she uses.
As a busy mom Jennifer likes wash and wear hairstyles which allow her to jump in the shower, towel blot and then wet bunned for a leisurely air dry.
Sometimes Jennifer's tresses appear less wash and wear then others. Regardless, it appears that her hairstyles, especially off-screen are very low maintenance.
For the Red Carpet Jennifer's hair is usually styled showcasing her natural waves. Her hais is often brushed up and off her forehead with lots of body and some volume built in around the crown.
Sometimes Jennifer wears hair accessories to dress up her various hairstyles. Sometimes she might pop on a very thin headband or a jeweled clip to complement her various fashions. For less formal off-camera events she often wears her hair wrapped up in a messy bun, twist or chignon. She also seems to love casual ponytails.
Hairstyle: Long Lush Wavy Hairstyle
At various times in her career Jennifer has been known to utilize and array of wigs or add-on hair for her various roles.
Hairstyle Color: Warm light milk chocolate base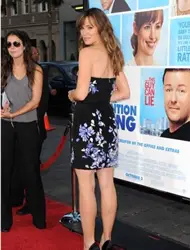 Matthias Clamer/FOX All Rights Reserved.
Hairstyle Highlights/Lowlights: If you look closely you will see what appears to be ribbons of lighter golden brown highlights interwoven with deeper chestnut lowlights which gives Jennifer's hair warmth, depth and volume.
The lighter golden brunette highlights interwoven around her hairline and strategically placed against her milk chocolate base also helps to bring out a beautiful shine.
Texture: Jennifer appears to have medium to medium thick hair in excellent shape with a tendency towards natural waves. Her hair appears to have very slight layers skillfully placed around the perimeter of her hairstyle.
Fringe: Jennifer alternates between wearing a side-swept fringe and no fringe at all. She looks go with both options.
The actress alternates between side parts and no parts. I have never seen her with a center part which is not to say she hasn't worn her hair that way at some point.
Sometimes Jennifer's hair is brushed off her hairline in such a style that no obvious part is clearly visible.
Face Shape: Jennifer's face shape is primarily square although her chin is more prominent than most square faces so often her face may appear heart shaped. Jen's face shape appears to change with the hairstyles she wears.
Some minimize her chin shape while other hairstyles will make it appear more prominent. Although Jen appears to love ponytails, she looks best with her hair worn loose and down below her chin.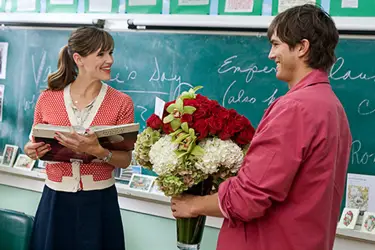 New Line Cinema All Rights Reserved.
Hairstyle Works Best: Jennifer's hairstyle works best for tresses which are chin length or longer either all one length or with layers.
The best texture for recreating this hairstyle is hair with some bend or natural waves.
Of course tight curls might not work with this hairstyle, but very light curls which can be temporarily softened into waves could be an option.
Jennifer's hairstyle can be copied with or without a fringe.
Hair Tools Required: This hair style can be easily air dried and finger tousled. It's basically a wet, tousle and go hairstyle.
If you prefer a more finished or textured look you can utilize a blow dryer, small barrel curling iron or flat iron, 100% boar bristle round brush, long tail comb, leave-in conditioner, defrisant, styling spray and/or cream, sculpting hairspray, shine spray and/or serum drops.
Hair cream is optional for alternating the ultimate design of the wavy textures. If you want lots of volume you may want to consider using a volumizing program complete with shampoo and root spray.
To add strategically placed volume, fullness and/or length you may wish to play with clip-in hair extensions, clip in fringes or a clip-in pony for a completely different look.
Steal Jennifer's Hair Style
This style is idea for shoulder length or longer tresses which are medium in thickness. Follow the steps below to re-create Jennifer's wave infused hair style:
Start with a hair cut which is all one length or with very slight layers throughout. This style may be copied with or without a fringe.
1. Start by washing your hair in lukewarm water with a product designed to add back moisture and to treat colored or highlighted hair with tender loving care.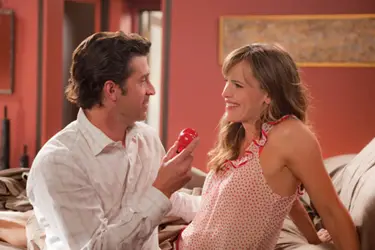 New Line Cinema All Rights Reserved.
2. Rinse hair well and then apply a moisturizing rinse-out conditioner focusing the products on the areas of the hair that are most dry or damaged.
If your hair is fine or thin you may wish to skip this option.
3. For extra conditioning substitute the rinse-out conditioner with a deep conditioner that is allowed to soak down into the hair's shaft.
4. Finish with a cool/cold rinse to lock in moisture and add additional shine.
5. Towel blot to remove excess moisture. Apply a conditioning detangling spray or leave-in conditioner and detangle strands with a wide tooth comb working from the ends to the roots.
Create either a center or side part, depending on how you wish to style your hair.
Note: If your hair is prone to frizzing apply a defrisant product or mix with your other styling products. Many celebrities are big fans of Phytodefrisant.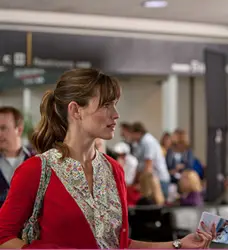 New Line Cinema All Rights Reserved.
6. For fullness, lift and volume throughout the crown, apply a volume enhancing product to the roots. Distribute a straightening balm to the rest of the strands distributing from below the roots to the ends.
7. Use a long tail comb to create desired part. If desired, wrap hair into a soft bun and allow waves to air dry naturally.
Or separate strands into 1" to 2 1/2" sections and blow dry with a long finger diffuser to encourage natural waves. If you prefer less waves, blow dry with a round 100% boar's bristle round brush.
For added volume you may wish to consider a vent brush throughout the roots. Blow dry the top sections of hair using fingers to lift individual top strands and direct the air flow from ends to roots.
Note: If hair is naturally curly, do not use fingers to blow dry since this can add to frizz. Use a boar's bristle brush instead.
8. When hair is completely dry you may opt to touch up the strands with a curling iron to define waves or a straightening iron to achieve sleeker panels of hair.
Or you may prefer to use a curling iron (or hot rollers) to turn under the ends or add more volume and lift to the crown area.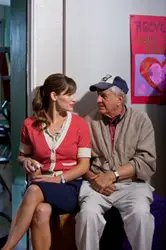 New Line Cinema All Rights Reserved.
9. Apply a shine serum, shine spray or hair cream to seal in moisture and add a soft shine similar to Jennifer's. Hairspray is optional.
10. For a more tousled look you can opt to use your fingers to finger pick waves or pull part of the hair up and allow the longer sections of hair to cascade down from the shoulders into natural waves.
Summary
Jennifer recently made the news for concern over a long time stalker Definition Of Stalker Hairstyle who has reportedly been following her and her family for an extended period of time. Even though Jennifer continues to try and live a low key life style off the radar, she still must deal with the challenges of fame.
As far as her career, expect to see Jennifer gracing the big screen in several new films over the next two years. You may even hear about her stepping behind the camera in the near future.
In the meantime the working mom of two will continue to do a great job of wearing all of her multiple hats with grace and charm.
Social Media Network Information
Please follow me on Twitter at: http://Twitter.com/HairBoutique. I look forward to meeting new people
from all walks of Twitter and learning from their Tweets. Visit us at Hairboutique.com located at: http://www.HairBoutique.com, on Facebook, MySpace and YouTube.
Thank you for visiting us at The HairBoutique Blog and for leaving your comments. They are very much appreciated. We apologize in advance but must remove any direct advertisements or solicitations.
- Revised Publication Date: 04/21/11
Send this page to a friend..
If you want to talk more about this or other hair care articles on HairBoutique.com or anywhere else, please post a message on HairBoutique.com's Hair Talk Forums.