Last updated on April 13th, 2000 by Karen Shelton
Introduction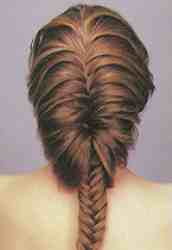 I have always been a huge fan of the various types of fishtail braids, also known as Herringbone braids (see photo to left).
Not only are they gorgeous, they never seem to fade from the fashion scene for longer than a few designer nanoseconds.
Part of the popularity of fishtail braids, in my opinion, is the fact that they can work so well with just about any fashion style.
Although the full Fishtail and the Fishtail ponytail styles have been popular for many years, 1999 ushered in a modified version of the original Full or ponytail Fishtail.
The 1999s version was a type of partial fishtail that was reversed or inverted to give it a very soft, messy and fluffy appearance.
This new inverted or reversed partial fishtail braid was actually a series of four or more side by side braids that stared at the nape of the neck. Unlike some Fishtails that end in a tight braid that flows down the neck (see above) the 1999s version ended in long loose "tails".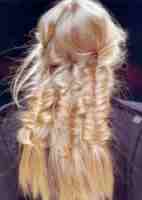 The soft, fluffy, messy inverted version of the fishtail (see photo to right) emerged on the Fall 99 Fashion catwalks as part of the hot new designer push towards bohemian clothing rhapsodies. (Credits: Photo of inverted fishtail braid taken from Yohji Yamamoto).
The elegant, yet carefree, inverted fishtail, are right at home with the 1999 versions of soft sensuous fabrics and long flowing fashions that were reminiscent of the Hippie days of years past.
The soft romantic inverted fishtail was a perfect addition to the understated elegance of the retro fashions.
Images Are Deceiving
Braids, whether a fishtail, a French Twist, or a simple three strand, are eternally popular with all ages. They add instant romance, style and glamour to any Prom, Wedding or evening dress.
One of the most popular series of hair books is the Beautiful Braids series by Patricia Coen and Joe Maxwell. The original Beautiful Braids was published in 1984 and continues to still sell very well.
Like many braids, the standard Fishtail looks complicated From a distance the inverted Fishtail (shown above) looks more like a series of hair knots or loops. This is because the braid, when finished, is carefully pulled apart to give a soft, messy, knotted look.
One drawback to the Fishtail braid is the requirement that you have hair that is collar length or longer. The good news is that the braid will work well on extensions.
I have to be honest and report that this braid is not as easy to create on your own hair as some of the two or three strand braids. The way that I practice learning more complicated braids is that I use a soft string mop. This helps me get a handle on how to re-create the braids.
Even with lots of mop time, I am still not able to re-create this inverted Fishtail on my own hair. However, my stylist Shelley was able to re-create it in a matter of minutes. I have to tell you that it looked stunning every time that she create it for me.
If you do decide to try this braid on your own hair, you will probably need to allow some upfront practice time. Some of the best instructions that I have ever found with detailed diagrams on how to do a good Fishtail braid is in the book: Braids & Updos Made Easy by Jamie Rines Jones.
Instructions For Inverted Fishtail Braid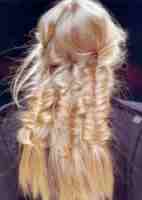 Fishtail braids are created on dry, rather than wet hair. This adds to their overall loose, fluffy, soft appearance.
This braid works best on dry hair that is medium to very long in length and is not layered.
One hint when creating the Fishtail is to try to keep all the sections equal in thickness and to pull each strand tightly to give the uniform herringbone appearance.
Step One: Start by pulling all hair back into 4 equally spaced ponytails that rest at the nape of the neck. Work on one ponytail at a time and clip the other tails to the side. Be sure to use "hair friendly elastic" bands to hold the ponytails. It is best to use elastic bands that match your hair color.
It should be noted that you can experiment with more or less ponytails depending on the look you are trying to accomplish.
The style can be worn in a variety of modified ways including wearing bangs or side tendrils.
Step Two: Start with a ponytail on either end and then work towards the middle ponytails, finishing up on the opposite side of your head.
Divide the first ponytail into two equal sections of hair. Take a small (approximately 1 inch section) from above the left section of hair and cross it under the right section of hair.
Step Three: While holding the ponytail securely with your left thumb and allow the right side of your hand to be free and then take a small section (same approximate size as the previous section) from above the right side.
Step Four: Cross the section from above the right under to the left side of your hair. While holding the right side securely with your right thumb, continue steps 2-4 until you reach the end of the ponytail. Secure the remaining "tail hair" with a "hair friendly" elastic band.
To create a braid that is similar to the braid displayed above you should allow a long tail to flow down the back. It is best to make all the tails on all the ponytails the same length as much as possible.
Step Five: Once you have created all the braids from side to side, use your fingers or a rattail comb to carefully loosen the plaits to give the look a very soft messy appearance.
It is best to create plenty of "tail" at the end of the fishtail braid or else there is a danger that the elastic band may work its way out of place and the braid may loosen or fall out.
When finished spray with a very light holding hair spray. Since the key to this look is softness, the last thing you want to do is add a heavy spray.
Step Six: The braids can be adorned with gorgeous hair jewels such as rhinestone hair pins or other rhinestone jewelry. It can also be worn "as is". This style is easy, simple, fast and the results are stunning.
This hair style looks especially stunning on thick hair that has lots of contrasting colors that are emphasized with the tied hair pieces.
Conclusion
One of the great things about the fishtail braid is that depending on how you position your hands, the braid will change the way that it looks from tight against the head to loose and full.
To get the soft and full look the hands need to be held as much as 6 inches away from the head as the braid is being done.
The Inverted Fishtail braid is soft, romantic and can be worn for either day or evening wear.
If you want to talk more about this or other hair care articles on HairBoutique.com or anywhere else, please post a message on HairBoutique.com's Hair Talk Forums.