Last updated on July 31st, 2005 by Karen Shelton
Introduction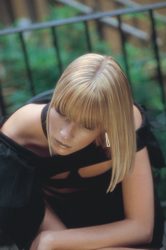 One of the biggest dangers that consumers face when heading down the drugstore hair color aisle is impulsiveness.
(Image from Goldwell - Style by Jeannette Moore, Salon Nordine - Photo by Damon Moore - all rights reserved). Celebrities, marketing mavens and advertising gurus have heavily promoted the idea that if you change your hair color, you instantly transform your life.
While that concept may potentially be true in some cases, any home hair coloring projects undertaken in haste could result in months of growing out regrets.
Is it possible to weave a magical color wand of home hair color hues with smashing success? Although more complicated coloring projects should be outsourced to a professional colorist, with some careful planning, a list of realistic expectations and a little patience, new shades of beautiful blonde, radiant red and chocolate brown can all be possible.
Navigating Through Home Haircolor Maze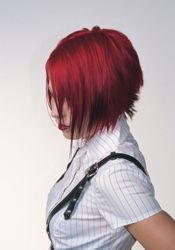 The following tips will help you navigate through a vast array of hair colors with ravishing results:
Plan your hair color strategy well. Paul Mitchell Master Colorist & Educator Barbara Lhotan recommends that "hair consumers carefully evaluate their color goals before they even consider making a product purchase". (Image to the side from Goldwell - style by Amy Sorensen, Hair & Body Solutions, Photo by Autumn Reeverts - All Rights Reserved). Note: To make an appointment with Barbara for extraordinary hair color design or correction call her at 516-982-8588.
Barbara also suggests that "every hair color consumer, especially newbies, study all of the current hair color formula options". Home hair color products fall into the following ranges:
Temporary – Lasts through 1-2 shampoos. Coats outside of cuticle but does not usually contain peroxide or ammonia. Will not lift color but will deepen, brighten or enhance existing color.
Semi-Permanent – Lasts 4-6 shampoos. Coats outside of cuticle and down to next layer. Generally is free of peroxide or ammonia. May be more permanent in some situations.
Demi-Permanent – Lingers through up to 20 shampoos. Deposits color between cuticle and cortex. May contain some peroxide and/or ammonia.
Permanent – Cuticle is opened and color is deposited down into the cortex. Contains peroxide and ammonia. Color lasts until it grows out, is cut off or is recolored.
Highlights – Lifts pigments from the cortex. Contains peroxide, bleach and ammonia.
Double Process Color – Cuticle is first opened and hair is lightened 4-6 levels with peroxide, ammonia and bleach. New color is then deposited via a toner into the cortex through the cuticle.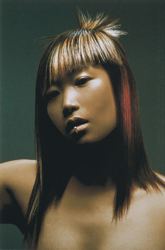 While Temporary, Semi and Demi-Perm hues are generally considered "safe" for most tresses Barbara points out "there are always exceptions to every hair rule".
(Image by Goldwell - Style byJuan Perez, The Head Room, Photo by Leda & St. Jacques - all rights reserved).
For example, Barbara explained that in "some situations, "wash out" tones may become "permanent" if applied to strands that are porous or damaged from previous bleaching or chemical treatments."
What does this mean exactly? That if you apply a temporary color to strands that are damaged and thus "porous" or more absorbent than normal, the color will seep down deep into the cortex and may permanently stain. Thus repeated attempts to wash out the color will be ineffective.
If you're brand new at the hue changing game consider products with training wheels such as temporary, semi or demi-perm colors like Clairol's Natural Instincts that last only through a series of shampoo treatments.
Once you get the hang of coloring with temporary colors, you can step up to the permanent colors that lasts until it grows out, hair is cut or a new hue is applied.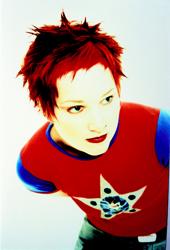 Note: If you are unsure how your strands will adopt to hair color, dial the toll free help lines provided with most home hair color kits or skip the home color exercise and contact a professional colorist.
(Image by Goldwell - Style by Cristina Zamfir, Studio Voila, Photo by David R. Greene - all rights reserved).
If you have a good working relationship with your stylist, consider discussing your home hair color plans in advance with them. Ashlee Simpson discussed her own home hair color plans in 2004 with celebrity hair colorist Rita Hazan who then helped Ashlee select the best hue and product type. Many hairdressers will be supportive of your goals if you are honest with them.
Hues For Your Age, Skin Tone & Facial Features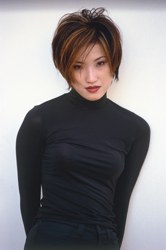 After you have decided on the right color process, evaluate the best shade for your age, skin tones and other facial features.
It is important that you also take into consideration your lifestyle and how much maintenance you are able to handle to keep your color fresh and root free.
(Image from Goldwell - Style by Cheong Min, Illusions Salon - Photo by Cheong Min - all rights reserved).
Consider some of the following tips:
Keep in mind that hair color can lift and lighten, match existing colors and brighten or provide depth through darker, richer hues.
Focus on colors that are soft, natural and classy. Consider choosing shades that will slightly lighten, brighten or deepen your current tone.
Select a shade that blends well with your current hair color that is no more than a maximum of two shades lighter or darker than your own. It is important to stay in close color range to avoid a stark color demarcation line.
Consider your age when selecting colors. Select products and colors that are designed for your age group. (Image from Goldwell - Style by Sonya Sheetz of Planet Hair Studio, Photo by Allen King - all rights reserved). Keep in mind that colors marketed to much younger consumers are not designed to handle gray and may be too bright for your skin and eye tones.
Remember that after certain ages skin may take on a slight yellow tint. Soften this look with shades that have a golden base.
If you wish to cover gray, be sure to buy a product like L'Oreal's Excellence that is specifically formulated to deal with pesky grays.
Some of the darker shades may intensify wrinkles or other aging signs. To instantly peel off some years, go one or two shades lighter.
Consider buying an extra hair color kit in case of unforeseen problems or if your hair is extremely long or thick. You may wish to use two kits to guarantee complete coverage.
Color Me Beautiful Steps
Once you have selected the hair color product and hue for you, complete the following steps:
Check the expiration date while still at the store to make sure the product is still viable.
When you get home, immediately examine all the contents in the box. Read the instructions carefully. If any of the ingredients are missing, immediately return the product to where it was purchased.
Do a patch test at least 48 hours before you color. Although you may have used hair color products in the past, it is very important to do a patch test to protect against an unexpected allergic reaction. Even if you have been coloring for years, allergies can develop out of the blue and cause serious health risks if not treated immediately. (Image by Goldwell - Style by Salima Navodia, Capucci Salon & Spa, Photo by Babak - all rights reserved).
Do a strand test at least 24 hours before you take the final color step. Although this process postpones the coloring tasks, it is important to get a good preview of how your hair will look with the selected color. If you don't like the results, you can abandon the project before applying the product to your entire head. Better safe than sorry when it comes to living with unexpected color results.
Assemble your hair color tool kit. Gather together a plastic pick or comb, timer, an old shirt and two dark towels that you don't mind staining. Have some Vaseline on hand to protect against skin stains. Consider adding a protective covering for the floor since some hair colors can splatter and be messy.
Make sure you have a good pair of rubber gloves. Although gloves come with most kits, they may not fit as well as desired. If you plan on repeat coloring, having your own gloves is a good investment.
If you color at home on a regular basis, invest in good hair color "paint" brushes that will provide better results. These can be purchased at an artist's supply store or at a Home Depot in the paint department. Good brushes will help distribute color better.
Applying The Color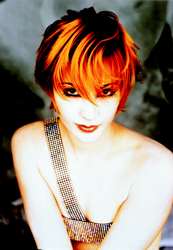 Once you are ready to actually apply the color consider the following tips:
It is best to apply color to hair that has not been washed for at least 24-48 hours to take advantage of the buildup of natural hair oils. (Image by Goldwell - style by Suzanne Martin - Three Small Rooms, Photo by Babak - all rights reserved). If a lot of styling products are used on a regular basis, consider using a shampoo with a clarifying shampoo at least one week before using home hair color. This will help remove any excess products layered onto the cuticle.
Pick a time when you are relaxed and will not be disturbed. Once you mix the color, use it right away. Let your cell phone ring off to voice mail and make sure the family pet is secured.
Play some soothing or fun music that helps you stay focused on the task at hand.
Before you start, reread the instructions from beginning to end. Make sure that you have everything required in the kit.
Follow all the instructions completely in the order in which they are suggested.
Dispose of any leftover color as soon as you are finished. Once the colors have been mixed, any unused amounts should not be reused at a later date.
To avoid forehead or hairline stains, apply a light layer of Vaseline or similar product right below where the color will be applied to contain drips or stains. If you do see drips, wipe them up immediately with an old wet washcloth.
Barbara Lhotan advises "you start applying color at the back of your head and work forward to make sure that the product is applied evenly and does not smear". (Image by Goldwell - style by Sandra Macri & John Stankovic of Peter's Hair.em, Photo by John Trigiani - all rights reserved).
Duckbill or salon clips are not usually provided. If you feel you need to clip off sections that are newly colored or hair that is waiting to be colored, invest in some metal clips to help color in a more organized process.
If you've never colored before, carefully apply product from roots to the ends.
For previously colored hair, be careful to only apply color to new hair growth. It is important not to overlap color.
Avoid being a nervous Nellie and watching the color develop in a mirror. It is impossible to know what the results are until the process has finished and the hair is washed and dryed.
If this is your first time coloring at home or you are nervous about the results, ask a friend to color sit with you in case you miss some spots or are unsure how the color is developing.
When the color is finished "cooking" shampoo out as described in the instructions. Allowing color to stay on longer than recommended will not achieve better results. Hair color is designed to stop processing at a set point and no matter how long you leave it in your hair, it will not alter the fact that the processing has finished.
When To Skip Home Haircolor
Don't consider home hair color if you fit into one of the following categories:
You wish to go from dark to blonde. This type of color change can be very tricky and requires the advice of a professional hair color expert.
If your tresses tend to pick up lots of reds or other unwanted tones.
Your hair has been chemically treated (straightened, waved) in the last 30 days.
You desire a complicated technique such as block or strap colors or multi-dimensional highlights and lowlights.
You have previously experienced allergic reactions to hair color products.
Hair Color SOS Techniques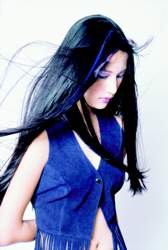 If you hit a snag, have questions or concerns, check out the hair color kit for a listing of a toll free number that you can call for consumer assistance. Clairol can be reached at 1-800-CLAIROL (1-800-252-4765).
(Image from Goldwell - Style by Joanne Fanelli - Joanne Fanelli Image Group - Photo by Joanne Fanelli - all rights reserved).
For Revlon haircolor help call 1-800-473-8566. L'Oreal is 1-888-4-LOREAL (1-888-456-7325) or 1-800-631-7358, or 1-877-3COULEUR for the L'Oreal Couleur color line. For questions on the L'Oreal Garnier line dial 1-800-4GARNIER.
To receive the best possible response from the 800 color consultant, consider the following tips:
Avoid calling on nights and weekends. Most hotlines are only open during regular business hours.
Create a list of your questions before you dial so you are prepared to cover all your concerns in one call.
Keep paper and a pen with you as you call so you can write down the name of the person that helped you and any recommendations for additional products or steps that you need to take.
Have the product handy near the phone. You may be asked for specific product information including box numbers.
Be prepared to provide follow-up information such as email, phone or mailing addresses. Many of the hotlines will require that you provide some information for their lots.
Remember to thank the operator for their assistance and if possible, note down their name.
After you have successfully walked through all the steps and have achieved the new color of your dreams, consider the fact that proper post-maintenance will help keep your strands soft and extend the life of the color.
Post Home Haircoloring Tips
Barbara Lhotan recommends the following post-color tips:
Wait 48 hours before washing hair again after the initial color treatment is completed. This gives new hues time to settle.
Always shampoo with lukewarm water. Hot water will speed up color fadage.
Use hair products specifically designed to protect colored hair. Remember that some shampoo products designed to add volume will actually "blow up" the cuticle and thus cause hues to fade much faster. Use products that are specifically labeled as "color safe"
Shampoo less often. Even permanent colors will fade faster with frequent washings.
Avoid the use of hot styling tools as much as possible. Heat from either appliances or the sun will speed up color loss. When possible, air dry colored strands.
Wear cute headgear when out in the sun or when swimming in a pool. Sun, surf, sand and pool chemicals may leach out precious tones or in some cases, cause color to fade or even worse, turn brassy or odd shades of green or orange.
Treat colored hair with tender loving care (TLC). Use the best products your budget can afford and remember to deep condition on a regular basis to counteract dryness.
Resist the urge to recolor again before at least 2 weeks has passed. Remember, less is more.
Avoid any other chemical processes for at least one month. Keep in mind that perms or chemical straightening procedures may cause hair colors to be altered.
Summary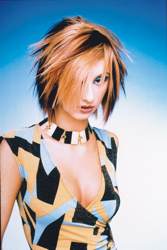 If you plan on becoming a home hair color jockey, consider starting a special journal or notebook so you can write down a record of each treatment. Note the products that you used and the results. Over time you may discover little tricks that make your coloring techniques more streamlined or successful.
(Image from Goldwell - Style by Gabe Agular - Phases Hairdressing - Photo by Sebastian Cimetta - all rights reserved).
Now go ahead and enjoy all those compliments you receive when you flip your lusciously hued tresses.
Social Media Network Information
Please follow me on Twitter at: http://Twitter.com/HairBoutique. I look forward to meeting new people
from all walks of Twitter and learning from their Tweets.
Visit us at Hairboutique.com located at: http://www.HairBoutique.com, on Facebook, MySpace and YouTube.
Thank you for visiting us at The HairBoutique Blog and for leaving your comments. They are very much appreciated. We apologize in advance but must remove any direct advertisements or solicitations.
Original Publication Date: 7/31/2005 - Revised Date: 07/27/10
If you want to talk more about this or other hair care articles on HairBoutique.com or anywhere else, please post a message on HairBoutique.com's Hair Talk Forums.