Last updated on July 4th, 2009 by Karen Shelton
Introduction
Known as "braid waves" this hairstyles is probably one of the easiest styles to create if your tresses are long enough to plait into a series of braids.

There are a few simple tips to consider when making braid waves.
The ultimate design of braid waves will be directly linked to:
A. Total number of braids interwoven throughout the hair B. Thickness of each individual braid created C. Pattern of all the individual braids combined D. Natural texture of hair (straight, wavy, curly, kinky) as well as overall hair health (healthy versus damaged). E. Type of hair (thin/fine, medium, thick, super thick). F. Dampness of the hair when the braids are created. G. Length of time braids are actually left in the hair. H. Type of styling products used to prep the hair before braiding I. Length of hair to be braided. (Medium to long or super long hair has the best overall results. J. How braid waves are styled after braids are removed. K. Products used to style finished waves. L. Whether hair accessories are used to anchor waves or not.
Advantages of Braid Waves
Braid waves have a number of great advantages:
1. They are easy to create 2. When created correctly they can instantly add waves, enhance natural textures or even showcase curls as demonstrated by the beautiful Adrienne Bilon (show above). 3. Braid waves minimize wear and tear on delicate strands. Especially if the braids are not created too tightly or with rough fingers and hands. 4. Newly created braids can be worn down in a cascade of texture, as part of a high pony, hair twist or with a hair bump. There are endless styles for braid waves. 5. Texture is created without hot tools such as curling irons or hot rollers which saves wear and tear on hair. 6. Braid waves are a wonderful hairstyle for long or very long tresses. 7. Being inventive allows you to utilize braid waves to create a wide range of new hairstyles. 8. Hair accessories are the perfect complement for braid waves.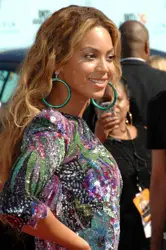 DailyCeleb.com All rights reserved
Step By Step Instructions
Listed below are the basic steps for creating Braid Waves:
1. Hair should be damp but not overly wet.
You can create braid waves from newly cleansed hair or from dry hair that is prepped properly.
Remember to always carefully detangle tresses from the ends to the roots before braiding or styling in any manner. If there are knots or snags in your hair and you braid without detangling it will only make the knots worse in the long run.
On newly cleansed hair be sure to towel blot to remove excess moisture, apply your desired leave-in conditioners, defrisants and/or styling products before you begin to braid.
You may wish to apply a light cocktail of desired leave-in detangler, conditioner or other styling products (firm holding mousse or gel). Ken Paves Boost Up color can also be added to your leave-in or other styling products for extra color oomp if you want your braid waves to show off your haircolor.
If hair frizzes easily, apply a defrisant balm like Phytodefrisant or similar to damp strands to prevent frizz while still allowing barely-there waves to form.
If you wish to make braid waves on dry hair, use a spritzer bottle filled with lukewarm water and spritz sections of hair before braiding.
Clairol All rights reserved
If you want "crunchy" waves, mix a little hair gel with the water for a slight crunch. If you want a strong hold you can prep each section of hair after spritzing with water with mousse, gel or even paste. Experiment to achieve different results.
For extra control around the face, crown and sides, apply a firm holding hair cream or sculpting gel. One to try: Ken Paves Healthy Hair Curl Balm.
Note: Damp tresses are required to help the waves set better. Creating braid on bone dry hair will not create the same results. It's also true hair with natural texture will generally have a more uniform results then stick straight strands unless lots of styling products are applied to the damp strands.
2. Plan Your Braid Pattern Before You Start
If you don't really care about the outcome of your waves and are fine with random results, just grab individual chunks of hair and start braiding.
Keep in mind the smaller the braid, the tighter the waves and the larger the braid, the looser. Also, if you do three strand braids you will have a looser wave pattern than if you do six or eight strands or more.
3. Start With Your Desired Part - Or Not
It is always best to plan your wave design before you begin braiding.
Take into consideration where or if you want a part. The part can be center or to either side unless you prefer no part. If you braid all the way from the tip of the root to the very end of the hair you will have a bigger texture than if you start a few inches from the roots with the braid.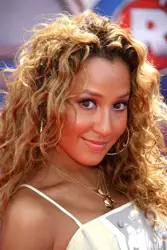 DailyCeleb.com All rights reserved
You may want to consider separating your entire head into four, six or eight sections and creating the same sized braid pattern all around your head. This will create uniform waves. If you want an irregular pattern you can alternate thick and thin braids or three strand with six or more strands for an unusual wave result.
4. Whether you start with newly washed or dry hair keep a water spritzer handy.
You may find that as you braid from one side to the other your hair may dry out in some sections. Make sure all of the braids have an equal dampness. This will guarantee uniform results. It is usually best to start at the front of the hairlines and work around your head in a circular pattern.
Have a friend help you with the back if you are creating braid waves for a special event and want them to have a uniform look and flow.
5. Use a "hair friendly" hair tie to secure each braid.
Remember hair is most fragile when wet so be gentle with your hair and you braid. It is always best to apply a light leave-in conditioner to your fingers to help glide through your tresses easier.
Also, if there are any snags on your fingernails or fingers be sure to remove them before using to finger pick or braid delicate tresses.
You may wish to use Blax bands and then simply cut them off the ends when you undo the braids which eliminates and pulling or wear and tear on the ends. Or you may wish to use "hair friendly" elastic bands that can be easily removed from the ends.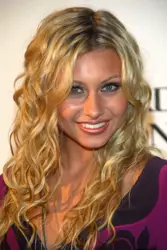 DailyCeleb.com All rights reserved
Note: Never, ever use rubber bands in any manner on either wet, dry or damp tresses.
6. Let braids air dry overnight or sit under a hood dryer. After you have created the braids to your satisfaction the longer you keep them in your hair, the deeper and more defined the waves will be when you remove the braids.
You can either sleep on the braids overnight or sit under a hood dryer if you want instant results. A blow dryer can work in a pinch but the waves will not be as deeply set and may not hold as long or consistently. By far the best method is to apply the braids to damp hair and let the hair air-dry for at least 12 hours or more.
If you sleep on the braids overnight you may either wish to cover with a satin night cap or sleep on a satin pillow case to prevent hair from frizzing or being disturbed from the braids.
Note: If hair naturally gets frizzy you may to apply a light coating of defrisant cream to damp strands before braiding.
If you did sleep in the braids overnight and they did not dry on their own you can finish them off in the morning with a quick blast of a blow dryer set on low/cool speed/temperature.
7. Once braids are 100% dry remove to unveil new waves. It's important NOT to remove the braids until hair is completely dry. If you remove the braids too early you will likely see wimpy results and not the deeply patterned waves which are possible with braid waves.
8. Finger pick waves into position. After you remove the braids you may first wish to spritz your entire head with a quick or firm holding hairspray for extra hold like PhytoPro Strong Finishing Spray or Ken Paves Healthy Hair Shaping Finishing Spray. Let the hairspray dry and then use your fingers to carefully pick through the new waves.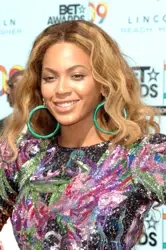 DailyCeleb.com All rights reserved
If your hair is naturally curly you can play with gently twisting some of the newly formed waves into ringlets instead of allowing them to remain as waves. Do not use a brush or comb or else there is danger of deconstructing the natural waves.
After you have the waves to your liking finish with another blast of shine enhancing hairspray or finish with a swipe of Ken Paves Healthy Hair Shine Serum. Apply one drop of the Shine Serum to the palms of your hands, rub together and then lightly brush over the top of your gorgeous new soft waves.
Other Braid Wave Notes
Braid waves looks fantastic with a beautiful hair flower affixed to one side over the ear allowing the waves to softly cascade down the back of your neck.
Headbands also work fantastically with braid waves. Experiment with a number of hair accessories to determine which looks best with your waves.
Summary
Braid waves are an easy, hair friendly and low maintenance style which works well on hair that is medium to very long in length in just about any texture and type of hair. It gives hair a rest from brutal hot blow dryers or hot irons and rollers and looks amazing.
Note: If you would love to try the Ken Paves Healthy Hair products check out his convenient Healthy Hair Try Me Kit which includes 2 oz of the daily shampoo, conditioner, shine serum and shaping hair spray. All Ken Paves Healthy Hair products are available at the HairBoutique.com Marketplace.
If you want to talk more about this or other hair care articles on HairBoutique.com or anywhere else, please post a message on HairBoutique.com's Hair Talk Forums.