Last updated on December 10th, 2008 by Karen Shelton
Introduction
Two years ago when Celebrity Hairdresser Ursula Stephen and SuperStar Robyn Rihanna Fenty came together in a right-place-right-time professional collaboration, the results were literally explosive.
The Bajan (pronounced BAY-jan) Beauty had been pigeon-holed by her record label as the cute beach girl with long caramel waves, posing on the cover of her first CD, Music of the Sun.
At the 2006 Billboard Awards Rihanna honored the pretty, but sexy, beach girl image by sparkling in a little white Zac Posen dress framed by long shiny tresses cascading down to her tush.
While she loved her long hair, Rihanna didn't want to be just another pretty girl with gorgeous hair and a one name handle. She wanted to be much more.
The talented singer from Barbados was already being compared to Beyonce and she didn't want to be just another copycat.
DailyCeleb.com All rights reserved.
Without her label's prior knowledge or approval, a rebellious Rihanna enlisted the help of Ursula to chop off her long locks and dye them deep raven black. The radical hair transformation took place in Rihanna's LA hotel room before she was set to pose for her next CD cover.
In an act of true celebrity hairdresser/client collaboration, when Rihanna expressed her desire to adopt an edgy version of Charlize Theron in the film, Aeon Flux, Ursula took the scissors and ran with them, in a manner of speaking.
Ursula, noted in her circle as a talented visionary image maker, took Rihanna's ideas of how she wanted to change her image and made it a reality.
The Billboard Music Award winner was transformed in whiplash speed from the good little girl from Bahama, to an International singing phenomena, with an edgy "bad girl" look. The sizzling new transformation was courtesy of Ursula's scissors and hair color wizardry.
The hair make-over made Rihanna instantly stand out as an artist, and it helped to seal Ursula's budding reputation as a world class celebrity stylist and makeover maven.
After her drastic haircut Rihanna went on to shoot the cover for Good Girl Gone Bad and the Rihanna Bob, cut and custom colored by Ursula, instantly became a major new hair craze which will live on forever in the "hot hair craze" category in the hair history books.
Ursula explained "the response to that first Rihanna Bob was completely unexpected". Even more surprising, photos of Rihanna in her new Bob were literally "plastered everywhere". It was "totally crazy" but in a very good way.
Meeting Rihanna
Ursula and Rihanna met when Ursula was asked, at the last minute, to fill in doing the Beautiful Barbadian's hair on a leg of a performance tour.
The celebrity hairdresser was thrilled by the stroke of luck and jumped at the opportunity. Their meeting, according to Ursula, "was love at first site". The twosome were immediately "comfortable collaborating" on all of the R&B star's wide range of spectacular hairstyles.
Ursula, who had fifteen years of hairdressing expertise under her belt at the time of her meeting with the rising Pop star, was a great match for Rihanna.
Explaining their hair collaboration Ursula said "Rihanna had lots of great ideas about how to transform her image through her hair". And the star "continues to communicate her hair thoughts" with Ursula.
Since that first major career changing chop, Ursula has created several additional hairstyles for the dance-pop queen who has become the girl-to-watch for the latest hairstyles and fashions. Of course Ursula has become the go-to makeover hairdresser who has transformed the likes of other big name celebrity heads.
Besides their love of collaborating on sizzling new hair styles, the pair share a mutual "love of fashion".
Rihanna adores wearing an array of stunning new fashions while Ursula "receives her hairstyling inspiration from different textures, cuts and shapes, which blow open her creative juices."
Ursula - Fulfilling Destiny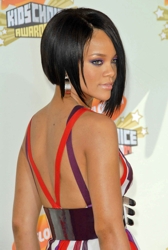 DailyCeleb.com All rights reserved.
While Rihanna was busy fulfilling her dreams as a world renowned singing superstar, Ursula was realizing the fruits of so many years working behind the chair as a hairdresser.
The Scorpio from Brooklyn knew from an early age she "wanted to work with hair". She used to love to play with her mother's long hair as she was growing up.
The beginning of her hairdressing career stemmed from advice provided to her mother from her mom's long term hairstylist back in Brooklyn, New York, where she was born.
Her mom requested help in finding Ursula a high school with an in-house cosmetology program. Once a list of schools were located, Ursula and her mom set to work picking a school for the budding young hairdresser to attend.
The determined Ursula had her heart set on one particular school and the Fates were again smiling because she was accepted at the school she really wanted to attend.
Ursula "loved attending Cosmo school at the same time she attended high school". Laughing she admitted "she hated math" all through" Junior High School and knew that studying hair would be much more to her liking." Or course she was absolutely correct in her analysis.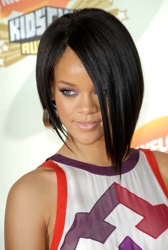 DailyCeleb.com All rights reserved.
By the time she graduated from high school Ursula "was ready to start her hairdresser career". She confessed "she felt very blessed" by all the events that transpired making it possible for her to find a great school.
She felt "so lucky to be ale to get her hairdresser training during high school" and not have to "go to beauty school afterwards".
Ursula confided "over the years many hairdressers" have told her how "envious they were they she was able to go to Cosmo school during her high school curriculum".
Another blessing, Ursula shared, came to her in the form "of her cosmetology teacher" who was not only a really great teacher but "became a trusted friend" and gave "her lots of great advice and guidance."
In particular, Ursula's Cosmo teacher encouraged her and the other students "to attend hair shows".
At those shows Ursula got a glimpse of all the possibilities the hair world could offer to her. She was fascinated by the platform artists and their amazing skills. Working in print, on the Red Carpet or other celebrity hair events because a dream she set her mind towards manifesting.
Starting Her Hairdressing Career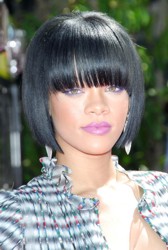 DailyCeleb.com All rights reserved.
As soon as Ursula was out of school and got her hair license, she was chomping at the bit to work as a full time hairdresser.
She immediately got a job at a "neighborhood salon in Brooklyn", near where she grew up, and went about the business of "building a solid hair clientele".
An extremely hard worker, Ursula is dedicated to giving her clients "her very best" at all times.
As a result of her positive attitude, her hard work, her loyalty to her clients and her great skills as a hairdresser, she soon built a very large book of business.
As her hair business grew she eventually found herself doing "as many as twenty heads in an average day".
That is an astounding number of hair clients. Laughing, Ursula agreed. She also commented how much "she loved all of her clients and doing their hair".
A lot of her very first hair clients stayed with her until she stopped working behind the chair in a salon in order to go on the road as a free lance hairdresser.
Ursula pushed herself very hard to constantly improve her knowledge of the hair trade and did everything from cuts, color and styling to weaves, extensions and wigs. Every new hair challenge helped to make her an even better hairdresser.
Chasing Her Dream Of Being A Celebrity Hairdresser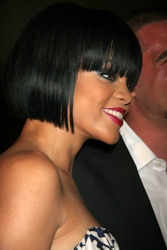 DailyCeleb.com All rights reserved.
Although there was an element of luck for Ursula in connecting with Rihanna, she knew from those days in school attending hair shows that she wanted to break into working with music or other stars.
She mentioned catching a glimpse of celebrity hairdresser Ken Paves at a hair show (Jennifer Lopez, Eva Longoria, Ashlee and Jessica Simpson) and wanting to stop and chat with him. Unfortunately he was "surrounded by people" and she could not get to him.
She told me he has been one of the celebrity hairdressers "she looked up to" because of his career successes.
After working hard for close to ten years in a salon setting, she decided to spread her wings and start trying to get jobs doing print and related jobs.
Although she continued to work with as many of her original hair clients as possible, she became a free lancer and put the work out that she was available for work in the entertainment business.
Like everything else she does in her life, the dedicated hairdresser made phone calls and sent out inquiries for jobs working with musicians or in print. All of her work paid off although she shared how long it took her to get to the right people to make some of her jobs happen.
Electricity Gone Wrong In Paris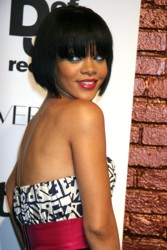 DailyCeleb.com All rights reserved.
I asked Ursula if she had encountered any crazy hair experiences during her travels with her celebrities.
She laughed and told me she had a "strange hair styling experience in Paris".
The first time she traveled to Paris to do hair she "didn't realize the electricity was so much different" than it is in the US. As a result, she "wasn't prepared with the right type of adapters for her blow dryers or other hot tools".
As usual, she was doing Rihanna's hair in her hotel room, but "none of the hot hair irons would work". It took her a few minutes to figure out what was happening and she "realized the electricity in the room was not working with her hot tools".
In a moment of pure genius Ursula looked over at the roaring fireplace and "realized the fireplace" was filled with "little stones" she could use to create her own personal version "of an old fashioned oven" that were once used to heat up hot irons before the days of electricity.
She proceed to heat up all her various irons, literally by layered them with the little stones from the fireplace. She then went on her merry way creating her usual incredible hairstyles.
Yes, using the fireplace was a little bit awkward and it took a little longer to get the irons to the heat she wanted, but it had a happy ending.
Of course now she is always very careful to pack all the appropriate converters. But she knows that "just in case" they malfunction and there is a fireplace in the room, she always has a good "backup plan".
When I pressed Ursula for other "hair war stories" she laughed and promised she would keep me in mind for any others that develop in the future.
Rihanna's Hair Secrets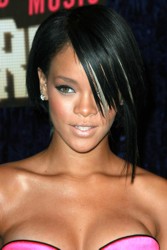 DailyCeleb.com All rights reserved.
I asked Ursula to fill me in on Rihanna's hair type and texture.
She told me "Rihanna's hair is naturally kinky curly and requires chemical treatments to get it sleek and straight for her edgy short hairstyles".
Before she relaxers Rihanna's hair she "always pre-treats it with a good conditioner to keep it soft and damage free". The superstar's hair "relaxes beautifully".
She also "colors Rihanna's hair" with "semi-permanent color" to protect against damage. She is currently using two gorgeous shades of color from Sebastian that she mixed together for her current stunning hue.
Rihanna's current colors are Beautiful Brown and Black Orchid. The end result is a gorgeous Blue Black shade which makes Rihanna's eyes pop.
Ursula noted "the downside to using semi-perm color is that is starts to come out after just 3-4 weeks and she needs to redo it to keep it rich and glossy looking".
DailyCeleb.com All rights reserved.
Since Rihannas and Ursula started working together, Ursula has done the majority of Rihanna's hair styling duties. She is always searching for ways to "change up Rihanna's hair" but unfortunately so many people are still "stuck on that original Rihanna Bob".
Because Rihanna's hair is chemically relaxed and colored, Ursula takes special precautions to protect it from any heat styling she might do. Specifically she uses a really good leave-in conditioner to prevent frizz of any kind.
Although she uses a variety of products on the star's hair, she really likes the Bedhead products. She loves Manipulator from TIGI.
Rihanna - From Long & Brown To Short & Blue Black
When Ursula first met Rihanna, the star's tresses were a soft brown and long.
Since that auspicious beginning, Ursula and Rihanna has worked in harmony to change everything about Rihanna's hair from the length and the color to the style.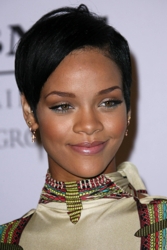 DailyCeleb.com All rights reserved.
Ursula explained "Rihanna is very adventurous, very open, when it comes to her hair". She likes to "change up her hairstyles from the length and cut to the color". She loves "to go darker and try new accent colors".
Over the past two years Ursula has created a wide range of hair designs for Rihanna which includes working with extensions, wigs, braids and weaves.
In the process of working with Rihannas, Ursula has traveled all over to support her famous client for photo shoots, performances and Red Carpets.
When we chatted the last time she was getting ready to go to Europe for three weeks and would be starting out in Poland.
Although traveling keeps her very very busy, she still always goes home to Brooklyn when she is not working with Rihanna or one of her other celebrity clients.
She no longer has time to go into the salon but whenever she can, she squeezes in some of her long term clients.
The Rigors Of Being On The Road
I asked Ursula what it was like working with Rihanna. She obviously loves working with the superstar although it means she is constantly traveling and is crazy busy. I asked if she was having a hard time handling all the hours working and being on the road?
She wisely answered "you commit to whatever job you are doing and you give it your very best". Ursula also noted "we are never given more than we can ever really handle". So regardless of whether she is doing more or less work, she just flows with whatever needs to be done.
When I asked how she was sleeping she chuckled and said "not so well sometimes" but it's just part of the job of traveling with celebrities.
The Importance Of Basking In A New Look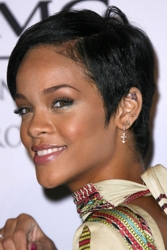 DailyCeleb.com All rights reserved.
After the first Rihanna Bob was created and was such a huge success, the superstar was chomping at the bit to quickly go with another new hair look because she was so thrilled with all the media attention.
Ursula explained she "convinced Rihanna to wait a little while and get as much mileage as possible out of the Bob hairstyle". If she "changed it too quickly" Rihanna would not get maximum attention from the original style.
Rihanna agreed to "wait for awhile before moving to the next hairstyle", which was eventually a short chop, which like the first Bob, also sent the media into a writing frenzy.
In between the two dramatic cuts, Ursula changed up the original Bob by adding subtle highlights, applying some edgy layering and using different textures.
With her second much shorter cut, Ursula played with different parts and directing the hair up and off her forehead or building a great full side-swept look.
Ursula creates different hairstyles that work with Rihanna's planned fashions or events. She noted "Rihanna is very trusting" of how Ursula does her hair and they continue to discuss all the different options for styles. Rihanna will give ongoing feedback such as "I like that or not".
Short Hair Is Where It's At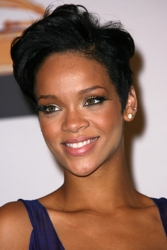 DailyCeleb.com All rights reserved.
Ursula believes "short hair is where its at" for the present time. She believes it is very popular and will continue to grow in popularity, partially because of Rihanna and how people have fallen in love with her various short cuts but also because it is up and coming and so much can be done with it.
When short hair is cut correctly, Ursula contends it "can be very sleek and can offer a lot of different styling and color options".
A Taste Of The Celebrity Hairstyle Life
The spunky Ursula made the decision recently to sign with an agency (MEGA Management in New York) to help manage her career, which is literally on fire, due to the work she has done for Rihanna, Keyshia Cole and Saleisha Stowers (America's Next Top Model Winner).
She has been called upon to provide expert styling tips for InStyle, Essence, Us Weekly and People Magazine. Her new publicist, Troy Monaco is fielding non-stop requests for Ursula's time and a wide range of bookings.
Dream Clients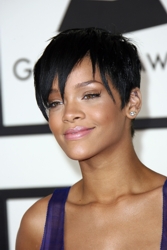 DailyCeleb.com All rights reserved.
I asked Ursula if she had any potential "dream celebrity clients", other than her current batch, whom she loves working with, that she might like to work with down the road.
She thought for a few minutes and then provided me with an interesting list.
Ursula replied she "would love to work with actress Jennifer Garner who she loved on Alias". She said Jennifer is "so gorgeous" and "looks so great in messy buns". She also would "love to work with Miley Cyrus because she is really pretty and she would love to do a makeover with her".
The blonde and beautiful Jenny McCarthy is another head Ursula would love to work with. She noted "Jenny is so hot and has an amazing hairstyle" she would love to get her hands on.
Other dream clients would include "Serena Williams, Zoe Kravitz, Jennifer Hudson, Joy Bryant, and Renee Zellewegger" because Ursula "would love trying new styles on Renee's current short crop".
Ursula's Recommended Products
Ursula was so great to chat with. She has an amazing sense of humor and had me laughing throughout our conversation. I asked her what she would recommend hair consumers do to make sure they achieve the same great hairstyles as her famous celebrity clients.
She commented how important it is to "use the right hair care products to make sure you can achieve consistently great results for any cut or style".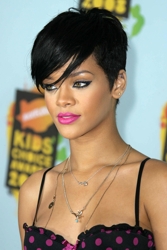 DailyCeleb.com All rights reserved.
Of course "starting with a great haircut is the first step" to a fierce hairstyle but "maintenance is also very important". Ursula's philosophy, she pointed out, "is true whether you're a big name celebrity or an everyday hair consumer".
Ursula is a big fan of conditioning because it adds lots of shine and helps keep damage from hot styling at bay. She also is a fan of curling waxes and likes Elasta QP and Ojon Oil.
Keeping her celebrities looking polished is important and she likes both products for a very polished finish. As a deep conditioner, Ursula likes the results of creamy, dense conditioners like that of Bed Head from TIGI.
She loves her GHD flat iron, because she "travels overseas a lot and it is dual-voltage, which saves her from any more iron-in-the-fireplace adventures. In addition, she because she has to re-heat the tresses of her clients many times during the course of a day, she like the FHI Hot Sauce because it's "great for again and again heat".
Ursula's Thoughts On Weaves & Wigs
In her work with celebrities, Ursula is often required to work with hair extensions, wigs, weaves and different types of braids.
We discussed micro braids and cornrows and she mentioned playing around with a few different braiding styles with Rihanna.
I asked her whether she worked with human hair or synthetic. She told me the type of hair she uses "depends on what look you're going after". What you do with the extensions or the weave after it's in is just as crucial as choosing the right type of hair. Too much hair will look fake, like a wig. Ursula pointed out that "every weave needs to be shaped according to a number of variables including head size and face shape".
Summary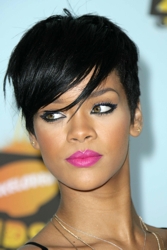 DailyCeleb.com All rights reserved.
Ursula Stephen is bright, funny and full of life. She is one of the hardest working celebrity stylists I have ever had the chance to interview. She has a great attitude and doesn't hesitate to mention how blessed she feels and appreciative of the opportunities she has been given. I must confess, I enjoyed every minute of our 45 minute phone chat.
Even though she was very busy getting ready to jet off to Praque in Poland for a whirlwind work schedule with Rihanna, she was very patient and took the time to thoughtfully answer all my questions and discuss her work with Rihanna and her other celebrity clients.
What's next for this incredibly talented lady? The sky is the limit and you can certainly expect to see Ursula at the very top of the pinnacle of success.
How do I know? Recently Ursula made news when she created a fabulous style for Michelle Williams (of Destiny's Child). She has also been recently featured in Heart & Soul Magazine and Essence Magazine for the May 2008 Issue.
Expect to see Ursula Stephen wherever you look over the next few months. She's out there and doing what she does best - great celebrity hairstyles.
If you want to talk more about this or other hair care articles on HairBoutique.com or anywhere else, please post a message on HairBoutique.com's Hair Talk Forums.