September 5th, 2004 by Karen Shelton
Introduction
Celebrities, stars, actors and actresses are often required to drastically alter their appearance for a film or TV role. Sometimes the drastic strand changes involve going with short hair styles.
Many times the hair extensions are so artfully applied that they are completely concealed on the short hair of the person they are applied to.
Hair extensions and wigs have been used since they were first invented to make it easy for anyone with short hair to instantly morph into a look of long strands.
Besides adding length to short strands, hair extensions can also add much needed volume for fine or thinning tresses. They can also be used to add instant hair color when the goal is to try on a new hue but skip the chemical damage cycle.
One of the most challenging aspects of attaching extensions to short styles is making sure that there is enough native hair on the scalp to actually attach the add-on strands.
Some hair extension experts will refuse to apply hair extensions to native hair that is short. This is because they feel that they can not get the results that they desire or they may be frustrated by the inability to easily merge the add-on strands with the natural hair.
There are a number of ways that hair extensions are applied including fusion, a variety of locks and when hair is long enough, pinch braiding.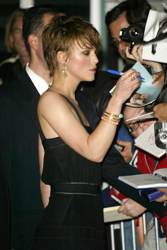 DailyCeleb.com All rights reserved.
The most popular method of applying hair extensions to super short strands is through a form of glue or fusion. The biggest challenge with adding extensions to short hair is making sure that it blends well so that the add-on strands do not stand out. A low key blending is the goal.
How is the blending done? It depends on whether you go to a hair extension expert or you Do It Yourself (DIY).
A talented hair extension expert will usually require that you have at least 1 inch of hair in order to have extensions applied.
The native hair length would also be required for add-on ponytails or braids. Keep in mind that there needs to be something for the add-on tresses to be able to grip onto and hold in place.
When native hair is super short, the extensions must not be too long or too heavy or they can not be effectively anchored to the existing native hair. If the natural hair is too short to hold extensions, consider a light and airy lace-front wig.
A potential problem with really short hair is exposed heat seals. If the natural hair is too short, the seals may be completely exposed.
Many celebrities like Keira Knightley, Jessica and Ashlee Simpson, who are constantly changing their strands, will opt for wigs and half-wigs to do an instant hair alteration.
Tricks For Blending Hair Extensions With Short Hair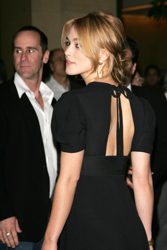 DailyCeleb.com All rights reserved.
However fabulous hair extensions look, when you apply them to very short hair, you will have to address the fact that if they are not blended perfectly you're stuck with that short unattractive layer on top!
Hair extensions experts advised me of the following tips that will help blend hair extension wefts seamlessly into short hair:
1. Color Match
The better the hair extension wefts are colored to match your current hair, the better they will blend in with your own hair. This is because when hair extensions are matched to your own and incorporates subtle shifts in tone, it will be less detectable.
2. Bobby Pins & Anchor Accessories
If bobby pins are used to help anchor the extensions, use pins in the same color as your natural hair to avoid drawing attention.
3. Hair Accessories To Camouflage
Use hair accessories to camouflage any seams where the add-on pieces begin and the native hair ends. This also works well for add-on ponytails, braids and other hair pieces. Use a soft, stretchy bandeau style of headband that will shift shape to cover any major add-on sections.
You can also experiment with wide barrettes that can be used as one re-enforcement anchor and one part camouflage.
4. Use A Straight Razor
Your hair extension expert can also opt to use a straight razor and lightly razor down the length of hair starting where the short tresses stop.
5. Wear Hair Very Straight After Extended
If the extension hair is 100% human and can withstand heat, use a flat iron to flatten the add-on strands to prevent them from sticking up mullet-like. Some people have great luck using a Mason Pearson Boar's Head brush or similar to keep the extension hair brushed and flattened.
6. Experiment With Styling Products
Many hair extension experts swear by using a good styling cream to help merge the add-on strands. Other swear by using lots of hair spray. Experiment to see what works best for you.
7. Proper Extension Hair Placement
If the natural hair texture is thick, the extended hair can be added up further towards the hairline which makes the extension hair less detectable. This will hopefully prevent a "mushroom effect".
Summary
One of the most challenging aspects of transforming short hair into long lush locks with the application of hair extensions is dealing with the blending aspects. Some hair extension experts will not undertake extensions on short hair because they are frustrated at being able to successfully keep the add-on hair flat.
If you have super short hair and are determined to go with add-on hair extensions, take your time and find an expert that will work with you. If you are a confirmed Do It Yourself-er (DIY), try some of the tips provided above.
Social Media Network Information
Please follow me on Twitter at: http://Twitter.com/HairBoutique. I look forward to meeting new people
from all walks of Twitter and learning from their Tweets. Visit us at Hairboutique.com located at: http://www.HairBoutique.com, on Facebook, MySpace and YouTube.
Thank you for visiting us at The HairBoutique Blog and for leaving your comments. They are very much appreciated. We apologize in advance but must remove any direct advertisements or solicitations.
- Revised Publication Date: 05/19/10
If you want to talk more about this or other hair care articles on HairBoutique.com or anywhere else, please post a message on HairBoutique.com's Hair Talk Forums.