September 5th, 2004 by Karen Shelton
Introduction
Hair care products come in a dizzying array of brands and types. One hair care category that could potentially fill an entire beauty supply store on its own accord is conditioners.
The simple term "hair conditioner" can mean anything from pre-treatment solutions to a full blown deep treatment applied with heat to a light detangling leave-in spray, cream or similar product.
Conditioners come in every size, shape and type. There are infused into oils, masks, creams, pastes, sprays and liquids. They come in glass bottles, metal cans, tubes, jars and spray bottles or other related delivery containers.
There are also formulas specifically created for every imaginable hair texture, type and condition ranging from very light to ultra deep conditioners and restructuring treatments.
There are even products designed for specific hair colors, ethnic types and age.
Hair Porosity - Why Hair Needs To Be Repaired
When hair is defined as "porous" it means it is much easier for liquids, such as water, shampoo and various products to actually pass down into the hair's inner structure through the cuticle's scales.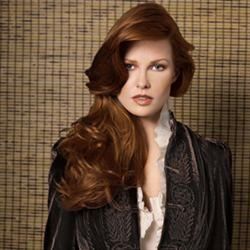 Abba All Rights Reserved
The overall condition of the hair's cuticle determines the ultimate porosity. Sizzling hot irons and curlers, turbo-charged blow-dryers, bleach, chemical hair treatments (color, perms, strengtheners) are the bane of shiny, healthy locks.
If the hair's cuticle has been damaged from chemical abuse or its scales have been opened by excessive heat treatments, the porosity factor is increased significantly.
When hair becomes mistreated from over processing or over-styling, it because damaged. Tiny rips and tears actually develop in the outer cuticle of the hair. As hair becomes more damaged it then becomes progressively more porous.
What does overly porous hair feel like? When it is extremely porous it has a sticky, spongy feeling. If it is extremely damaged it may not dry easily or it may feel extremely rough or waxy.
What Do Conditioners Do?
Any type of substance that can coat the hair's shaft such as natural scalp oils, conditioners, hair creams or even styling products that include heavy lacquers or waxes, decrease the porosity of the hair.
Hair is actually more porous towards its ends due to the normal wear and tear from daily handling, brushing, combing and environmental abuse.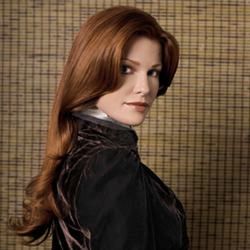 Abba All Rights Reserved
Conditioning products are designed to offer salvation to chemically treated, environmentally and nutritionally damaged and under nurtured strands.
Just as spackle is used as filler to plug holes in walls, conditioners are used to fill in the holes, rips and tears of over porous, damaged hair.
High powered deep conditioning treatments may actually penetrate all the way down into the cortex layer of the hair and act as a type of putty to help fill in the torn, weakened, fragile areas.
Myths & Misconceptions
Unfortunately, there are about as many myths and common misconceptions about conditioners as there are actual types of products.
One hair truth is eternal. What works for one person may not work for all people and vice versa. Like anything else involving hair care treatments, it is important to select products that are most compatible with your own hair type, texture and needs.
Major Categories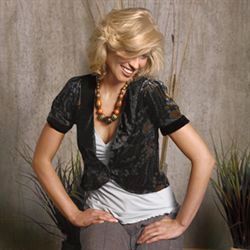 Abba All Rights Reserved
Although some hair conditioners do not fit neatly into one of the clear cut categories, most hair conditioners are designed to fit in one of the following:
1. Pre-Treatment such as various types of different hot oil treatments 2. Rinse-out treatments 3. Express deep conditioners 4. Deep conditioners formulated according to hair type, texture or damage issues. 5. Reconstructors deep and express treatments & environmental repair masks & special conditioners 6. Detangling conditioners 7. Leave-in conditioners 8. Color enhancing 9. Chemical free products or mists 10. Combination conditioning products
Note: To read more reviews on related products visit:
HairBoutique.com Hair & Beauty Product Reviews - Visit this page for reviews on a wide range of hair and beauty products.
The 411 On Conditioning Products
Listed below are some common tips for using conditioning products wisely:
In some cases, but not all, conditioners may accelerate the fading of chemically applied hair colors.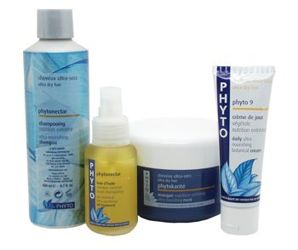 HairBoutique.com All Rights Reserved
Yes it's true, some conditioning treatments may actually accelerate color loss from chemically highlighted or colored hair.
This is especially true of products that advertise that they "pop open" the cuticle for deeper penetration such as volumizing hair care products.
While volume enhancing products may open the cuticle for deeper penetration of the volume enhancing shampoo or conditioner, when the treatments are rinsed out the hair, the water used in the rinse may also carry newly applied hair colors with it.
Other conditioners that are highly acidic like products made with high concentrations of olive oil may also cause a speedier fading of chemically applied color loss.
Heat activated conditioners may open the cuticle for deeper penetration but may also inadvertently help speed up color loss. If you chemically color your hair be sure to research whether a particular type of conditioning product is safe for color treated strands. When a conditioning product does not specifically advertise it is safe for colored hair, be sure to discuss the products with your hair colorists, stylist or the product manufacturer.
When in doubt, take some time and find out before you use the product.
Color treated tresses should avoid being covered during deep conditioning treatments. Why?
It has been proven that excessive heat can actually fade color pigments of the hair, making color look dull and drab. Resist popping a plastic shower cap, a hot steamy towel or a blob of plastic wrap over your deep conditioner or else you may soften your hair but suffer some color loss during the treatment.
Apply all conditioning products from the ears down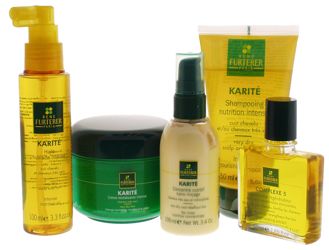 HairBoutique.com All Rights Reserved
Except in special situations, avoid applying conditioning products right at the root of the hair shaft.
This is especially true for anyone with oily skin or hair and acne prone skin or scalps.
The best rule of thumb is to apply conditioning products at least 1 inch away from the hair root.
Many hair experts actually recommend that any conditioning products be applied to hair from the top of the ears down to the ends.
Concentrate any conditioning products to the areas of the strands that need it the most.
Deep Conditioning Hair Care Tips
One side effect of chemically treated hair may include a new level of dryness. To keep hair shiny and lush schedule at-home or salon deep conditioning treatments to your hair care regime with products like Rene Furterer - Karite Nourishing Conditioning Cream.
The right deep conditioning treatments can leave hair soft, supple and silky when used on the right type, texture and condition of hair. Using the wrong type of deep conditioner on the wrong type of hair can result in lank, stringy oily strands.
PhytoSpecific - Intense Nutrition Mask is ideal for many people with coarse to very coarse hair that requires heavier deep conditioning treatments.
Note: Click on the link to read a detailed review of the PhytoSpecific Intense Nutrition products.
On the opposite end of the conditioning spectrum, PhytoBaume Conditioner is a very gentle conditioner that offers some of the advantages of a deep conditioning treatment without weighing fine, delicate or thinning strands down with excessive conditioning properties. Phytobaume was formulated with Mallow, which has proven softening properties and Keratin amino acids.
Summary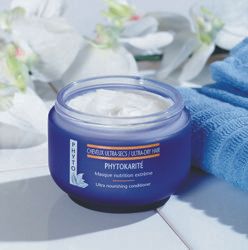 Phyto All Rights Reserved
Although some products will advertise that they are "deep conditioning", they may have a wide range of penetration levels.
Phytocitrus and Phytokarite are both deep conditioning treatments from Phyto, but Phytocitrus tends to be less moisturizing then the heavier Phytokarite that was designed to help add moisture to locks with chemical damage.
As a rule deep conditioning products contain either amino acids, protein, panthenol or a combination of all three to help soften and strengthen chemically treated or damaged strands.
Not all products are created equally and some may require that the product remain on strands longer than others.
Be sure to consider your hair's texture, type and condition before slathering on any type of conditioning products.
If you're not sure what deep treatments are best for your newly brunette hair, invest in the smallest sizes and try a few conditioning products on for size before going full speed ahead.
Social Media Network Information
Please follow me on Twitter at: http://Twitter.com/HairBoutique. I look forward to meeting new people
from all walks of Twitter and learning from their Tweets. Visit us at Hairboutique.com located at: http://www.HairBoutique.com, on Facebook, MySpace and YouTube.
Thank you for visiting us at The HairBoutique Blog and for leaving your comments. They are very much appreciated. We apologize in advance but must remove any direct advertisements or solicitations.
- Revised Publication Date: 05/25/10
Send this page to a friend
If you want to talk more about this or other hair care articles on HairBoutique.com or anywhere else, please post a message on HairBoutique.com's Hair Talk Forums.