April 21st, 2001 by Karen Shelton
Introduction
Barbara Lhotan recently gave HairBoutique.com permission to reproduce one of her stunning updo styles from her fabulous copyrighted book, 5 Minute Trendy Up-dos. This wonderful little gem is published by Inspire and available here at HairBoutique.com. The style is just perfect for Prom but would look stunning for any party or dressy event.
Barbara Lhotan is a favorite of HairBoutique.com for many reasons. Not only is she a highly respected senior educator for Paul Mitchell Systems, she specializes in creating stunning styles and updos.
Barbara is great to work with on many levels. Not only is she fun and wildly creative, she understands all types of hair. Barbara has a special appreciation for long hair as well. Her work creating hot contemporary hairstyles for the fashion runway shows, Seventh on Sixth, and South of Seventh keeps her completely tuned into the very latest looks and fashion trends. Barbara often knows about the latest hair trends before they are even trends.
Recently Barbara conducted the first of a multi-series of special photo shoots commissioned by HairBoutique.com so that we could create our own hair galleries of the most trendy styles. Barbara Lhotan and celebrity fashion/beauty photographer Eric Von Lockhart (Destiny's Child, Mary J. Blige), along with an incredible cast of beautiful models shot the Spring 2001 hair collection exclusively for HairBoutique.com in New York on April 8th. The shoot was filmed by Channel 9 and will be broadcast in the New York area in May.
Steps For Creating Updo
Model Bridgette is shown in her "before" hair pose to the side. The style is called One Loop, Four Drapes.
Barbara has graciously agreed to let HairBoutique.com reproduce the steps that she followed to create this stunning style. (Make-up by Monifa Mortis, Photography by Eric Von Lockhart).
The style shown in this article is soft, sensuous and can be worn by anyone with shoulder length hair or longer. It is suggested that you have a stylist or friend help you create this style since it requires a lot of work at the back of the head.
This style is best suited for medium to longer hair, but can be modified to be worn by women with very long locks. Any face shape looks good in this style. The style is flexible and allows for some facial shape compensate. You can modify the style by adding or removing bangs, adding parts or adding appropriate height and fullness to the style.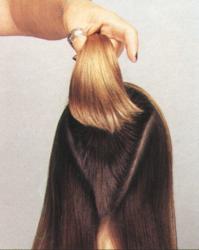 STEP 1: To start divide hair into five individual sections. Form a "V" shaped section, as shown in the photo to the side, and create a ponytail with a high elevation.
Note: Be sure to secure the ponytail with a "hair friendly" elastic band that is preferably the same color as your hair.
STEP 2: Two sections of hair are created on each side parted from the top of the head to the top of the ear.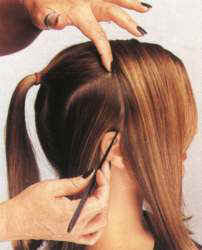 STEP 3: On the right side (shown to the side) with a center parting, create two sections.
Note: You will probably need the help of a friend or stylist to create this step.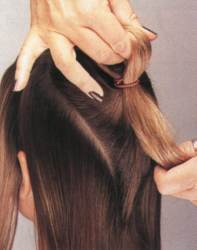 STEP 4: Pull the ponytail tail all the way through the elastic band to create a top loop.
Note: Do this step carefully and gently to protect your hair from rips or tears.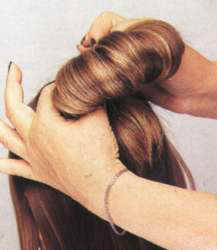 STEP 5: With your thumbs inside the loop, pull to either side, spreading the loop and fanning out the ends of the hair.
Play with the loop until the desired shape is accomplished..
STEP 6: The left side panel is pulled up and around the center ponytail.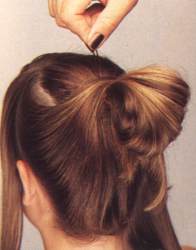 STEP 7: Secure with a bobby pin at the top of the ponytail.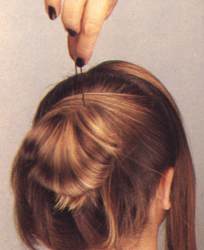 STEP 8: Right side is then pulled up and draped over the top of the ponytail and panel is secured with a pin at the top.
Note: If your hair is especially soft of tends to unravel easily you may want to consider using more than one pin.
For soft and fine hair, consider creating this look on "day old" hair that has not been recently shampooed.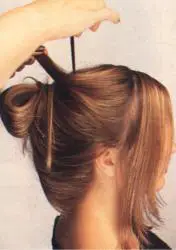 STEP 9: Take a section from both front panels and drape back over the base of the looped ponytail. Secure with bobby pins.
Note: Remember that creation of any updo style often requires some practice. As each style is created pay attention to areas of difficulty that you can refine and simply. Remember that practice makes perfect.
When you have the style the way that you like it, spray with a good setting product to hold the style.
Summary
Once you have completed Step 9 and you finish the draping and pining, you have created this stunning style. You may want to add a tiny drop of shine product to the palms of your hand to smooth along the draped strands to add killer shine to your do.
You may also want to dress up the style by pinning one flower at the base of the ponytail, near the top of the crown.
Or you may want to add a few well chosen rhinestone hair clips or magnets. Another option is to add a touch of glitter around the part.
This style is perfect for gorgeous hairsticks that can be added as accent pieces to really dress up the style. Use two or more sticks angled around the base of the ponytail to create a unique and very contemporary look.
You can also take a curling iron and carefully curl under the two front strands that frame your face to give the ends a soft curl.
Although this style was designed without bangs, you can also add a fringe if you like the look better.
Other options are to create a zig zag part near the front. This style looks especially stunning on hair that has been highlighted. The loops can be strategically created to take advantage of different hair colors and hues.
For a wild look, consider pinning brightly colored artificial hair strands throughout the style to give it an unusual look. The advantage of this great style is that you can play with it to create the exact unique look that is all your own.
This stunning style will turn heads. Enjoy!
More About Barbara Lhotan
Barbara Lhotan is known as the "Personal Trainer" for stylists wishing to be experts with long hair. She is the Director of education for Renaissance Salon in Smithtown, New York and a Senior National Educator for John Paul Mitchell Systems. Barbara has earned photo credits in salon industry magazines that include Inspire and Women. She has worked with Richard Dalton and Angus Mitchell on the runway during South of Seventh and Seventh on Sixth. Barbara has styled many models including supermodel and Donna Karen poster girl, Ester Canadas. The work was done during Fashion Week in New York City for designers Nicole Miller, Joan Vass, Carmen Marc and Shoshanna Lonstein.
If you want to talk more about this or other hair care articles on HairBoutique.com or anywhere else, please post a message on HairBoutique.com's Hair Talk Forums.