August 20th, 2001 by Karen Shelton
Introduction
Even though Summer is one of the best times of the year for fun and relaxation, it can also be one of the most damaging times of the year for your hair and scalp.
If you are in the sun even for a few minutes, your scalp and hair is in danger from the powerful rays of the sun. The warmth of the sun may feel fabulous but it can also case long term damage.
Many people have become religious about applying sunscreen to their skin.
The threat of skin cancer along with a major push by the media has helped the majority of people understand the importance of protecting themselves from the sun. It has become more widely known that the sun can cause potential cellular damage that can speed up aging and possibly trigger cancer.
Unfortunately many people forget to protect their hair and scalp along with the rest of the body.
A recent survey by Phytologie indicated that a higher percentage of people did not use a hair or scalp suncreen than those that did. It's essential you protect your hair as well. Sun damage to the hair can manifest as faded hair color, brittle and dry hair shafts and split ends.
HairBoutique.com All Rights Reserved
Medical hair loss experts have proven scientifically that there is a direct correlation to hair loss and scalps damaged by exposure to the sun. Some medications will actually enhance scalp vulnerability to the sun.
Dermatologists and doctors often warn their patients using Retin A to avoid exposure to the sun. When Retin A is combined with Minoxidil for treatment of the scalp for hair loss, there is a definite need for prevention from exposure to the sun.
Patients using a 5% minoxidil treatment can also experience severe inflammation and accelerated hair loss from sun exposure. When in doubt, if you are using Retin A or Minoxidil, or a similar product, talk with your primary care specialist.
The world class Phytotherathrie Laboratories developed the very first sun hair care line back in 1975 specifically to help protect from the ravages of summer hair damage.
Hair Products That Provide Special Care
The Phytotherapists prepared a very special hair care program that can help you to keep your gorgeous locks healthy, beautiful and moisturized even after long hours of exposure in the Summer sun.

The program consists of five different products designed to protect hair from the sun before damage occurs and to help damaged hair recover, if your hair has already been affected by the sun's rays.

All of the Phytoplage products not only protect against the drying effects of the sun, wind, salt, sand and sea water, it also protects against the chlorine and related pool chemicals. Phytoplage has been proven to prevent color oxidation and preserve hair shine and softness.

The Phyto products include the following:

Phytoplage Hydrating After Sun Mist with Sugar Cane Extract Phytoplage Sun Protection Oil Phytoplage Protective Sun Veil Phytoplage Moisturizing Sun Gel Phytoplage Hair and Body Shampoo Phytoplage After-Sun Repair Mask

The Sun Protection Oil and the Protective Sun Veil provide similar benefits, which is a sunscreen for your hair. The Moisturizing Sun Gel offers the protection of a sunscreen along with styling at the same time.

Which product is right for you? It depends on your preference. The Sun Protection Oil is the original sun hair care product developed by the folks at Phyto.
Sun Damage Prevention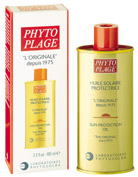 Before you go out into the sun apply Phytoplage Sun Protection Oil topically. This product is known as "the Original" hair protection product from Phyto. It contains eight plant extracts that were specifically selected for their softening properties.
They also have an anti-UV shield. Some of the ingredients include Castor Oil, Lappa Extract, Willow Leaf Extract, Lemon Oil, Sage Oil, Rosemary Oil, Juniper Oil, Lecithin and Hydrolyzed Wheat Protein, to name just a few of the fabulous components utilized in this formula.
Although many hair and beauty experts tout the Phytoplage Sun Protection Oil (the original can) as providing the absolute highest protection against the damage of the sun and pool chemicals, the downside is that it is an oil based product. Some hair consumers, especially those with oily hair and scalp, prefer not to use an oil based product. If this is the case, the Protective Sun Veil will provide the same great protection with a much lighter formula.
You can also use the Phytoplage Protective Sun Veil before or during exposure to the sun. Apply the Sun Protection Oil or Protective Sun Veil products on either wet or dry hair. Remember to reapply the product after swimming to maximize protection.
Whether you are relaxing on the beach, hanging out in the water, remember that the sun is everywhere. Even if you only want to step out for a short trip to the store, remember to always protect your hair.
For a great summer wet look apply the Phytoplage Moisturizing Sun Gel. The Moisturizing Sun Gel is non-greasy and will leave your hair silky and very easy to manage.
After Sun Exposure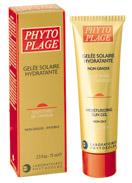 After a day in the sun or at the beach be sure to shower to remove any damaging salt or pool chemicals. Phytoplage Hair and Body Shampoo is a great product to use for your hair and your entire body. This incredible product will even lather up in salt water. Apply Phytoplage Moisturizing Sun Gel to newly shampooed damp hair to create a summer wet look.
Deep Treatments
If your hair has been damaged or dehydrated by prolonged exposure to the sun than use the Phytoplage After-Sun Repair Mask on a weekly basis.
This incredible moisturizing mask restores the natural moisture levels of your hair shaft and soothes dry scalps.
Natural oils and moisture are essential to smooth and healthy hair. Most human hair is made up of approximately 10-12% moisture. If the natural moisture level in your hair drops below normal levels, dryness and frizz can be the result. Repeated exposure to the sun can dry and dehydrate hair and can be a major cause of frizzy and dry hair woes.
Frizzy Hair Causes
Hair that is naturally curly, wavy or is a combination has cuticles that are shaped in such a way as to prevent the cuticle from completely closing. This fact allows the moisture in the hair shaft to be lost. If you have this type of hair cuticle or if you have used chemicals on your hair, it is even more important that you use a good hair and scalp sun screen.
If your hair has been bleached, colored, permed or straightened, the chemicals may well have damaged the hair's natural ability to absorb and retain moisture. This is also true of hair that is often exposed to sun, chlorinated and salt water.
Summary
Whether you are relaxing on the beach, hanging out in the water, remember that the sun is everywhere and it is very important to always protect your hair. Phytologie has provided a complete line of exceptional products to help with every need for surviving fun in the sun with your gorgeous hair damage free.
Social Media Network Information
Please follow me on Twitter at: http://Twitter.com/HairBoutique. I look forward to meeting new people
from all walks of Twitter and learning from their Tweets. Visit us at Hairboutique.com located at: http://www.HairBoutique.com, on Facebook, MySpace and YouTube.
Thank you for visiting us at The HairBoutique Blog and for leaving your comments. They are very much appreciated. We apologize in advance but must remove any direct advertisements or solicitations.
- Revised Publication Date: 05/31/10
If you want to talk more about this or other hair care articles on HairBoutique.com or anywhere else, please post a message on HairBoutique.com's Hair Talk Forums.