June 4th, 2002 by Karen Shelton
Introduction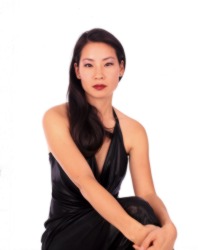 Lucy Liu recently came in at the very lofty #9 position on AskMen.com's 2002 list of the 99 Most Desirable Women. Even more noteworthy is the fact that Lucy came in one position higher than goddess Jennifer Lopez at number 10.
Since the list is based on "desirability" there are many factors about Lucy that probably guaranteed her spot in the AskMen's list. One thing is certain, Lucy is famous for her gorgeous jet black long tresses that cascade down her back.
Although Lucy became a household name from her star turn in TV's Ally Mc Beal, her star has been steadily rising since her spectacular role in 1999's Payback with Mel Gibson. Lucy played Pearl, the cold and calculating Chinese Mafia domintrix to perfection. She also carried her ice princess role with her as the chilly attorney on Ally McBeal. Lucy has broken the Asian actress mold.
Lucy appeared in a coveted guest role on Sex In The City where she danced a purse duel with Samantha and won. Lucy's star has risen fast from her Ally McBeal role to the big screen. Besides Payback and Shanghai Noon she was famous as the cool and collected Charlie's Angel for Part I and Part II.
Lucy Liu's star is rising fast, and almost as powerfully as her kick (trust us on the kick), as she seems to be involved with multiple big-name projects at the same time. In addition to her day job at Ally McBeal,she has had high profile gigs with the movie version of Charlie's Angels, Play It To The Bone, Payback, and Shanghai Noon.
Lucy Liu was born on December 2nd, 1968 in the Italian neighborhood of Queens, New York. Her parents, immigrants from China, raised her the American way, yet she couldn't help but feel culturally alienated because of her Asian background. She even stated: You go through a period when you don't like being Asian; you want to be 'American'. As she got older, she started to accept herself, and that's when her career literally took off.
Photo Credits: Designer -- Zano Artistic Team; Colorist -- Heather Palmer; Make-up-Kathy Durkin; Photography -- Gary Trantifil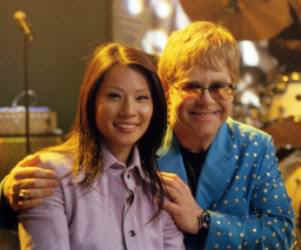 For the first Charlie's Angel flick Lucy wore her long locks slightly shorter so that she would have the slightly flipped ends. Lucy has the traditional Asian hair that is naturally straight. The good news is that it doesn't require straightening. The bad news is that is also does not hold curl well. Mousse was added to her damp hair and then blow dried with a small round brush to encourage the upward flip. Her hair was fine curled with a curling iron. A little hair polish was added to encourage shine.

Rounding out Charlie's trio of angels, Lucy Liu's Alex is the dark queen to fair-haired jokers Dylan (Drew Barrymore) and Natalie (Cameron Diaz). Where fools rush in, Alex prefers a course of stealth and silence. Such is the case in this scene, where Alex infiltrates a high-society party while investigating the kidnapping of a software tycoon. "She's the most sophisticated, the most elegant of the three," says makeup artist David Craig Forrest. Her look is understated, never flamboyant. As a seventh-level black belt, Alex is content to let her actions speak for themselves.

One minor problem that Lucy has been reported to have is fly-aways. These can be easily tamed with a dab of defrisant.

In 1986, Lucy finished high school at Stuyvesant H.S., and went to New York University, where she only stayed for one year due to her discomfort with the place. She then decided to move to the University of Michigan at Ann Arbour with a degree in Asian languages and cultures while also studying acting, dancing and singing. Her career ignited when she auditioned for a supporting role in Andre Gregory's adaptation of Alice in Wonderland, where she actually landed the lead role.

Her success was partly due to her fluency in Mandarin, and also because of her practice of Kali-Eskrima-Silat, an Indonesian martial art with crude forms of knife and sword fighting. Obviously, her language skills and martial arts are only one aspect of all her skills. Her theater credits include Numb, Redwood Curtain and M. Butterfly. She is also a member of the Met Theater Development Ensemble.

Liu is also a gifted artist; her work first appeared at the Cast Iron Gallery in SoHo in the early eighties. In 1993, she received an art grant to study art in China. She exhibited a mix of media photography, ceramics, paints, wood collages and papers on her chronicled experiences, in Venice, CA.

Liu is also a fearless athlete; she practices rock climbing, skiing and horseback riding. She experienced a few bad falls, first from her horse and then from her bicycle. These injuries didn't stop her from wanting to buy a motorcycle and from taking up snowboarding. Sheis also an accomplished accordion player, having been taught The Bak Gwi Plunderby the same teacher as Greg Germann, and surprisingly they now drag their accordions to work and jam between sets.

Her breakthrough role came on September 21st 1998, on Fox's Ally Mcbeal in the Episode They Eat Horses Don't They. She took on the icy role of Ling Woo, an assertive plant manager (and ex-lawyer) suing a shock jock radio for sexual harassment. She is now co-starring with Calista Flockhart as one of the shows most compelling characters.

On November 19th, 1998, Liu was to become really famous in an Ally McBeal episode. It's my party is the episode where she executed a deadly kiss with co-star Greg Germann. This piece of television history is what got her signed as a regular cast member.

Her other appearance include: City of Industry, Tupac's Gridlock'd, and Jerry Maguire. She also had roles on syndicated shows such as: Hercules: TJL, X-Files, Beverly Hills 90210, Nash Bridges, LA Law, Home Improvement, ER, NYPD Blues, and John Quest.
If you want to talk more about this or other hair care articles on HairBoutique.com or anywhere else, please post a message on HairBoutique.com's Hair Talk Forums.