August 17th, 2001 by Karen Shelton
Introduction
It's human nature to want what we don't have. The results of not getting what we want from our hair may result in a blow to our self esteem.
It certainly doesn't help that most celebrities seem to always look like they're having a great hair day. Never mind that they probably just spent hours being brushed, combed, sprayed, twisted and fussed over by an army of colorists, stylists and other beauty minions.
If you ever wondered how to escape the agonies of bad hair days followed by endless self flogging over unmanageable locks you are in luck. Adopt the following simple strategies and you will find instant relief for your hair woes.
Accentuate The Positive
Start your new hair love program by first taking a good look at yourself in the mirror. Come on. There are lots of things about your hair that you like. Concentrate on the hair parts that you enjoy: great color that brings out your eyes and skin, fabulous length, bangs that are perfectly layered.
Focus on all the great parts of your hair and don't get caught up in the attributes that you don't like. Make a list and tape it somewhere close to your daily hair care station. Whenever you get discouraged or start beating up your hair stop and read your list to reinforce your awareness of the great hair parts that you truly possess.
Silence Your Critics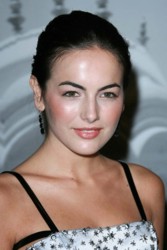 DailyCeleb.com All Rights Reserved
You and only you are required to wear your hair for your life events. Well meaning spouses, family, friends and acquaintances can and will provide their opinions about your hair.
When external critics volunteer their unsolicited opinions keep in mind that they don't own your hair. You do. Unless someone tells you that your hair is on fire, smile politely at their comments and then ignore them.
It is helpful to remember that when you are true to your own likes and needs you are truly expressing who you are to the world. This is true of the way you choose to wear your hair, the shoes you select or the car that you drive.
Find A Realistic Role Model
Whether you have stick straight hair, masses of curls or tons of waves, find a role model that has the same type of hair you do. It is folly to try and have curls like Debra Messing when your hair is fine, thin or straight as a board. Instead, focus on people with hair like yours to model.
Be realistic about the possibilities for your own hair. Jennifer Aniston Pitt has naturally wavy hair that has been morphed into a range of sleek, straight, shiny styles. Not only does Mrs. Pitt endure hours of styling tortures, her hair requires mountains of hair care products to maintain.
Unless you plan on hiring your own army of hair and makeup people be prepared to look fabulous in your own hair, not Jennifer's or Debra's or anyone else.
Enjoy The Compliments
When was the last time you received a compliment and shrugged it off? Not only does this discourage people from giving you additional kudos, it diminishes your own feelings about how great you really do look.
Next time someone display admiration of your hair or looks, be gracious and enjoy. Write the compliments down in your journal or post a note somewhere to remind yourself that you looked fantastic.
Resist The Crowd Mentality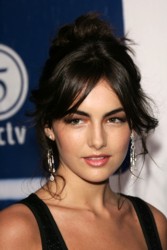 DailyCeleb.com All Rights Reserved
Every single season of the year ushers in a complete new bumper crop of hairstyles. Bangs or in, then they're out. Hair is long, then short, than chopped than curled. Who could keep up and not be hair-brained?
Ignore hot hair trends and stay focused on styles that work best for you and your hair. If your thick long locks look great in the latest braids, then embrace the hot style with panache.
Or if your cute cropped styles work for you, ignore the braiding frenzies and know that crops will be back in short order. Pressures to conform to the latest look will only throw you into a tizzy or hair stresses.
Trust Yourself
Listen to your little inner voice and trust your intuition about what styles and products are right for you. If you know you look best with bangs, then enjoy. If you love a certain shampoo, stick with it.
Find a stylist that you trust who listens to what you want for yourself. Don't be pressured to conform to the stylist's whims. A great hair consultant will work with who you are, what you want and make you feel great in the process.
Have Fun
Life is way too short to spend even a few minutes fretting about hair hassles. If your hair is acting contrary, forgive it and play with it. Pin it up, pop in a ponytail, slick it back, be adventurous and wild. Banish your self critic and know that like everything else in life, hair has cycles. Go with your hair flow, enjoy yourself and you will love the hair you were born with.
Social Media Network Information
Please follow me on Twitter at: http://Twitter.com/HairBoutique.
I look forward to meeting new people
from all walks of Twitter and learning from their Tweets. Visit us at Hairboutique.com located at: http://www.HairBoutique.com, on Facebook, MySpace and YouTube.
Thank you for visiting us at The HairBoutique Blog and for leaving your comments. They are very much appreciated. We apologize in advance but must remove any direct advertisements or solicitations.
- Revised Publication Date: 05/03/10
If you want to talk more about this or other hair care articles on HairBoutique.com or anywhere else, please post a message on HairBoutique.com's Hair Talk Forums.