Last updated on December 10th, 1999 by Karen Shelton
Introduction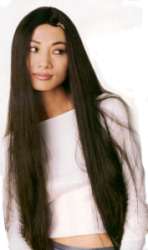 The December 1999 issue of InStyle Magazine (one of my favorites) beckoned to me from the shelves because of the front cover photo of Lisa Kudrow.
I have been watching Lisa as her long hair from that first season of TV's Friends has gone up an down the scale in length. I am always fascinated by this and wonder why.
Of course I have read all sorts of reasons from Lisa's new baby to her role in various movies, but I still wonder, why.
I was flipping through the InStyle magazine after finding no new clues to Lisa's hair moods when I arrived at an article titled Raving Beauty by Stephen Sigoloff.
The article had two photos facing each other on adjoining pages. One was of a very long haired lovely Chinese actress by the name of Bai Ling. The other photo was a very short haired women. Could it be? The very same Bai Ling?
I blinked, I gasped and then I stopped and read every single word of this article. I have to applaud the writer, Stephen Sigoloff. He did a wonderful job of telling this amazing story of a woman who was willing to cut off four feet of hair for a job as an actress in a movie.
For those who don't know (I didn't), Bai Ling moved to the US from China in 1993 with very long hair. In fact, Bai Ling was quoted as saying that she "would only cut her hair when she could sit on it and it would get uncomfortable".
I vaguely remember Bai Lingfrom her role as a female villian in The Crow. However, I did not really recognize her from the initial photos.
As this story goes, Bai Ling was offered the part of Tup Tim, the concubine who betrays the king of Siam in the recently released move, Anna and The King.
Bai Ling was offered the part on the express condition that she shave her head. As Sigoloff said in the article, this acting part may have been Bai Ling's most difficult part because it came at a personal price.
Although Bai Ling admits "she struggled intensely from an emotional and mental view with her decision to cut her hair", she felt "she had to take the role and thus cut off her gorgeous hair".
When it came time to actually shave her hair off, she cried so hard that they postponed the shaving until the next day.
To preserve her hair Bai Ling had it made into a long wig that she wears sometimes.
After I read this article I was speechless. (See the JerkyFlea December column for a copy of the article) Bai Ling, looking back has no regrets about her actions.
In fact, she claims in the article that she is starting to really like her short hair. She also says that she is thankful for the opportunity to learn so much from playing the role and dealing with letting go of the treasure of her hair.
One thing about Hair Boutique, it constantly challenges me and makes me stop and think about life. Before Hair Boutique hair was the very last thing I ever noticed or wondered about. It would never have occurred to me to wonder about Lisa Kudrow or Bai Ling. I would not have even thought about it.
Now an article like this is major news to me. I ask myself if I would or could have done the same thing for a job or my career.
There really is no right or wrong answer. Everyone should have the freedom of choice to wear their hair whatever way that suits them best. However, this article struck some chords of questioning for me and I know that many Hair Boutique visitors will have definitely reactions to the choices that Bai Ling made.
So many questions remain unanswered from why did her head have to be shaved to why could she not have worn a wig? Would I sacrifice my long hair for my career? I guess it is hard to say and hopefully I won't ever have to make that decision.
Note: To read my personal interview with Bai Ling about her hair visit Bai Ling: Asian Hair Goddess.
If you would like to discuss your thoughts about this article or other thought provoking ideas about the politics of hair, be sure to visit the Hair Boutique's Hair Politics board and share your opinions.
If you want to talk more about this or other hair care articles on HairBoutique.com or anywhere else, please post a message on HairBoutique.com's Hair Talk Forums.