Last updated on April 1st, 2012 by Karen Shelton
Introduction
Kristen Bell is co-starring in Showtime's edgy House Of Lies. Beside playing a wildly ambitious and sharp edged management consultant, she showcases her beautiful blonde hair with an array of gorgeous updos.
She recently made an appearance on the popular cable TV show wearing her buttery blonde hair pulled up in a stunning bagel bun type of hairstyle.
Note: To view more hair photos of Kristen Bell visit her Celebrity Hair Gallery.
Paris wore her trademark butter blonde hair up in a striking hair bun which was shaped like a traditional bagel bun.
Her updo was a take on the big bun trends sweeping Hollywood.
The bun Kristen showcased looked almost like a large bagel shaped hairpiece which had been added to her hair after it was all pulled back.
Although this bun can be easily created with some backcombing and a foam hair ring or ratt, it can also be created with an instant add-on hair piece.
The hairline of the celeb's updo hairstyle featured the hint of an off-center slightly messy part with ribbons of hair directed across the head on either side and softly tucked behind one ear.
Kristen is famous for wearing her hair in an array of stunning buns, updos, hair twists and chignons positioned at different points on her beautiful head.
Kristen is also known for wearing an array of hair accessories to show off her various up hairstyles.
Instead of wearing hair accessories with her House Of Lies updo, she finished off her bun hairstyle with sparkly long dangling earrings instead.
Step By Step - How To Recreate Bagel Bun
This updo bun hairstyle works best on hair which is shoulder length or longer and naturally or temporarily straightened.
Hair can be extended to create the bun or a clip-in bun can be added.
Start With A Cleanse
1. Start by cleansing hair in lukewarm water with the best products for your hair type, texture, length and condition.
Utilize the best cleansing process for your strands such as Conditioner Only Wash (CO-Wash), Diluted Shampoo (DS), Water Only (WO) or a range of shampoo formulations including LoPoo and NoPoo.
If you have chemically treated or colored hair be sure to use a product designed to extend the color or add needed moisture.
When you wish to enhance your natural texture consider using a texture enhancing product mix like PhytoCurl which helps define curls.
2. Rinse well and apply a rinse-out conditioner. With the conditioner in your hair use your fingers or a wide tooth comb to detangle strands. Work from the ends to the roots.
3. After detangling rinse well. Finish with a cool or cold water final rinse to seal in moisture, add shine.
4. Carefully squeeze out any excess water with your fingers. Do not rub wet strands. Use a combination of techniques from squeezing out the excess water and then blotting strands with a towel.
5. Towel blot with a thick towel to remove excess moisture. Avoid towels without rough fibers and loops. It's best to wait until hair is no longer dripping before applying styling products.
Add Desired Styling Cocktail
6. Apply cocktail of designed styling products including, but not limited to, a leave-in conditioner, a defrisant, styling cream and/or mousse to the middle and ends.
Use styling products which work best for your hair type, texture and styling needs. Don't be afraid to layer products to get the most appropriate results.
Note: Avoid applying product near the roots which may weigh them down except in the case of adding volume sprays like Phytovolume Actif or similar.
You may wish to mix a defrisant products along with your styling product to add texture and block frizz at the same time.
It's possible to mix Phytodefrisant with your favorite mousse, glaze or paste for a total solution.
7. Separate hair into 6-8 equal sized sections. The ideal sectioning would include two sections on either side and 4 in the back.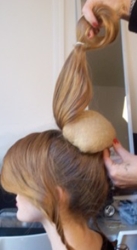 All Rights Reserved.
8. If a fringe is desired, style it at this point. Utilize a long tailed comb create desired side part on either side of your head. Blow dry the fringe before drying the rest of the hair.
9. Combine a boar bristle paddle brush along with a blow dryer to blow dry each of the 6-8 sections straight.
Use a cool setting on a low speed to avoid blowing out the newly formed texture.
10. When hair is completely dry separate into 6-8 individual sections.
11. Create beautiful body by misting each section with a volumizing formula. Roll each section of the hair on hot rollers.
12. Allow rollers to completely cool before removing them one at a time.
13. Separate out the front side-swept fringe from the rest of your hair. Pull the remaining hair back into a high ponytail. Secure with a hair friendly elastic.
14. Pin a hair pad or similar in the same color as your current hair underneath the pony base as shown.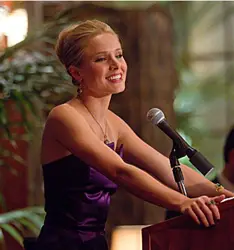 All

Right Reserved
15. Smooth pony tail over the hair pad, tuck the ends under and pin securely into place with bobby pins the same color as your hair.
For more fullness lightly backcomb the pony before smoothing over the hair pad.
Note: Check out How To Tease Hair for instructions on how to backcomb tresses. If hair is naturally fine or thin you may wish to use a foam hair form or ratt under hair to add instant height. You may also wish to experience with strategically placed add-on hair pieces.
16. Lightly tease front fringe section. Smooth strands down and softly sweep back low across forehead to create a soft fringe or pull them in strands across the head as Kristen has done.
Optionally this gorgeous updo hairstyle can be created without a fringe. The hairstyle can be modified to work with your specific goals.
Finish Hairstyle
17. Finish by using a shine serum like Phyto's PhyoLisse, Rene Furterer's Spray Gloss or similar.
Apply one or two drops of shine serum or shine spray to the palms of your hands.
Rub the product into the palms of the hands. Lightly glide your serum infused palms over the top of the hair to add instant shimmer, shine and remove any roughness.
18. If you prefer a high shine you may wish to spray well with hairspray. This step adds a soft sheen to the final look. It will also help soften the overall finish.
19. Allow the hair spray or shine products to completely dry before going outside.
Summary
Of course there are many options for styling a big glamorous bun like Kristen Bell showcased on House Of Lies.
This bun can be adopted to individual face shapes by adding different parts and fringes to alter the finished hairstyle. It can also be styled closer to the head, without a foam piece or as more of a topknot than a full blown large bun.
The beauty of this bun is that it can be shaped and molded until it fits into the proper shape and positioning on the head and for the event you're attending.
If you want to talk more about this or other hair care articles on HairBoutique.com or anywhere else, please post a message on HairBoutique.com's Hair Talk Forums.