April 3rd, 2003 by Karen Shelton
Introduction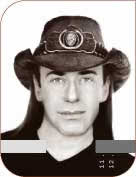 Have you ever met someone for the first time and they instantly lulled you into a state of warmth, comfort and familiarity? Although I was expecting his phone call, I was unprepared for how genuine and charming Jose Eber man was in person. (Jose Eber's portrait courtesy Jose Eber Atelier - all rights reserved).
Jose immediately put me at ease by explaining that he was able to chat with me on the phone because a planned business trip had been unexpectedly cancelled. A combination of a scheduling factors coupled with his fear of flying was enough to keep him grounded in Los Angeles for a little while longer. I could instantly relate to his anguish as he chronicled his ten-year battle with air travel. Jose explained that "even with special medication, he finds no real relief until his feet are again firmly planted on the ground". Ironically Jose had no fear as a child and he pointed out that "when you are young you are not afraid of anything."
Completely mesmerized by his story and his melodic voice tinged with a hint of his French roots, I found myself pouring out my own personal nightmares with flying explaining how horrified I was by various plane accidents that have occurred over the past few years. Demonstrating his great listening skills and incredible compassion for people, Jose commiserated with me and shared his profound sadness for the horrors that all victims of plane crashes have endured.
For a moment I was so absorbed by his sincere kindness and the conversation at hand that I forgot that I was talking to the celebrated hair genius who gave us the original Farrah wings, the historic age of wash and wear hair and who showed us how to embrace our own personal style and beauty.
According to those in the know, Jose (pronounced Josay) Eber is the most famous and successful hairdresser in the hair industry today. When I mentioned his amazing celebrity status to Jose he told me that while he is "flattered and happy with the notice" he "really doesn't think about being famous".
He confessed that when people tell him that he is famous "he just doesn't have a sense of that celebrity thing". He just feels like "ordinary folk" and "goes on with his daily life" Don't mis-understand, Jose thinks "that fame is just great". He "loves all the wonderful clients he has met over the years" and he "very much appreciates and is thankful for his successes". However, he "doesn't judge his life based on whether he is well known or not".
Even when there is a major media buzz about Jose, he "just doesn't think about the fact that people are talking about him". Yes, he "is flattered but the famous thing is just not part of who he really is".
Jose's opulent, world famous, Beverly Hills salon (nestled inside the incredible Two Rodeo Drive center) attracts celebrity customers with such well-known first names as Farrah, Cher, Elizabeth, Barbra and Meg. Although Jose can be frequently spotted wearing his signature Charlie Twiddle hat on various TV shows like Extreme Makeover and some of the major talk shows, he stepped back into the media limelight doing a special televised hair consultation on one of the episodes of reality TV's Bachelorette series. In one episode Jose was seen consulting with bachelorette Trista Rehn and devising a hair plan that turned the lovely lady into a beautifully coiffed princess for a romantic night on the town.
Although he enjoys all of his current salons, Jose feels "most at home in LA at his fabulous flagship salon" that at 10,000 square feet, is his largest.
As he did throughout the interview, Jose was very complimentary about the many talented colorists and stylist that work at the various Jose Eber salons. He was eager to share some of the limelight with his hard working staff members. In fact, I was very impressed with how complimentary Jose was of everyone from the people at his salons to his press agents and his famous clientele.
Jose acknowledges that he "has had a great career" where he has excelled at everything from creating major historic hair movements to becoming a major celebrity in his own right. Jose continues to examine his Mojo and questions himself on how he can harness it to achieve his next set of goals.
Jose freely admitted that "he is the hardest on himself and tends to be a perfectionist". He wants everything to be the best it can be and he wants to be the best he can be. Maybe it is his sensitive Pisces sun sign or maybe it is his need to excel for his clients but Jose acknowledges that he "pushes himself to the brink". Always questioning, wanting to do it better, he is "haunted by the ghosts of his unfulfilled goals".
From The Very Beginning
Born in Nice, France, Jose moved to the United States at the age of 26 where he immediately fell in love with Los Angeles. Since he was 14 years old Jose has always felt drawn to working with hair and with women in particular. By the age of 15 Jose was living his dream by working as a hairstylist's apprentice in a chic Paris salon. Driven to accomplish a daredevil mission of sorts, Jose's dream of helping women learn to love and accept their own personal beauty has touched the very soul of thousands of people, from all walks, around the globe.
Does he get homesick for France? "Not really, he confessed, because "he visits often". He also mentioned that his sister works at one of his Jose Eber salons and he gets to see her often. In fact, Jose's business affairs keep him "traveling quite a bit which he mostly enjoys, except for dealing with that fear of flying thing".
Big Career Breaks
Although he believes that creating Farrah's now famous winged do for the original Charlie's Angel TV show "put him on the celebrity stylist hair map", Jose commented that he knew " it is really more about what you do after you get the break that counts the most".
Jose told me "many people are handed great opportunities and big breaks in their lives but they don't act on them". Or even worse, "they squander the opportunity and don't turn them into something else. The key is not the big break, it is what you do with it when you get it".
Although Jose appreciates the fact that Farrah's famous style turned him into a household name, he clearly understood that "fame can be very fleeting unless you take what the fates offer and run with it". And run with it he did.
Besides becoming known as Jos Eber, celebrity hairstylist, Jose became just as renowned as a national best selling author with two books on hair care and styling titled: "SHAKE YOUR HEAD, DARLING" and "BEYOND HAIR, The Ultimate Makeover Book" (Simon & Schuster). Jos was also a pioneer in the world of home video with his highly successful, "WHY DO I CALL YOU SEXY?"... a step-by-step 'how to' video sharing his secrets on beauty and style.
After making his mark with Farrah and the other original Charlie's Angels, Jose continued to evolve and work with new projects and looks. Constantly re-inventing himself while staying focused on his ultimate mission to promote self-beauty Jose has continued to shine in the spotlight.
After Farrah Jose started working with Cher and then Elizabeth, as in Taylor. I asked Jose if his popularity immediately took off after he created Farrah's look? Jose explained that after he worked with Farrah he received a call from Cher who had seen his work. Slowly but surely word spread throughout Hollywood and the entertainment industry of Jose's fabulous talent with hair. In no time he was very sought after by the rich and famous.
Jose reported that he had just seen his dear friend Farrah recently and although he does more consultations than hair these days, he always carries a pair of scissors with him and still does Farrah's hair. He is also responsible for the "always stunning" Ms. Taylor's locks and has been her friend through all life's twists and turns. And yes, he still is in contact with Cher as well.
What Goes Around In Fashion Always Returns, Sooner Or Later
Jose was not surprised when the Farrah wings were revived during the release of the Charlie's Angels I movie. He told me that " he knew all along that the Farrah look would come back around". As he pointed out "it always does with fashion. The more things change over the years, the more they stay the same". Jose says that he has seen all the major eras come and go. In some cases they have gone around twice. He has watched the 30s, 40s, 60, 70s and 80s and return. Jose believes this is normal for the way fashion moves.
I confessed to Jose that even though I had loved the Farrah look and had my own set of wings in the late 70s, I had always admired his work with Elizabeth Taylor. I told this very kind man that I was a huge fan of Ms. Taylor and constantly amazed by her incredible ability to constantly overcome tremendous challenges with grace and beauty.
Jose agreed that Elizabeth is the "perfect example of an incredibly kind, loving and fabulous lady who radiates beauty no matter what is happening in her life". Even when she "let her hair go stark white after her brain surgery, she looked stunning".
Elizabeth Taylor
I asked Jose if he still did Elizabeth's hair and he said "but of course, I have been doing her hair for over 16 years." Even now Jose is responsible for the "always stunning" Ms. Taylor and has stood by her through all life's twists and turns. Jose said that " besides being a wonderful client Elizabeth is a very dear friend and they talk often".
Besides his ongoing professional and personal friendship with Elizabeth Jose mentioned that he still sees many of his original celebrity clients. He reported that he had just seen his dear friend Farrah recently and still does her hair. And yes, he still is in contact with Cher as well.
He pointed out that "when you work so closely with someone you just naturally become friends since you share history."
When I asked him what's up with Ms. Taylor's hair these days Jose reported that Elizabeth looks stunning in her current more blonde hued look. However, he said she also looked smashing in her snowy white phase after her brain surgery. Elizabeth is willing to try different looks and let her true beauty shine through. "The great thing about Elizabeth is that she is a dear, a really great person. She is loving, caring and a very generous woman."
Jose commented that as Elizabeth enters her 70s she "definitely looks different than she did before," but she is beautiful and very happy with where she is in her life". Jose confessed that one of his all time favorite quotes of Elizabeth's is that "you find out who your real friends are when you're involved in a scandal."
Career Highpoints
Jose confided that his favorite compliment of all time was when he received an unsolicited comment from one of his make-over clients for his Shake Your Head Darling book. The client stated that "Jose didn't make me beautiful, he showed me that I was already beautiful".
When I complimented Jose on his business acumen and success with opening his string of ten salons, he confessed that he "thought he was much better at being an artist then a businessman because he doesn't feel he has a great sense of business". He told me that he has "watched some of the great business success stories and they seem to have a toughness and shrewdness that he doesn't feel that he naturally possesses".
He told me that he "is never satisfied" and "much too hard on himself". He is always "questioning himself and where he is going and how he can do better at reaching his goals." He admitted that he "feels bad that he is not as tough a businessman as he could be". I told him that I disagreed but he told me that "he is much more talented as a creative soul than a shrewd business guy".
Jose lives for the "hands on" aspect of doing consultations. He needs to be involved with things on a daily basis. Does he still work with new clients? "But of course" he replied.
Unlike some celebrity hairstylists who stop taking new clients, Jose blossoms when he can do his image consulting with clients. Although he he enjoys all of his current salons, Jose feels "most at home in LA at his fabulous flagship salon" that at 10,000 square feet, is his largest. Even though Jose spends the bulk of his time in LA, he does make scheduled trips to all of his other salons and is available for anyone that wants to schedule one of his bookings.
Anyone who desires a consultation with Jose can call up any of his Jose Eber salons and book a personal consultation with him. Each salon has Jose's schedule and can easily arrange an appointment when he is available and in town.
Friends & Family
When I asked him what he did for fun when he is not working so hard, he laughed and said "work does not feel like work. It is fun". Jose absolutely "loves what he does and enjoys every minute he is working". He noted that if you "love what you are doing in your life you will send out positive vibes".
When he isn't having fun working, Jose likes to spend his "off hours with his small group of close friends" who he points out "mean so much to him and his life".
Although Jose has had a wild ride through life he has left his famous and wild partying days behind for the warmth and comfort of his friends and for his volunteer work. Active in a number of charities, Jose was one of the first to extend his career helping women by getting involved in the fight against domestic violence. Devoting his time to the Sojourn Organization, Jose is committed to helping women to raise their level of self-esteem. When not giving of his heart to abused women Jose is involved with AmFar which is Elizabeth Taylor's AIDS Foundation.
He noted that he "age has a way of changing your priorities". And yes Jose has changed his own priorities and likes to be around the people he loves, kick back, watch some moves, giggle a little and relax". Jose said that "the best gift you can give yourself is to be happy with who you are. Jose confessed that he "feels very loved and appreciated". At this point in time he is "very happy and satisfied with his life".
Jose's Future
A very youthful and charming man in his early 50s, Jose feels that he has a good fifteen or twenty years left in him. Jose acknowledged that he "is very aware that he looks very young" and has "never done plastic surgery to this point". He attributes his good fortune to the genes of his mother and father who "always looked very young for their age".
Although he "feels good about the many things he has already accomplished in his life", Jose feels that he "still has more goals to accomplish". He knows that he needs to be more relaxed and he quickly admits that he is "not perfect". When life becomes more challenging than normal he confided that he "will find himself the victim of a bad mood". He admitted that he "is always hard on himself" but that is just who he is and "he is OK with that".
Jose feels it is "very important to be true to yourself. When you are true to yourself you will be the happiest". He told me that it is important to "be who you are because when you put on an act it only lasts for about 1 minute before people realize that you are not who you pretend to be. A fake person will be exposed in no time".
His Mission
"Accept who you are and make the best of what you have" is his personal mantra that has shaped his life's work for the past four decades.
Jose believes that most people are "too hard on themselves" and "beat themselves up because they don't like how they look". Jose places the bulk of consumer self-flagellation squarely on the shoulders of the fashion industry that is always selling the impossibly thin, gorgeous fashion model that is a fantasy. He thinks it's "terrible how the fashion world has brainwashed people into believing that if they don't have a certain body shape or face, that they are not beautiful".
Jose wants women and men to know that it is "OK to get older, put on extra pounds and enjoy life". He also wants people to know that he has worked on famous women, models and stars who are not really beautiful, contrary to popular opinion.
Beauty Is Attitude
When it comes to beauty, Jose is a big believer in the fact that "beauty is all about how you feel about yourself". A person who is not a classic physical beauty can still be gorgeous if they "feel beautiful" and project that attitude to the outside world.
Jose explained that when you feel that you look great, you act differently. You stand differently, you walk differently and you present a more confident image. Jose has seen this phenomena over and over in all the different makeovers he has done through his long and illustrious career.
Bottom line....."beauty is attitude". It is not the perfect nose or the perfect body. Everyday women are beautiful. There is someone for everyone. He wants to teach women to "know they are beautiful and not be harsh with yourself but accept who you are."
When Jose does a consultation he analyzes each client's personality, lifestyle and facial structure to create a look from which her inner beauty can emerge. At the center of his makeover approach is the philosophy that a woman's beauty lies in her individuality, her positive spirit and her ability to look at her distinctive features as assets rather than flaws. Jos said, "I don't make women beautiful, I show them they already are". Although Jose is fully engaged with each client during their consultation, the actual cutting, coloring and/or styling is done by the stylists and colorists at the Jose Eber salons. Jose acts as the producer of the ultimate makeover but he no longer does the actual hands on work.
Summary
Jos Eber's clientele spans the world of international jet setters, glamorous Hollywood personalities, legendary stars and people like you and me. Jose is very proud of the fact that he has helped people from the bottom to the top.
This incredibly talented master stylist believes that every person has star potential if they will recognize their own unique characteristics and traits that make them special and different. And who better to help people find their star potential than Jose Eber, a master stylist who is as beautiful on the inside as he makes other people feel?
If you want to talk more about this or other hair care articles on HairBoutique.com or anywhere else, please post a message on HairBoutique.com's Hair Talk Forums.