December 29th, 1999 by Karen Shelton
Introduction
Lenny wrote me a Dear Karen email about her trials and tribulations with her face. She explained that "I want to know what to do with my hair. I've got a long square face with big eyes, hair to my shoulders without a ponytail, big forehead, sharp chin and a long neck." "I don't have a picture from me from the front but one from a side view"
After some emails discussions back and forth Lenny agreed to let me share her hair story and current "before" photo with Hair Boutique visitors in exchange for me working with her to try and find some great new hairstyles for her face shape.
During our email conversations I discovered that Lenny was a very charming, funny, sweet 20 year old who wanted to let her hair grow longer. Unfortunately, Lenny explained that when she lets her hair grow it always gets into her eyes. Putting it behind her ears is not an option because she has deemed her ears as "ugly".
Lenny also wrote that "I want to know what is the best hairstyle for me. One that makes me and my hair look flourishing, healthy and wild. I don't want to take care of my hair. Don't get me wrong. I want hair that is easy to take care of. I just want to get out of the shower, comb my hair, spend 10 minutes on drying it and go."
Lenny sent a photo (see below) of a style and wanted to know if it would work with her face style. I pointed out to Lenny that with a square face it is often more flattering to have a side part. The style example that she sent me was parted in the middle and tends to accentuate a square shape.
I also pointed out to Lenny that the model seemed to have thicker hair, which would be harder for Lenny to pull off since her hair is fine and thin. Lenny agreed with me and we decided to look at some other photos for inspiration.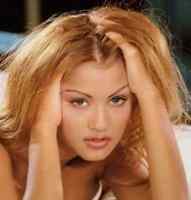 HairBoutique.com All rights reserved.
Lenny told me that she was not a big fan of hair gels, sprays or other products and that she never really used them.
She did tell me via email that she would be willing to try a soft type of gel that she could simply rub into her hair, dry it for just a few minutes and get a little resilience and fullness.
Lenny also had the problem of thin, fine hair that broke easily because of how fragile it was. She explained that sometimes little hairs poke out everywhere because they break easily.
I was very amused with Lenny went on to tell me that "my hair is in good shape, but not like a movie star with every hair on their head in perfect place" She added that she thinks everyone who is not a movie star has problems with their hair.
Lenny is right on. In fact, I wrote her back that most movie stars have hairstylists at their beck and call 24 hours a day.
Verifying A Square Face Shape
I told Lenny that I needed to be sure that her face was square before we even discussed some possible styles for her square face shapes.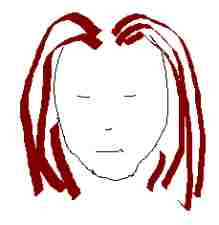 Lenny sent me a sketch of her face (shown to the side) along with a side shot. It seemed clear to me that her face is square in shape.
If you are not sure what shape face you may have, read this section to measure your face and determine your face shape.
Lenny told me that she also has a pointed chin which is represented in the sketch that she drew for me. Lenny also warned me that her hair has a tendency to "flip up when it hits her shoulders".
Determing Face Shape
While there are lots of suggestions on how to figure out your shape, from outlining your face shape on a mirror with lipstick to draping it with a towel and asking others to help you guess the shape, there is actually a scientific way to determine your face shape once and for all.
To find out the shape of your face measure it with a tape measure or ruler. You will take the following measurements.
1. Measure your face across the top of your cheekbones. Write down the measurement on a piece of paper.
2. Measure across your jaw line from the widest point to the widest point. Write down the measurement.
3. Measure across your forehead at the widest point. Generally the widest point will be somewhere about halfway between your eyebrows and your hairline. Write down the measurement.
4. Measure from the tip of your headline to the bottom of your chin.
Common Face Shape Characteristics
Listed below are the most common shapes. It is possible that your face may not fit exactly into any one category and may be a combination of shapes.
Most people will fit into one of the major categories which include:
Oval Face - Length equal to one and a half times width.
Round Face - Your face is as wide as it is long. This may vary a little but generally the measure is close.
Long - Longer than it is wide.
Heart - Narrow at jaw line, wide at forehead and cheekbones.
Square - Forehead, jaw line and cheekbones are almost equal in width.
Diamond - Wide cheeks, narrow forehead and jaw line.
Square Face Styles For Women, Men, Teens Or Any Age
Several hairstyles are discussed that can actually be adopted for any sex or age. Just apply the same principles to your selected style.
A square face tends to have a wide hair line with wide and heavy jaws. The goal with a square face is to soften the hairline with bangs. Layering helps to soften the jaw line.
A side parting will break up the square ness or the symmetry of your face. Waves which frame the face will also soften harsh angles.
Hairstyles For Square Faces
As I explained to Lenny by email, there really is no "one perfect hairstyle" for a square shaped face. Many things factor into the total equation. The length of your hair, the texture, age and lifestyle requirements all play a part in the best style.
Since we know that Lenny has fine hair that tends to break easily, we know that she needs to add texture and therefore layers. She has gorgeous naturally red hair so she could add burgundy shades to give her new style that would make her hair "look flourishing, healthy and wild".
Lenny could go two levels up and two levels down in red shades of her hair. She would look great with tiny "angel" effects of lighter hair around her face. "Angel effects" relate to creating a type of halo effect by carefully placing highlights around the face to give instant lightness and the image of a type of halo.
One last complication is the fact that although Lenny wants longer hair, when it gets to her shoulders it tends to "flip" up at the ends. Therefore Lenny needs a style that works with the natural flip of her hair at the shoulders or she needs a heavily layered style that will weigh down the ends that tend to flip.
Sample #1
A heavily layered texturized cut like Sample #1 would be easy to take care of and would instantly offer Lenny that wilder look she wants.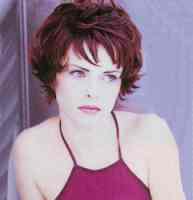 I was not sure that Lenny would like this cut since it is shorter than her current hair and she wants her hair to grow longer.
When looking for a new hairstyle it is important to look at lots of options. I decided to email Lenny this style to see whether she liked it or not.
If your face is definitely square like Lenny's, the best hairstyles generally would provide softening around the hairline with piecey bangs.
Layering along the sides helps to soften the jawline. A side parting also will help break up the squareness of your face.
Waves or slight curls will also soften the harsher angles.
I told Lenny that she could wear Sample #1 a lot longer. It could be cut to the shoulders with the hair in a graduated type of shaggy cut around the bangs and the sides.
This style would also be pretty easy to take care of and would require probably less than 10 minutes of blow drying.
Lenny could put a quarter sized dollop of gel on her hands, rub it through and use her fingers to "pick the hair dry and give it fluffiness and body and that wild look she wants. Also, Lenny could have some foils added with different shades of red or burgundy which would fatten her thin/fine hair up quite a bit. Chemicals make the hair shaft swell. Lenny did not like this sample at all. She wanted a longer look and decided that this look would probably not translate well to a longer style.
Sample #2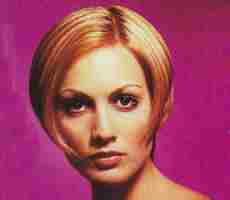 The second sample style would be very well suited for fine to very fine, thin hair.
The side part softens the face and the hair softly curves into the cheekbones which also modify the square ness of the face.
This would be an easy style to take care of and definitely wash and wear. Not much on the "wild and full" side but if she wanted a different look Lenny could some crimping or soft waves. Some highlights would also give it a wilder look.
Lenny also felt that this look was way too short for her needs.
Sample #3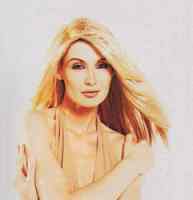 This style is allows for a much longer look. It is more radical by the fact that other than a side part, the hair is not really used to "soften" the square ness of the face.
However, this style will work for people with thinner square faces
Sample #4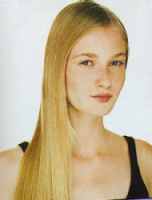 This style is allows for a much longer look. It is more radical by the fact that other than a side part, the hair is not really used to "soften" the square ness of the face.
However, this style will work for people with thinner square faces.
I suggsted this style to Lenny because of the longer length. She did not like the style at all and said "it is similar to what I have now and want to change".
Sample #5
This style is perfect for a square shaped face. It has the side part and soft piecey bangs which tend to really soften the wide hair line.
The graduated, heavy layering would take care of Lenny's thin/fine hair problems and it also helps to soften the jawl ine.
The side part breaks up the square ness of the face and the side layers act like "mini waves" to soften the harsh angles of the face.
There are a few considerations that Lenny would need to keep in mind. First of all she would need to make sure that the side bangs are long enough to stay out of her eyes but still have the same edgy look. She may want to consider having the bangs cut just a little bit shorter or more texturized.
Since Lenny's hair tends to flip up on the ends as it get longer, she need to make sure that the longer hairs are layered to allow some weight on the ends so that the hair doesn't flip.
This style is also well suited for a person with thin or fine hair like Lenny's and would blend in all the little hairs that she says pop out from time to time.
The upkeep would be easy and should not require more than a few minutes of blow drying.
A good gel or styling lotion would work great at giving some shape. Phyto or similar volume enhancing products would also do good things for the full and wilder look that Lenny wants.
Lenny loved this look the best of all the styles that I recommended to her.
Sample #6
I knew when I recommended this style for Lenny that it was somewhat risky because it shows one ear and Lenny is concerned about her ears. She made a point of telling me that she feels "her ears are not her best point".
Although it has a rather wild look and some length at the back, which are two things that Lenny is looking for, Lenny felt that the style was "a little too old for her" and definitely not "what she had in mind".
This look could work well for a square face, but it would require a lot of upkeep in terms of styling products, styling time and maintenance trims.
Sample #7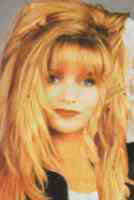 Sample #7 actually is a photo that takes the layered look to a very long length and adds a lot of fluffiness. Lenny emailed me that she did not really like the puffiness and thought that the hair was not right for her.
She liked the layering of #5 and wanted a longer length, but this was just not right for her.
This is probably good in the long run because Lenny has fine/thin hair and it would require either hair extensions or a lot of work to get this much volume to Lenny's hair.
Sample #8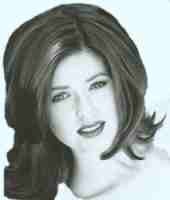 This style has the side part which softens the face, is out of the eyes, is layered but not as much as #5, and allows the hair to flip at the shoulders. It is a longer look and it would be an easy style to take care of -- definitely wash and wear. Not much on the "wild and full" side but if she wanted a different look Lenny could try some crimping or soft waves.
Some highlights would also give it a wilder look. One thing that Lenny was very concerned about was how her hair has a tendency to flip out at the shoulders. I reminded Lenny that when her hair gets longer and it folds towards the outside she would need to keep it layered, layered, layered.
Or she would need to make sure that pieces of hair on top of the part that folds out is heavy enough to keep the hair down. Lenny agreed that she would watch this.
Lenny liked Sample #8 almost as much as Sample #5.
Celebrity Heads
After Lenny and I went through a round of photos via email, she told me that she was pretty much set on in #5.
However, she sent me some photos of Christina Applegate, Drew Barrymore, Neve Campbell, Jodie Foster, Madonna, Michelle Pfeiffer, Julia Roberts, Sharon Stone and Catherine Zeta Jones.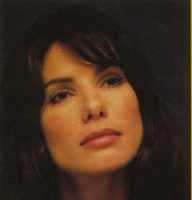 We discussed all the various photos and decided that none of the stars had the right face shape or current style that would work for Lenny.
I told Lenny that the star who had the best hairstyle and face shape that was closest to Lenny is Sandra Bullock. Sandra has a classic square face shape and her newest shorter hairdo is very similar to Sample #5.
Lenny's Pick Lenny emailed me that "I went for style number 5. (adjusted to MY head of course). I'm very happy with the result".
"The hairdresser who cut my hair understood immediately what my problems were with my hair. She also said "hair that is long pulls down and hair that is short is easy to get some volume in it!"
"The style is great except that I need some sort of gel to place in it and then model it".
I recommended that Lenny check out Phyto, Rene Furterer, John Frieda and Got2Be products.
Picking Your Ideal Hairstyle
There are several things that can be learned from Lenny's experiences looking for a new hairstyle.
1. Do your research before you visit the stylist. Look at magazine photos, look at galleries on the Web (Hair Boutique has many).
One great way to find the best style for your face shape is to buy fashion, beauty and hair magazines and look through them for examples of hairstyles that you like and think would be flattering to your face shape and hair texture.
2. Don't rush into a change. Give yourself time to think about what would look best.
3. Take all the factors of your hairstyle into considerations including hair length, texture, color and any quirks. Lenny was very in tune with her need to deal with fine, thin hair that flips at the ends.
4. Consider maintenance and styling upkeep. There is not point in adopting a style that will take 30 minutes to re-create every morning if time is an issue for you.
5. Don't be afraid to wear your hair any length that you like. Long hair can be worn just as easily as short or medium length hair as long as you wear your hair "forward" onto your face to create a softer appearance.
One trend that is definitely emerging in the hair and beauty industry is individuality.
If you see a style that you love and it doesn't fit the "rules" wear it anyhow. Or modify the style slightly so that it works well for your face.
6. One thing to keep in mind is to find a style that you enjoy. There is no point is selecting "the perfect style" if it is impossible to maintain or you don't enjoy wearing.
7. Make a special hairstyle scrapbook of the styles you like best and then take the entire book to your stylist and ask them to advise you on some styles.
8. Work with your stylist to make sure you get the style that you have in mind. If you don't have a stylist that you trust, make an appointment for a consultation first to discuss your desired style. Then once you feel good about the selected stylist, go back for the new style.
The bottom line is to have fun with your hair. If you are happy with your look, whether it fits the rules or not, you will look better because you will be pleased with yourself.
If you want to talk more about this or other hair care articles on HairBoutique.com or anywhere else, please post a message on HairBoutique.com's Hair Talk Forums.