July 27th, 2006 by Karen Shelton
Introduction
The lovely and incredibly talented Jacqueline Bisset (Winnifred Jacqueline Fraser-Bisset) was born Septebmer 13, 1944 in Weybridge, Surrey, England. IT hard to believe that the beautiful actress is 62 years young.
Although many fans believe her to be French, the beautiful auburn actress was born and raised in England. She started acting in 1965 in the film The Knack and How To Get It and is still acting as of 2006.
For her next acting role she appears as Monique Delacroix in Save The Last Dance 2 which is scheduled to be released in 2007. She last appeared in Summer Solstice in 2005.
At a recent celebration for Sean Connery her hair looked gorgeous coiffed in a top-of-the-shoulder softly layered cut that was worn off the face with one side draped seductively over one eyebrow. Her tresses were a rich shiny auburn. She had lots of volume and lift around the crown and along the sides. Her hairstyle was soft, sexy while being sophisticated.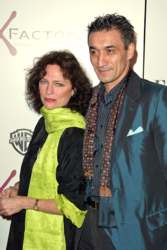 DailyCeleb.com All Rights Reserved
Whether Jacqueline has fudged Mother Time with plastic surgery, hair color or hair extensions is unclear but I for one really don't care. What difference does it make if the gorgeous International Film Star covers grays, adds volume with clip-in hair or uses other beauty preserving tricks. She looks amazing and should be featured on the cover of Vogue.
Putting all speculation aside, why does Jacqueline look so smashing? Quite simply she knows what looks great on her - from her hairstyle to her fashion style - and she works all the angles.
When I was writing this piece about Jacqueline I studied photos of her ranging from 1999 until 2006 to get a sense of her overall hair and beauty evolution.
Although her hair style changed slightly with the addition of side swept tresses or more curls or waves along the perimeter, in essence, she has stayed with a classic medium length, layered hairstyle. And that's good news because it works perfectly with her face shape, skin and eye tone and her body shape.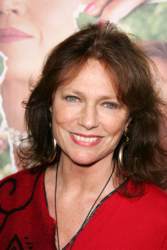 DailyCeleb.com All Rights Reserved
As time marches by, the face shape of both men and women will change. The chin area softens and a formerly square face shape might look more oval or round. Oval face shapes might also take on a rounder shape, depending on a variety of factors.
A softer jaw line can be minimized with a flattering hairstyle, the right makeup, the proper fashions and great accessories. Jacqueline rocks all of those options with a great hairstyle for her age, current face shape, hair texture, type and image.
If you look closely at her hairstyle, the length is perfect for drawing attention to her long neck and adding instant definition to her chin and jaw line.
The star also utilizes hair color to soften any obvious fine lines and bring out her beautiful eyes and skin.
Looking Gorgeous With The Right Colors & Accessories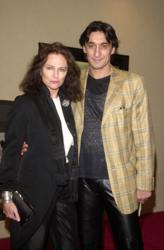 DailyCeleb.com All Rights Reserved
Her use of overall color mixed with accent hues is spectacular. She also utilizes necklaces and earrings to work perfectly with her skin and eye tones. Jacqueline obviously understand that draping a magnificent Kiwi green scarf around her neck will bring instant color to her skin and play well against her auburn tresses.
She also utilizes black to provide instant elegance and slimming but then lightens it up with a stark white blouse or just the right accessories.
Steal Jacqueline's Great Hairstyle:
1. Jacqueline has a fabulous hairstyle that perfectly flatters her current face shape, hair type & texture.
Not everyone, regardless of their age, will look great with Jacqueline's hairstyle. What looks great on one person, may not work for others. Work with your hairdresser to find the perfect hairstyle that works best for your hair's type, texture, color and condition.
DailyCeleb.com All Rights Reserved
2. Jacqueline has great volume which helps to balance her face shape giving definition to her jaw line area.
To achieve sexy volume start with a haircut that enhances fullness and follow up with products, styling tools and techniques that help to pump up the volume.
It's important to note that Jacqueline, like other beautiful stars over 60 have access to some of the most brilliant hairdressers on the planet.
It's possible that Jacqueline also has access to hair extensions, clip-on strands or other similar instant hair fattening tricks.
Raquel Welch advertises the fact that she utilizes wigs, hair extensions and add-on hair pieces to give her the hair profile she desires. Be willling to experiment and try new hair options.
3. Choose the best hair color for your skin and eye tone, lifestyle and desired image. Whether you decide to go naturally grey or cover the grey is up to you. Work with your professional hair colorist to find the best hue for you and your current image and lifestyle.
Grey hair, when cared for properly can be stunning. It is not for everyone. Follow your own formula for feeling gorgeous.
4. Feel beautiful on your own terms. The days of pressure to look ten years younger has long passed. People now embrace their inner beauty and express themselves the way they feel best. Don't fall prey to any pressure from anyone to adopt any beauty habits that you don't enjoy or feel uncomfortable maintaining. Remember that true beauty shines from the inside out.
Summary
Jacqueline Bisset is incredibly gorgeous at 62 years of age. She serves as a great role model for any women over 60 that want to look sexy, sophisticated and stunning by utilizing the best hairstyle, makeup, clothing and accessories to honor their very best style.
Social Media Network Information
Please follow me on Twitter at: http://Twitter.com/HairBoutique.
I look forward to meeting new people
from all walks of Twitter and learning from their Tweets. Visit us at Hairboutique.com located at: http://www.HairBoutique.com, on Facebook, MySpace and YouTube.
Thank you for visiting us at The HairBoutique Blog and for leaving your comments. They are very much appreciated. We apologize in advance but must remove any direct advertisements or solicitations.
- Revised Publication Date: 04/29/11
Send this page to a friend..
If you want to talk more about this or other hair care articles on HairBoutique.com or anywhere else, please post a message on HairBoutique.com's Hair Talk Forums.