June 19th, 2006 by Karen Shelton
Introduction
As human males and females age, the pigment in their natural hair color begins to fade and change. For many, the loss of pigment over time will manifest as various forms of gray, white or silver tresses. Sometimes all three colors will manifest at the same time.
In reality, according to celebrity hairdresser Robert Hallowell "gray hair can also manifest in a variety of modified shades ranging from salt and pepper, silver, muted white, icy white, pewter and even sterling silver."
When does loss of hair color pigment first show up? According to hair and cosmetics giant, L'Oreal, statistics show that hair generally begins to become pigment challenged and turn gray, white or silver for most people between the ages of 34 and 42. Of course this is "most people" and does not define everyone absolutely.
A 2001 HairBoutique.com consumer online poll was quite an eye opener. The HairBoutique.com poll which was answered by 4048 voters indicated that over 26% of those answering the poll spotted their first pigment challenged (aka gray, white or silver) hair under the age of 20.
Meanwhile, 29% of those responding spotted their first pigment losses between the ages of 21-30 and 16% between the ages of 31 and 40. Only 5% spotted their first gray, silver or whites between 41-50 with 1% between 51-60, 0% 61-70 and 1% over 71.
Flaunting Pigment Challenged Tresses
Trends regarding hair are constantly changing. While it used to be true that gray or related colored strands signaled old age and most believed it had to be covered up, in 2004 this is not the case.
Although it used to be more acceptable for men to go au natural with pigment challenged strands, now it is considered okay, even chic for women to go gray, silver or white gracefully.
Why the change?
Thank actresses Elizabeth Taylor (72), Tyne Daly (59), Doris Roberts (75) and Jamie Lee Curtis (46) who not only went public with their silver/gray/white strands, but flaunted them. Even better? They look fabulous.
Elizabeth proudly flaunted her snowy white tresses after her brain surgery some years ago. Meanwhile, Jamie Lee posed for the cover of More magazine proudly flaunting her gray strands.
Tyne Daly has shown a wide range of spectacular gray looks during her tenure on NBC's Judging Amy. Doris Roberts look fabulous in her snowy white tresses in her role on TV's Everyone Loves Raymond.
So what is the commonly held opinion about whether to cover gray, white or silver hair or not?
A 2002 consumer survey on HairBoutique.com resulted in 52% of the respondents reporting that they would "definitely hide their gray, white or silver hair" while 43% said they would flaunt it. Although trends are definitely changing with Elizabeth and Janie Lee paving the way to proudly go gray, there are still many people, especially women that just prefer to eliminate the belief that gray hair means old age.
Definition Of Gray, Silver & White Strands
Technically, according to cosmetologists, there is no such hair color as gray. Hair is either pigmented….brown, black, red, yellow…or it is white.
The color gray is really an optical type of illusion because in essence gray hair is a true mixture of white hair and colored hair that causes a gray casting.
Dark haired people and light haired people have the same chance of turning gray.
Hair turns gray because pigment cells in the roots of the hair stop producing melanin which creates hair color. Heredity, life's wears and tears, the surrounding environment and nutrition play a part
in whether people turn gray or not and how quickly.
Also, there are some indications that smoking will accelerate gray hair development in some people. However, if doesn't matter if you are dark or fair haired. You have the exact same chances of getting gray hair.
This myth comes from the fact that people with darker hair show gray more noticeably then people with light hair. Which gives the illusion that people with darker hair gray faster.
When To Color Pigment Challenged Hair
This is again a matter of individual preference. Some people, especially men, believe that gray, white or silver hues give them a very dashing, suave and distinguished look. In many cases this is very true.
In fact, some younger men may even add gray or silver around the temples to enhance their careers by providing that instant sign of maturity.
Others believe that it signals that they are aging.
When to color or if you decide to color depends on how your "natural gray" hair turns out. Gray hair can sometimes look yellow. Use a product that has a violet base which neutralizes the yellow color and makes the yellow appear white.
Many older female celebrities tend to go blonde to disguise white, silver or gray. Included in that group is Barbara Walters and Cher who has gone longer and lighter.
Why? According to Celebrity Hairdresser Robert Hallowell, (creator of the Prawduct line) who in the past has worked with Faye Dunaway, "as you age, blonde tones, especially those that are lighter, warmer and softer hues, are very flattering to aging skin".
Robert believes "natural gray, silver or white hair that is well-cared for can look really fabulous on men and women".
Going Gray, Silver or White Survival Tips
Bottom line, going gray needs to be a personal decision based on how you feel and what works for you. Follow some of the hair care tips below for gray hair care:
Find a professional hair colorist that you trust and ask them to schedule a consultation where you discuss your current gray status and work up a plan to either enhance your gray as it grows or cover it. You may also wish for their help in growing out your existing hair color that is currently covering your gray.
Maintain shine and prevent yellowing by using purple or violet-colored shampoos to keep hair shiny and vibrant. When in doubt ask your hair colorist or hairdresser to recommend a product line that is best for your hair.
Natural gray, white or silver hair may become dry or even brittle. Always use deep conditioning treatments designed for your hair type, texture and health on a regular basis.
Consider having a clear cellophane gloss applied to keep gray, silver and white hair beautiful, shiny and bright.
Do your research to help you determine the best path of gray for you.
Keep an open mind and be willing to dump your gray if over time it doesn't seem to work for you.
Beauty Expert, Diane Irons, in her fabulous book Age-Defying Beauty Secrets warns against using any type of high heat on gray hair. She points out that it can cause it to become brassy or turn yellow.
Diane also point out that some colored gels or styling products may be more easily absorbed by gray hair.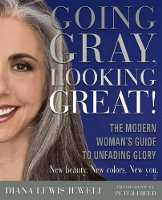 A great book dedicated to the gray hair transformation is Going Gray, Looking Great: The Modern Woman's Guide To Unfading Glory by Diana Lewis Jewell.
Diana has done a great job of working with some of the best known haircolorists in the industry, including the renowned Beth and Carmine Minardi.
Not only does Diana provide in-depth answers regarding how gray hair develops, she provides a series of real life makeovers that provides examples of just how gorgeous gray hair can be when treated properly.
Gray Enhancing Products
One of the biggest complaints that people have with going gray is that the natural gray color might be dull or develop a yellow tings. There are actually products made that specifically address the gray hair challenges. These products include:
Phytargent Shampoo For Gray, White or Highlighted Hair

Phytargent was specifically developed for people with graying hair. Phytargent is a whitening shampoo for gray, white or highlighted hair. Chamomile azulene restores silver highlights, lanoline softens and hydrates to eliminate coarseness that is often the result of new gray hair.
Advanced Research Labs (people from got2B) makes a

shampoo and conditioner just for silver hair called Silver Brights. The shampoo and matching conditioner is designed to help soften dry and wiry strands while helping with yellow, dull and brassy gray, silver or white hair. Emollient, protein-rich formula with added conditioners and a natural sun filter. Imparts brilliant luster and shine, creates soft, silky hair and eliminates yellow, dull and brassy hair. Renews brightness and dramatically improves hair color.
Rene Furterer - Okara Mild Shampoo For White Hair

Rene Furterer Okara Mild Silver Shampoo was specifically formulated to restructure, protect and gently wash white hair while neutralizing yellow and other dulling tones.
Thanks to its corrective pigments, this product illuminates and revives silvery highlights. Hair is restructured by the Okara protein which reinforces the hair shaft. Vitamin B5 maintains hair moisture and Vitamin E ensures protective anti-free radical activity. Hair regains suppleness and luster, shining with silvery brilliance.
The Rene Furterer Okara Mild Silver Shampoo can be used 1-2 times per week. A single application is sufficient. The product contains water, Sodium Laureth Sulfate, Propylene Glycol, Cocamidopropyl Betaine, Fragrance, Glycol Distearate, Laureth-10, Panthenol, Polyquaternium-10, Sodium Propylparaben, Tocopheryl Acetate.
Summary
Whether you decide to cover your gray or let it shimmer through, there is support for whatever you decide to do. Many baby boomers, both men and women are going gloriously gray and loving it. Either way, there is lots of support for whatever decision you make.
If you want to talk more about this or other hair care articles on HairBoutique.com or anywhere else, please post a message on HairBoutique.com's Hair Talk Forums.