December 2nd, 2000 by Karen Shelton
Introduction
Although some naturally curly-haired people enjoy their natural texture, letting their natural ringlets rule, there are some who like to change up their hair by opting to temporarily straighten their tresses.
Hair straightening for natural curls can be done either until the next time hair makes contact with water or on a more semi-permanent basis through the use of relaxers, chemical straighteners, keratin treatments or similar.
Semi-permanent straightening will remove some or all of the natural texture for a few days to a few months, depending on a wide variety of variables.
Some curl experts warn that doing any type of temporary or permanent straightening can alter your natural texture forever.
If you love your curls, coils or kinks you may wish to think long and hard before straightening your hair if there is a risk of losing your curls forever.
For the purpose of straightening natural texture until the next shampoo or cleansing, check out the tips provided below.
Getting It Straight
If your goal is to temporarily (until the next shampoo) straighten and defrizz you'll need to utilize fuzz fighting straightening products. The products can be combined into a type of styling cocktail used in conjunction with a blow dryer, round or flat brush and possibly a straightening iron.
Keep in mind that that while the combination of styling, sealing products and hot styling tools can provide a sleek, straight and frizz free hairstyle, it will only last as long as you avoid water and humidity. Also, it's never wise to perform temporary straightening on your hair on a daily basis since it can cause accelerated wear and tear on your fragile tresses.
Creating a sleek and temporarily straight style which is free of frizz is best done for special events and only when combined with a regular regime of tender loving care for your natural curls.
Proper Tools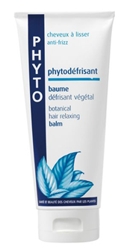 HairBoutique.com All Rights Reserved
Many people with curls have tried to straighten their hair and unless they use the proper products and tools may wind up with a frizzy mess.
Hard core frizz can be the bain of naturally textured hair. The good news? There are a wide variety of products available to combat the condition.
Blow drying naturally curly hair straight can be challenging if you don't have a lot of practice with the techniques.
The key to a great straight blow out is the availability of the proper tools along with practice and persistence.
The following tools are required:
1. Light weight user friendly blow dryer with multiple styling attachments, speeds and settings. It's best to utilize a dryer which features either a cool setting or a cool button for controlling the heat and setting the style.
The best dryers are in the 1600 or 1800 watt range. Anything higher can bur and damage delicate tresses. Lower setting cause the least amount of damage but may take a lot longer to dry and style tresses.
2. 100% boar bristle brush. Whether you prefer a round brush or a paddle style brush, select one that feels comfortable in your hand so that you can work with it efficiently. You may wish to invest in two or more brushes for different styling techniques. A round and paddle brush is a good combination to have.
3. Styling products designed to moisturize, straighten, defrizz and seal hair. There are a wide range of styling products you can utilize but the key is knowing what you need the most assistance with.
HairBoutique.com All Rights Reserved
The most common hair care products for eliminating frizz while creating sleek straight strands include:
Conditioners - Moisture is your friend. Always start with a rinse out and/or leave in conditioner. Frizz is most prevalent in dry strands. Blow drying can also zap moisture from tresses. Properly chosen styling products will protect against the damaging effects of heat, assist with styling and potentially retain if not add extra moisture.
Straightening products - A wide range of creams, sprays and balms are available from a dizzying array of manufacturers. Designed to remove and block frizz they provide a glossy sheen.
One challenge with straightening balms is they may appear to "smoke" under the heat of a blow dryers or irons. Also, straightening balms provide no hold.
Styling products - Straightening creams, balms and sprays do not by themselves product extra hold or style. If you need extra volume at the roots or hold for your finished style you will need to add these products to your styling session.
Texturizing products - Lotions, sprays, glazes or creams which are designed to texturize provide a combination of light hold, frizz control and shine. They are not specifically designed to straighten hair but can be utilized for that purpose.
Sealants - After you have worked hard to straighten and defrizz your hair it's important to seal and add shine. A wide variety of styling sprays, serum drops and creams are available to seal the deal.
Curly Hair Solutions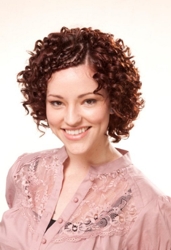 Barbara Lhotan All Rights Reserved
Start with clean wet detangled hair. Coat it from roots to tips with the straightening product of your choice.
For high humidity, you can use a generous amount to control that extra frizzy area. You may wish to select a product that is silicone free if your hair is prone to oiliness. Select a product that will protect your hair from blow dryer and iron heat while allowing you to easily slide your brushes through your hair sealing the cuticles to prevent frizz.
Dry the roots first. With your paddle brush pull hair from underneath and aim the blow-dryer nozzle down the hair shaft. Hold the brush tight to keep every hair strand taut. When roots are completely dry, clip hair on the top of your head. Take out sections starting around the hairline. Divide into smaller sections no wider than the width of your round brush. Keeping a good grip on your brush and pulling each hair strand tight, follow the brush's motion with the dryer, aiming the air down the hair shaft to the very ends until the section is completely dry and smooth.
Remove one section at a time until you reach the top. To smoothen any stray frizzy strand, use your steel barrel brush like a hot roller. Roll a section around your brush apply heat then allow cooling before you unravel.
With your brush and hairdryer in hand, you're ready to begin straightening your hair. Curly hair straightens best if it is blown dry in small sections. To do this, take all your hair from the ears up and twist it onto the top of your head with a large clip. This will hold it out of the way while you focus on the section to be straightened.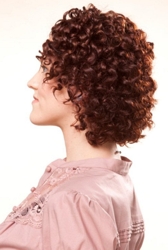 Barbara Lhotan All Rights Reserved
Using the brush, pull a section of hair straight and tight while keeping the hairdryer trained on it, remembering not to bring the hairdryer closer than about eight inches. Point the hairdryer at a downward angle to the hair; this will keep the hair smooth.
Once the bottom section is dry, remove the clip and pull down another small section, re-pinning the rest on top of your head again. Repeat this process until all sections are dry.
Ironing Methods
Blow-drying your hair is the fastest way to straighten it, but it has its drawbacks. The hot air from a blow dryer seems to fluff curly hair, giving it soft body. A straightening iron or flat iron can solve this problem.
It is also possible, depending on how curly your hair is, to let it dry naturally, perhaps overnight, and iron it straight in the morning; this technique will cut down on the amount of heat your hair is exposed to, and the effect is hair with a slight wave and more realistic movement than hair that has been blown dry.
Picking Your Iron
There are many different straightening irons on the market. Once again, a model with several different heat settings is best. Experiment to find the lowest heat setting that will achieve the look you want.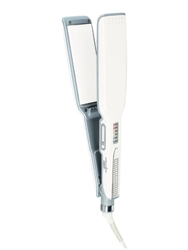 HairBoutique.com All Rights Reserved
Straightening And Smoothing
To straighten or smooth with the flat iron, work with sections just as you would when blow-drying.
The size of the sections is especially important. The tighter the curls, the smaller the sections need to be.
Clamp the iron around the section close to the roots, and slowly slide the iron over the entire strand from end to end.
Several passes may be necessary to fully straighten and smooth the section. Repeat with each section until finished.
Summary
If your hair tends to be very frizzy even when you spend time temporarily straightening it you may wish to invest in products which provide instant defizzing and style rejuvenation to keep your hair sleek as long as possible. Remember to avoid humidity at all costs.
Whether you straighten your hair once a day, once a week, or once in never, the most important thing to remember is to keep your locks well moisturized. Healthy hair frizzes less, grows faster, and develops less split ends. Take good care of your hair and it will take good care of you.
Social Media Network Information
Please follow me on Twitter at: http://Twitter.com/HairBoutique. I look forward to meeting new people
from all walks of Twitter and learning from their Tweets.
Visit us at Hairboutique.com located at: http://www.HairBoutique.com, on Facebook, MySpace and YouTube.
Thank you for visiting us at The HairBoutique Blog and for leaving your comments. They are very much appreciated. We apologize in advance but must remove any direct advertisements or solicitations.
Original Publication Date: 12/02/2000 - Revised Date: 04/23/11
If you want to talk more about this or other hair care articles on HairBoutique.com or anywhere else, please post a message on HairBoutique.com's Hair Talk Forums.