January 2nd, 2003 by Karen Shelton
Introduction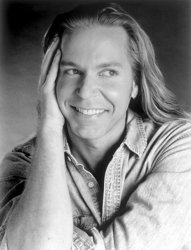 Robert Hallowell is (shown to the side) known for making celebrities look fabulous: Jennifer Love Hewitt, Geena Davis, Lucy Liu (Robert is currently doing Lucy's hair on the set of Charlie's Angels 2), Anne Heche, Claudia Schiffer, Camryn Manheim, Brendan Fraser, Sharon Stone, Whoopi Goldberg, Candice Bergen, Denzel Washington, Sarah Jessica Parker, George Clooney, Pierce Brosnan, Steve Martin and Bridget Fonda are just some of the many stars who have benefited from Hallowell's talent - and from the nourishing recipes he would formulate for their hair care.
Nicknamed "The Kitchen Beautician" because of his propensity to whip up special hair treats using ingredients from his clients' cupboards, Robert searched everywhere for a single product line that encompassed everything he liked. When he found no single line that fit his needs and those of his celebrity roster, he developed his own. Thus, prawduct was born.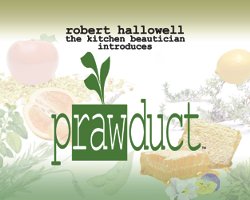 "I wanted hair care products that really performed," says Hallowell. "I need them to be the most effective on the market. And yet, because of my personal philosophy and the personal needs of my celebrity clients, it was important to me that the ingredients be all natural, even organic when possible. Plus, I wanted products that worked synergistically, so that people could use as many of the styling aids as they liked, separately or together. I knew I wanted to call the line prawduct because it encompassed my belief that many of the healthiest ingredients come straight from the backyard garden, the fridge or the kitchen cupboard."
Hallowell had specific parameters in his development: no animal testing, no artificial fragrances, no artificial ingredients, no artificial colors or dyes. His requirement: a group of products that performed dependably and effectively alone or together, that smelled great, felt good on the hair and treated the hair gently, while giving it body and fantastic shine.
After three full years of research and development, prawduct is here.
Every prawduct contains two unique, trade-marked natural blends: Honey Fruit Complex™ and Herb Garden™ Complex. Honey Fruit Complex is a mixture of apple, orange, grapefruit, lemon and honey. It moisturizes, provides anti-oxidant protection, seals the hair cuticle and balances the pH to deliver high shine as it conditions. Herb Garden Complex is a blend of rosemary, basil, chamomile and fennel that energizes and stimulates to volumize hair and add even more shine.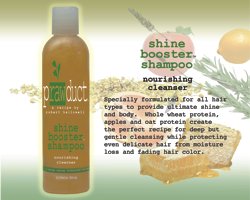 "There's just no substitute for lush, healthy, shining hair," says Hallowell. "I'm proud to say that my prawduct line contains the finest natural ingredients of their kind, including costly Neroli soothing lavender, antioxidizing Vitamin C and rich Shea butter. These are the products I've been searching for. I think other people will feel the same."
There are 5 recipes by Robert Hallowell currently available in the prawduct line:
shine booster shampoo - nourishing cleanser shine booster conditioner - rapid fortifier rawhold hair spray - protective non-aerosol spray super volumizing tonic - pump-up spray (currently using it on Lucy Liu's hair on Charlie's Angels 2 w/ fantastic results). dream cream! - heavenly styling cream
Products scheduled for future roll out include the flat factor - straightening balm: rawhold gel - conditioning hair control; love that shine treatment elixir - ultimate conditioning shine; love that shine drops - ultimate shine serum; and love that shine spray - ultimate spray-on shine.
The prawduct collection is available at HairBoutique.com's Marketplace.
If you want to talk more about this or other hair care articles on HairBoutique.com or anywhere else, please post a message on HairBoutique.com's Hair Talk Forums.