Last updated on March 5th, 2011 by Karen Shelton
Introduction
The Summer Season ushers in a long list of potential hot weather hair horrors from straw-like strands, limp locks and frightening frizz.
Never fear, with some planning and the availability of the many sophisticated hair care products available today, it's possible to fix every imaginable summer hair care related challenge ranging from sun-burnt scalps to sea ravaged strands.
Listed below are some of the most common Summertime Hair Challenges with tips to avoid or fix.
1. Parched, Brittle Strands
Prevention:
The key to preventing the development of parched, brittle strands is to always protect the top of the tresses.
Always use hair care products which contain anti-oxidants and protection from UV rays. Not only will they act as a type of sun-screen protecting hair from damage, it will also protect both natural and chemically added hair hues.
Even when you protect your hair with products, opt for using sun hats at the beach. If that's not an option, coat your hair with a protective oil, like Rene Furterer - Protective Summer Oil KPF 90, which is specifically formulated for sun protection.
While it's true nothing completely repairs hair or split ends, many newer products temporarily fill in internal gaps and boost hair from the inside out, so it looks lots better, until real damage grows out.
Summer Fix:
Haap Media All Rights Reserved
Check out the latest hair treatments to reverse damage such as PhytoKarite Intensive Treatment, Phytocitrus Mask and related nourishing masks and see what they do for you.
Sunning, swimming and hanging out enjoying the warm weather will deplete tresses leading to dehydration and damage. Intensive treatments infuse strands with rich moisture.
At the same time the conditioning treatments repair depleted strands with protein and nourishment, sealing the cuticle to prevent further damage.
2. Unbeatable Frizz
Prevention:
Parched strands which result from exposure to sunlight and the elements can result in unbeatable frizz. This is particularly true if hair is chemically treated.
During summer months cleanse hair only when needed, extending shampoo times to once or twice a week. Utilize heavily moisturizing formulas.
Consider washing with conditioning only (CO) formulas, water only (WO), diluted shampoo (DS) or a combination.
Summer Fix:
Put moisture back into strands with a deep conditioner or conditioning formulas which contain keratin, jojoba oil, and other hair strengtheners and moisturizers.
For best results from a deep conditioning treatment wrap treated hair in plastic wrap, a hot oil or shower cap. Wrap warm towel around the top of the plastic wrap or shower cap. The towel will capture heat from the scalp to help the conditioning products to penetrate.
You can also give locks a quick pick-up with a specialized hot oil treatment. Leave-in conditioners also give tresses a boost and help protect against thermal damage when heat styling.
3. Fading Hair Color
Prevention:
Exposure to the sun, excessive heat or pool chemicals can quickly fade hair color. Those expensive sun-kissed highlights can literally fade overnight.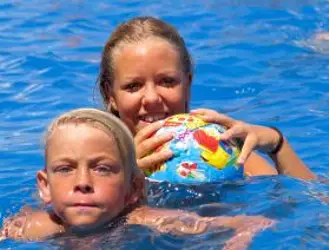 Haap Media All Rights Reserved
Before hitting the beach make sure the scalp is protected from UV rays with sunscreen.
Mist hair with Evian or similar and then apply a generous dollop of a sun protection masque or lotion. Comb through from scalp to ends then mist with an all-day protection product.
Before swimming always wet hair before getting into the pool. Damp or wet hair absorbs less of the pool chemicals like chlorine which is a copper-rich bleach.
Rinse the hair with Club soda after a dip will help to flush out all traces of the chemicals.
Summer Fix:
After summer, visit your salon for a color fix or refresh your hair color at home. If tresses take on a faded or green cast it could be related to swimming in pools treated with chemicals such as chlorine or similar.
Check out beauty supply stores for products that remove chlorine or ask your hairdresser for help. Avoid using hair color products that contain metallic salts (most of these are for covering gray and are for guys).
4. Limp, Droopy, Over-Exposed Strands
Prevention:
Exposure to the sun, excessive heat or pool chemicals will quickly fade hair color. Those expensive sun-kissed highlights can literally fade overnight.
Summer Fix: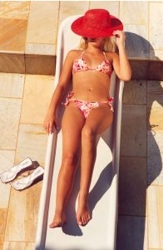 Haap Media All Rights Reserved
Amp up the body and bounce in your tresses, feed your head with protein.
Use shampoos and conditioners which contain body building wheat germ protein, keratin or similar. Avoid pulling and tugging on hair when styling.
Some stylists offer special reconstructing treatments that make hair look and feel better instantly.
If your hair is relaxed, don't over-use protein or it'll make hair more brittle. Opt for moisturizers instead. Take a break from heat styling and let your hair dry naturally whenever possible. When you do blow dry, dry on high heat.
While it may seem this does more damage, it's actually better to use high heat because you expose your hair to heat for a shorter period of time than you would if you used medium heat.
Of course, never hold hair dryers too close to your head and keep them moving as you dry. Skip the concentrator attachment!
5. Overall Stressed Tresses
Prevention:
Keep ends trimmed to avoid aged ends from splitting all the way up the strand to the roots. At the end of any season its advisable to have complete trim to put the shape back into your cut.
Summer Fix:
Always use a no rinse moisturizing spray after sun exposure. Spray on damp hair after cleansing. Do not rinse. Detangle.
Rene Furterer - Sun Care Moisturizing Spray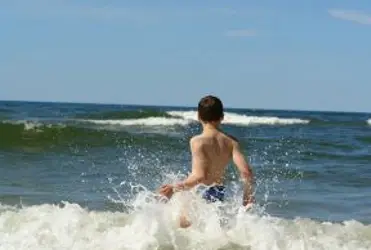 Haap Media All Rights Reserved
This formula which has shea butter and essential oil of sesame nourishes and restructures the hair shaft. It also detangles instantly.
6. Dull, Drab Strands
Prevention:
When hair is exposed to the sun there is a strong probability it will remove the color from your strands. It will also dry out tresses making them look dull and drab.
Some hair color created with metallic salts, like henna, may take on a green hue. Henna will also dry out your tresses.
Summer Fix:
For an instant shine boost, condition strands well with a combination of rinse out, leave in and deep conditioner. Always finish any cleansing or conditioning session with a cool or cold water rinse to seal the cuticle. Some hair experts also suggest using a final rinse consisting of water and apple cider vinegar.
You can also ask your professional hairstylist to apply a clear gloss which will enhance shine without altering your hair's natural color.
Check out finishing products which add shine, such as pomades and shine sprays.
Social Media Network Information
Please follow me on Twitter at: http://Twitter.com/HairBoutique. I look forward to meeting new people
from all walks of Twitter and learning from their Tweets. Visit us at Hairboutique.com located at: http://www.HairBoutique.com, on Facebook, MySpace and YouTube.
Thank you for visiting us at The HairBoutique Blog and for leaving your comments. They are very much appreciated. We apologize in advance but must remove any direct advertisements or solicitations.
- Revised Publication Date: 03/13/11
If you want to talk more about this or other hair care articles on HairBoutique.com or anywhere else, please post a message on HairBoutique.com's Hair Talk Forums.