Last updated on February 8th, 2005 by Karen Shelton
Introduction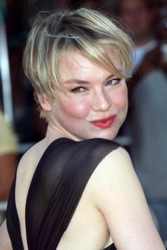 DailyCeleb.com All Rights Reserved
I reported about my recent trip to a North Dallas Plastics Physician who specialized in "injectible" beauty treatments. Although the visit was fascinating, my conclusion was to due diligence and research the various options before going under the syringe.
One thing I didn't mention is the fact I have a long and faithful history of working with various estheticians who have steamed, massaged and slathered a wide range of masks on my skin.
I have suffered through extractions and even waxing although that borders on Too Much Information (TMI). Even more interesting, I have always dragged my guy-of-the-moment with me (he loved it) for his and her facials and skin care treatments.
My very first facial took place when I was barely in my 20s and still living in St. Louis. I left the skin clinic with a huge bag of cleansing creams, masks and eye creams which were all part of a skin care master plan.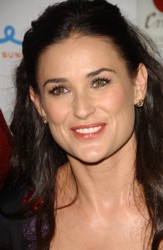 Demi Moore Best Selling Author Laura Day Celebration 06-19-07
DailyCeleb.com All Rights Reserved
After I moved to Dallas I transitioned through a series of skin care spas and dabbled in a variety of products including MD Forte, SkinCeuticals, Bliss and a variety of lesser known lines. I also experimented with the drugstore brands and whipped up my own egg, avocado and banana skin masks with varying results.
My biggest problem? I would get bored and then fall off my at-home skin care regimens although I faithfully attended all appointment for regular facials.
Karin Herzog To The Rescue
In 2005 I was introduced to yet another facialist who had a self proclaimed amazing skin care line. She insisted on giving me a complimentary facial to experience the results. I put her off until she showed up at my office one day and literally gave me a mini-facial at my desk. Although I was skeptical of yet another skin care line, I was blown away by the way my skin looked and felt. It was softer and any tiny stress lines had vanished.
I purchased the entire Karin Herzog line to try at home. At first I was not sure how to best utilize the line and made an appointment for a facial so I could take notes on what products to use and when. The full blown facial was even better than the mini facial and I left with all types of Karin Herzog product use tips and techniques.
Karin Herzog Mask Use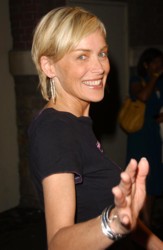 Sharon Stone The 2nd Annual Sober Day Celebration 05-07-07
DailyCeleb.com All Rights Reserved
The Karin Herzog Essential Mask Facial is designed to be used after the skin has been cleansed with Karin Herzog Mild Scrub and in some situations, after an application of the Karin Herzog Oxygen Face. The Essential Mask Facial is an anti-aging mask that literally works like a facelift in a tube and delivers much-needed oxygen to give the skin a breath of fresh air.
It tightens the facial contours, brightens the complexion and evens out the tone. It is perfect for instant radiance when going somewhere special. This mask is an essential step in a home facial routine which should be practiced at least once per week for breathtaking results.
Although the mask should be applied at least once a week, it is actually okay to use it more frequently, especially when your skin is stressed for whatever reason. After some experimenting I discovered my skin did best with two masks per week.
Demi Moore, Renee Zellweger (it's been reported in the media that Renee loves the Essential Mask Facial) Kylie Minogue, Jennifer Aniston, Sharon Stone are huge fans of the Karin Herzog products.
Other celebrity fans of Karin Herzog products include Kim Basinger, Uma Thurman, Cheryl Crowe, Linda Evangelista, Lisa Kudrow, Matt Le Blanc, Matthew Perry, Julia Roberts, Cameron Diaz, Barbra Streisand, Mel C, Jennifer Lopez and Kate Capshaw.
Karin Herzog Mask Secrets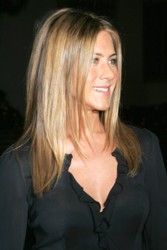 Jennifer Aniston "Dirt" Premiere Screening 12-09-06
DailyCeleb.com All Rights Reserved
After several Essential Mask Facial facials my skin care consultant started to share secrets. She is a huge fan of the line and uses it exclusively on her own skin, which is spectacular and flawless. I mentioned I would be traveling to New York and hated the way by skin felt after 3 1/2 hours on a plane.
My facialist advised me to apply a thin film of Karin Herzog Essential Mask Facial to my newly clean skin (cleansed with Karin Herzog Mild Scrub) right before the plan took off. Even though you are only supposed to leave the mask on for 10 minutes, she told me to leave it on for the entire flight, which was several hours.
Right before landing, she advised me to go to the restroom and splash cool water on my face to remove the mask.
She advised patting my face dry and applying a thin film of Karin Herzog Vita-A-Kombi. If desired I could also use a tiny bit of Karin Herzog Oxygen Eye Cream.
Needless to say, I followed the extended Essential Mask Facial treatment and stepped off the plane with skin that was glowing and dewy. I could not believe how great my skin looked after being on a plane for hours. Normally my skin looks like hell from the dehydrating effect of the plane's cabin the the altitude.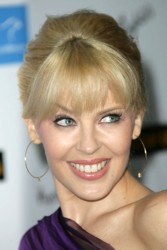 Kylie Minogue Australia.com Black Tie Gala 01-19-08
DailyCeleb.com All Rights Reserved
I actually received several compliments from associates I met in New York who asked if I had been peeled or injected. Little did they know it was the magic of Karin Herzog.
After that first experiment, I have tried all sorts of different extended Essential Mask Facial treatments with great results. My niece tried the Essential Mask Facial secret when she flew for many hours from Dallas to Australia. She reported incredible results just like I experienced.
Bottom line, even though the Essential Mask Facial advises to leave on for only 10 minutes, this is not necessarily the only use. I have also learned that a tiny dab of the Essential Mask Facial around my eyes on extremely stressful business days will plump the skin right up.
The Karin Herzog skin care products have certainly make a huge difference is the softness and sparkle of my skin.
I can't wait to try the hot chocolate Karin Herzog Essential Mask Facial that Renee Zelleweger loves.
Karin Herzog Essential Mask Ingredients
The Karin Herzog Essential Mask Facial comes in a sleek black tube with gold lettering. It contains the following ingredients: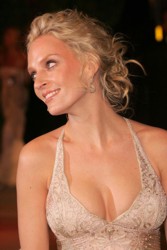 Uma Thurman 2006 Vanity Fair Oscar Party 03-05-06
DailyCeleb.com All Rights Reserved
Water, Pharmaceutical Mineral Oil, Glycerin, Stearyl Alcohol, Polysorbatum 20, Hydrogen Peroxide (2%), Prunus Armeniaca (Apricot Oil), Hypericum Perforatum (St. John's Wort), Citrus Grandis-Citrus Paradisi (The Essential Oil of Grapefruit), Citrus Nobilis (The Essential Oil of Mandarin Orange), Citrus Dulcis (Essential Oil of Orange), Retinal (Vitamin A), Choleccaliferol Polypeptide (Vitamin D), Fragrance.
Summary
Karin Herzog skincare products are based on the research of Dr. Paul Herzog, Doctor Honoris Causa of the Nobel Institute, an eminent scientist, inventor of the artificial respiration system used throughout the world. The first scientist to successfully stabilize active oxygen, a source of pure energy, in a medical grade emulsion and to patent his invention internationally.
Encouraged by the results, the enthusiasm and the loyalty of thousands of clientele, Dr. Herzog and his wife, Karin Herzog, a qualified esthetician and leading figure in her own right, developed the Karin Herzog skincare range, a science based, ultra performing medical grade skin care brand, the quality of this is unrivalled in the world of cosmetics today.
The entire Karin Herzog skincare line is available at HairBoutique.com. In addition, HairBoutique.com has partnered with a licensed esthetician to advise us of all the latest Karin Herzog product use.
If you want to talk more about this or other hair care articles on HairBoutique.com or anywhere else, please post a message on HairBoutique.com's Hair Talk Forums.