December 23rd, 2007 by Karen Shelton
Introduction
There's no doubt about actress Diane Kruger's ravishing beauty. The film industry weighed in with their vote by casting the blonde beauty as Helen of Troy in 2004's Troy with Brad Pitt, Eric Bana and Orlando Bloom. Diane was a beautiful women acting in a film with some of the hottest leading men on the planet.
From her turn in Troy Diane's career has continued to rise to new heights. Her breakthrough role as Abilgail Chase in National Treasure brought the German born star to new worldwide prominence. She also became a fan favorite.
After her turn in National Treasure she appeared in the films Joyeux Noel, Frankie, Copying Beethoven, Goodbye Bafana, Age des tenebres, L and The Hunting Party.
None of those those films were as popular as the original National Treasure or the new sequel - National Treasure - Book Of Secrets which opened to box office gold in its very first weekend.
Diane who now goes by Kruger was born Diane Heidbrueger on July 15, 1976 in Germany near Hidesheim.
She trained to be a professional ballerina with the Royal Ballet in London until her career as a dancer was sidelined by an injury. Returning to Germany she became a top fashion model. Filmmaker Luc Besson suggested she try acting which she did by moving to Paris.
Diane's Sexy Side Hairstyles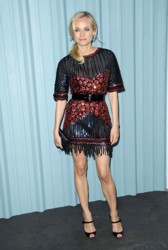 DailyCeleb.com All rights reserved.
Although Diane generally wears her below-the-shoulder buttery blonde tresses in a variety of hairstyles, she favors a style which features soft side-swept bangs and a low slung sleek ponytail which is seductively wrapped over her left shoulder and curled along her collarbone.
Diane has made this sexy side hairstyle one of her signature hair looks. One of the first times she was photographed wearing the style was at the Moulin Rouge Premiere in Cannes in 2001.
She appeared on the Red Carpet with the sexy side pony several times in 2006 and wore it in May of 2007 to the Chanel Cruise Show. She has dressed the style up with gorgeous earrings and dressed it down with a series of soft beret style caps.
Regardless of how she accessorizes her side style pony, she looks gorgeous. Even better, the style is easy to recreate in a matter of a few minutes and can be worn for any formal hair event.
Diane's favorite side pony hairstyles can work will a wide range of parts or bangs and can be combined with crown height, worn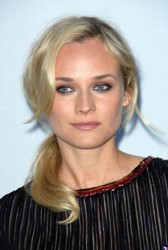 DailyCeleb.com All rights reserved.
slicked back or accessorized with caps, headbands or other hair jewels. When combined with the proper partings, crown height and forehead fringes, can flatter any face shape. It can be easily created at home, shows off a beautiful face, eyes, lips and neck.
Note: To try on different related hairstyles like those mentioned in this article for free, visit the HairBoutique.com Hair Wizard™. To get started simply register and follow instructions for uploading an image of your face. This service is no charge and allows you to instantly try on different looks for your face shape.
In addition, Diane's hairstyle can even be created on shorter strands with the help of a range of clip-in hair extensions or hair pieces. Even better, this style works great with many different types of hair accessories. Depending on texture desired (wavy, curly, straight or combined), this hairstyle can be morph into a range of moods (romantic, sexy, sassy, sophisticated)
Note: To instantly add length to your shorter strands for creation of any of these gorgeous side gathered styles, check out the many clip-in extension options from Jessica Simpson's HairDo line or from the HairUWear Pop collection. Both collections offer a range of synthetic or human hair options at affordable prices.
Pop in a clip-in and most of your styling is done. Even better, many of the Jessica Simpson clip-in options come with pre-set hair textures ranging from wavy to silky straight.
Creating Diane's Sleek Side Hairstyle
DailyCeleb.com All rights reserved.
The side styled hairstyle worn by Diane has some requirements that include:
1. Whether you pull your hair to the right or left or do a double side style, you will need tresses that are long enough to nestle on or over your shoulders. Or you will need to clip-in extension strands to seal the deal 2. You will most likely have to spend a little time fine tuning your hair texture with either a hot iron, rollers or other hair texture creating tools. 3. To hold the texture in place, you will need to utilize styling products such as hair gel, mousse, lotions, creams or hairsprays. 4. If you desire volume along the top, you will need to either utilize volume enhancing products, some back combing and/or some other styling products for lots of lift. 5. If you desire a more complicated style like Carrie Underwood's, you may wish to work with a professional stylist.
Steal Diane's Sexy Hairstyle - Step By Step Instructions
All of the on-the-side hairstyles shown in this article follow the basic Getting Started Steps.
1. Shampoo hair with a product designed to address your hair's special needs. If you color, highlight or chemically treat your hair, select a shampoo that supports those treatments. If you prefer, use a dilution formula or a conditioning only (CO) treatment. Note: For extra volume in the crown or top of the hair areas, try PhytoVolume Shampoo or PhytoVolume Mousse Shampoo.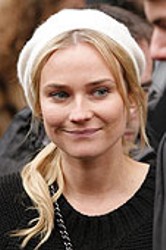 DailyCeleb.com All rights reserved.
It is often easier to create all of these various on-the-side hairstyles when hair is slightly aged from the last shampoo. Newly washed, soft, or slippery hair, can often be trickier to work with then "day old" hair. If your hair is naturally slippery, you may wish to let your hair "age" a few hours after shampooing before attempting an of these styles. 2. Apply the appropriate rinse-out conditioners. (Avoid if hair is super thin or fine). Keep in mind that if hair is too soft it will be harder to back comb. 3. Finish with a cool/cold water rinse to close cuticles and encourage natural shine. 4. Towel blot and apply very light cocktail of desired leave-in detangler, conditioner or styling products (firm holding mousse or gel depending on your type and texture of hair). 5. For extra volume along the crown and sides, apply a firm holding or sculpting gel. 6. Blow dry hair straight using a blow dryer with a concentrator attachment. If hair is naturally curly or wavy, apply a straightening balm like Phytodefrisant or similar to damp strands. Use a boar's head style paddle brush and separate hair into individual sections.
Note: For detailed tips on how to blow dry hair perfectly straight read Celebrity Hairdresser's Tips: Blow Drying Your Hair
7. Once hair is completely dry, create the desired part. Diane rocks a deep side swept part that directs a large section of hair up and over to the left side of her mostly square shaped face. 8. Use a brush or fingers to smooth hair along the hairline and the sides. 9. Pull all hair into a traditional side ponytail. You have the option to position the base of the pony behind the ear, or position the base underneath the ear lobe. Use a Bungee Band, Blax or similar "hair friendly" elastic band in the same color as your hair. 10. Use a small to medium barrel curling iron to create one soft curl to drape over one shoulder.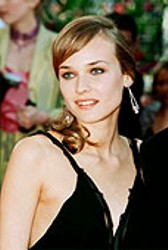 DailyCeleb.com All rights reserved.
Note: As you release the curl from the iron, roll it around your finger and then pin against the scalp to allow the curl to cool into a tighter coiled shape.
11. When the single curl is cool, unpin it and use fingers to arrange. 12. Take one strand of hair from the ponytail and wrap it up and over the base. Use a bobby pin in the same color as your hair to secure the strand of hair around the base. Spray well with firm holding styling spray.
13. Apply a light touch of shine product to add shimmer. Remember not to apply too much shine product.
14. For extra dazzle, attach a jeweled ponytail wrap or pin a simple jeweled bobby along the hairline.
If your hair is naturally curly or wavy, you may prefer to create this style by blow dying your strands stick straight before pulling into the sleek side pony style.
Summary
Side-gathered hairstyles that caress one side of the neck are a hit with Diane Kruger who has become famous for her recurring roles in National Treasure. Her silky side ponytails show off her gorgeous face, eyes, lips and neck. She shakes up the basic style with accessories such as hats and adds pizazz with earrings. This is an easy hairstyle to recreate and can be created quickly at home.
Social Media Network Information
Please follow me on Twitter at: http://Twitter.com/HairBoutique. I look forward to meeting new people
from all walks of Twitter and learning from their Tweets. Visit us at Hairboutique.com located at: http://www.HairBoutique.com, on Facebook, MySpace and YouTube. We would love it if you would Friend us or Favorite us.
Thank you for visiting us at The HairBoutique Blog and for leaving your comments. They are very much appreciated. We apologize in advance but must remove any direct advertisements or solicitations.
- Revised Publication Date: 04/24/11
If you want to talk more about this or other hair care articles on HairBoutique.com or anywhere else, please post a message on HairBoutique.com's Hair Talk Forums.
If you want to talk more about this or other hair care articles on HairBoutique.com or anywhere else, please post a message on HairBoutique.com's Hair Talk Forums.