Last updated on April 11th, 2008 by Karen Shelton
Introduction
Most hair consumers might not know the name - Martin Samuel - when it comes to celebrity hair.
They probably know all about the three Pirates of The Caribbean movies but unless they snoop around on IMDB or hang out at a celebrity photo shoot, they may not know about the masterful work of this talented hair master.
How did this inspired celebrity hairdresser find his way into the world of hairdressing for film? He has confessed that as a hairdresser he was originally obsessed with musical films.
Of course he loved anything to do with the movie industry and set his sights on working in the movie industry. He made his way into the movie business by first working with print and commercials.
After working hard and achieving success in those early endeavors he made acquaintance with movie directors Ridley Scott, Alan Parker and Tony Scott who eventually requested he work on their films.
Once he had made his way into the world of hairdressing on movie sets, he dedicated himself to creating spectacular hairstyles on film for some of the biggest stars in the film industry including:
Lee Remick in 1977's The Medusa Touch
Candace Bergen in 1981's Rich & Famous
Jill Clayburgh in 1982's I'm Dancing As Fast As I Can
Madonna in 1996's Evita
Penelope Cruz in 2003's Fanfan la tulipe, 2004's Noel, 2005's Saharra, 2005's Chromophobia, 2006 Bandidas and 2008's Elegy
Johnny Depp in 2004's Secret Window and in 2007's Pirates Of The Caribbean
Jennifer Aniston in 2008's Traveling
Besides their work together on the Pirate movies, Martin has worked with Johnny Depp on other projects. He also works frequently with Penelope Cruz , Jonathan Pryce, Bettina Menegazzo, Olga Merediz and William Hurt.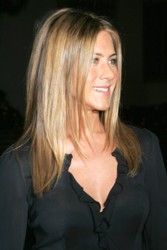 DailyCeleb.com All Rights Reserved
Martin has won several awards for his hairdressing film work including:
2004 Hollywood Makeup Artist and Hair Stylist Guild Award (shared with Lucia Mace for 2003 - Pirates of the Caribbean: The Black Pearl.
2004 BAFTA Film Award shared with Ve Neill - Pirates of the Caribbean: The Black Pearl.
He has also been nominated for a PFCS, Saturn and an Oscar award for his work on Pirates.
The life of a film hairdresser is grueling. Many celebrity hairdressers shun the movie making business completely because of the very long hours, the requirement to work on a variety of hair tasks ranging from making wigs to adding extensions and creating original styles.
Of course there are the issues of traveling to be on set for weeks at a time. In essence Martin has to put his own personal life on hold in order to be available to work on a movie set. He doesn't mind, he absolutely loves what he does, and it shows.
Madonna's Hair For Evita
When this talented hairdresser worked with Madonna on Evita he was required to design and develop 42 different looks that related to the real Eva Peron. Martin rose to the challenge and considered his work on that film to be some of his very best.
Obviously re-creating hair looks from Eva Peron's life required lots of research and development of various wigs. Although the Evita hair designs proved very challenging for Martin but he is a master wig maker so he was up for the task.
Keira Knightley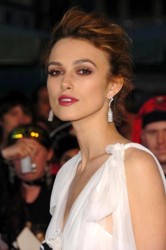 DailyCeleb.com All Rights Reserved
Martin has worked with Keira Knightley on the three Pirate films as well as her role on Domino. He also did several photographic sessions with Keira and coiffed her tresses for movie premieres and award shows. He has worked with her hair when it was super short and when it was long and lush.
His work with Keira Knightley's hair during the filming of the various Pirate movies required him to create custom hair extensions for the beautiful Brit.
Although Keira's hair looked full and lush on screen, Martin has confessed to plumping up her naturally fine and thin tresses with fusion style extensions.
For Pirates Of The Caribbean: At Worlds End the filming took place on boats and Martin was tasked with making Keira's strands look romantic. The celebrity hairdresser had the option to either use wigs or human hair extensions. He opted for the extensions which he custom designed and created from a method known as single extensions.
By utilizing the single extension method Martin was able to weave in three different colors that worked perfectly for Keira.
Also, Martin has commented on the fact that by using extensions on Keira's hair during the Pirate films, all styling was done on the extensions which saved any wear and tear on her natural hair. Even better, he was able to pull the extensions out temporarily to create different hairstyles for different looks during the movie.
Print Work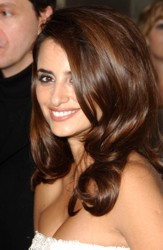 DailyCeleb.com All Rights Reserved
In his spare time when he is not on movie sets, Martin does print work. He also provides free lance hair services to many of his long time clients such as Penelope Cruz and Johnny Depp.
Similar to most free lance celebrity stylists, Martin either works on the heads of his many Hollywood clients at their homes or they visit his.
Summary
Martin Samuel is an award winning celebrity hairdresser who has worked on a mind blowing list of films with some of the best and brightest stars in the film industry. In his spare time when he is not on movie sets, Martin does print work.
He also provides free lance hair services to many of his long time clients such as Penelope Cruz and Johnny Depp. A master at Red Carpet looks, Martin loves his work and it shows by the incredible hair creations he turns out year after year.
What's next for this multi-talented celebrity hairdresser? He is finishing up work on the lastest Jennifer Aniston film and gearing up for his next major movie project.
If you want to talk more about these or other hair care articles on HairBoutique.com or anywhere else, please post a message on HairBoutique.com's Hair Talk Forums