November 1st, 2008 by Karen Shelton
Introduction
The movie 'Twilight' which has been called one of the most epic romances since Titanic by Hollywood.com.
In fact, the movie has received stellar reviews from a long list of critics.
In the movie there's Bella, a new-girl-in-town who quickly discovers a very unusual family who lives in the sleepy town of Forks, Washington, where she has just moved.
The very special Cullen family hides a very dark secret regarding the fact they are all vampires.
Included in the Cullen family is Edward who immediately catches the eye of Bella.
Not only does the movie Twilight contain a fabulous storyline, it is bursting with a cast of female actresses with epic worthy hairstyles.
It is very interesting how radically different the Twilight women look on screen versus how they actresses who portray the various characters look in real life.
In some cases the Twilight character's hairstyles and colors were drastically different. Such was definitely the case of Alice Cullen, Rosalie Hale (Cullen) and Anna Kendrick.
Kristen Stewart - Bella Swan
DailyCeleb.com All rights reserved - 2006.
Leading the cast of gorgeous young women is Kristen Stewart who stars as the mesmerizing new-girl-in-town, Bella Swan. Yes, it's true she has the hots for Edward, who just happens to be from a family of vampires.
Before you judge you have to see the vamps, who are seriously gorgeous.
Born Kristen Jaymes Stewart on April 9, 1990, the auburn hued rising superstar began her acting career with a major co-starring role. She played the daughter of Jodie Foster in The Panic Room in 2002.
DailyCeleb.com All rights reserved - 2006.
The 5'7" Kris or KStew, as her friends call her, wore her long brunette strands mostly straight for the movie. In fact, in some scenes Bella's hair might even be described as borderline stringy.
Her character Bella was known to be somewhat hair and fashion challenged so it was appropriate that her hair was mostly straight and borderline stringy.
The actress doesn't share Bella's fashion or hairstyle challenges or issues. Kristen was a vision of beauty at the LA Premiere of Twilight coiffed in a beautiful off-the-face updo which provided prefect balance for her slightly heart shaped face. Her tresses shimmered with auburn highlights and darker brunette lowlights.
The huge success of Twilight has caused Kristen's career to skyrocket. The multi-talented brunette actress has just signed on to play Joan Jett in the biopic The Runaways, about the punk practitioner's 1970s all-girl rock band responsible for "Cherry Bomb", Queens of Noise" and "Born to Be Bad".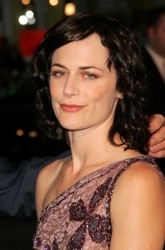 DailyCeleb.com All rights reserved - 2006.
Sarah Clarke - Renée Dwyer - Bella Swan's Mother
The primary reason Bella Swan has moved to Forks is due to the recent marriage of her eccentric mother, Renée, to a new husband.
Played by Sarah Clarke (born February 16, 1972), Renée is known to be a bad chef, chronically forgetful and extremely perceptive. The actress is best known for her role as Nina Myers on Fox Network's hit series 24.
Of course now that she has appeared in the blockbuster movie, she will be adored for her role as Bella's mom.
As Sarah explained to the media in interviews about Twilight "The relationship of mother and daughter is very different, beautiful and complicated, and it shows in this story.''
In the movie Renée looks somewhat like her daughter Bella, but with shorter darker hair and blue eyes.
Of course off-camera Sarah Clarke and Kristen Stewart are not related and other than both having brunette tresses, look quite different.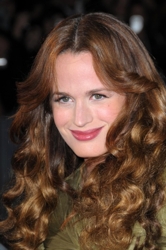 DailyCeleb.com All rights reserved - 2006.
Elizabeth Reaser - Esme Cullen - Cullen Family Mother
Esme Cullen is the Cullen family "mother" even though all of the children are adopted and Vampires to boot. When Bella first meets Esme, she says she is reminded of Snow White.
Esme is an extremely warm individual who is gifted, with the ability to love passionately. She always has a maternal ache in her, which is why she's able to open her heart to her adoptive children and son Edward Cullen's true love, Bella Swan.
Esme's natural maternal instincts are rooted in the fact her first and only child died when it was only a few days old.
Elizabeth Reaser was born June 15, 1975 in Bloomfield, Michigan. Although Elizabeth has been acting since 2000 when she had a small guest role on The Sopranos.
The sassy actress became well-known as Jane Doe/Rebecca Pope on Grey's Anatomy from 2007 until 2008. In that role she was involved in a major accident and lost all memory of who she was. She had to undergo major reconstructive plastic surgery to rebuild her face while being pregnant and having a budding love affair with Alex, an intern/resident at Grey's.
In the fall of 2008 Elizabeth starred as Bella Bloom in The Ex List, her own show but it was cancelled after just eight episodes.
The 5'2" actress was a great selection to play the role of motherly role of Esme Cullen who is regarded as a delicate and petite beauty. Esme is described as 5'6" with gorgeous caramel colored hair, gold/black eyes and pale skin that sparkles in the sunlight. Of course she has the vampire signature purple circles under her eyes like all of her foster children.
The actress has a square shaped face and big blue eyes while Esme Cullen is described as having a beautiful heart-shaped face with a very slender figure with appropriate roundness. Esme is also described as having very delicate eyebrows and extreme beauty, which Elizabeth was able to successfully portray for the film.
Ashley Greene - Alice Cullen
Summit Pictures All rights reserved 2008
Alice Cullen is known to be the shortest of the Cullen Clan at 4'10", very beautiful and described as being petite, "thin in the extreme" with small, pixie - like features. She also possesses the amazing ability to see into the future.
When asked about what characteristics Ashley Greene (born February 21, 1987), the actress who plays Alice, liked most about character, she told MTV "she can see the future - that's pretty freakin' cool. Everybody wants a superpower, right?" Ashley also told MTV "I also love the fact she's such a good-hearted character".
She could definitely "be evil, menacing, dark character, but she's not. That's a really great trait to have. I wish I was that optimistic in real life."
Alice shares many of the physical traits associated with Twilight vampires, such as inhuman beauty, pale skin, golden eyes (which deepen to black depending as thirst increases) and deep purple shadows under her eyes.
She moves gracefully, continually cited as dancing, with a carriage that would "break any ballerina's heart",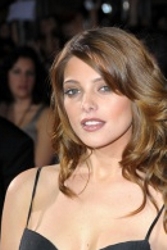 DailyCeleb.com All rights reserved - 2006.
Her hair is described as cropped short, spiky, and black. Indeed, in the film, Alice has very short and choppy hair that is usually tousled and worn carefree. "The short dark-haired one, that's Alice. She's really weird."
In response to complaints from fans that Ashley's hair was too long for Alice Cullen in the film the actress told MTV "my hair is pretty short. It's not super-short, but it's pretty short."
She pointed out "they release a picture of the whole case, and it was pretty short in that. It's actually shorter than that now."
Ashley, known as Asher by her friends, said she tried to be faithful to the characterization of Alice as described in the book that her own 5'5" height was a drawback since Alice is actually described as 4"10".
At the Twilight Premiere Ashley wore her light chocolate hued hair in loose waves cascading from a deep side part with a full side-swept fringe hugging part of her left eye. The fringe swooped down across her forehead and blended seamlessly into the rest of her shiny strands.
Ashley is a southern girl, born in Florida (Jacksonville) and is relatively new to the acting profession having started with a small guest starring role in 2005 on TV's Crossing Jordan. She played the role of Renata in TV's Desire for seven episodes. Her biggest break to date has been as the nice Cullen sister on Twilight.
The actress adores "Audrey Hepburn" and may Twilight fans believe she will have a major career arc as a result of her portrayal of Alice. In fact, Ashley already has signed on for six new film and TV related projects. She has already signed on for the next Twilight movie known as New Moon which is scheduled for 2010.
Nikki Reed - Rosalie Hale
Summit Pictures All rights reserved 2008
Rosalie Lillian Hale for the Twilight books and movie is described as the "most beautiful woman in the world". Although she is part of the Cullen clan, she prefers to go by her human last name, which is Hale.
Rosalie is played by actress Nikki Reed aka Nicole Houston Reed (born May 17, 1998). The 5'7" brunette beauty is known as "Nik" to her friends. Nikki made her acting debut in 2003 as Evie Zamora in Thirteen.
She won many fans while appearing as Sadie Campbell on The O.C. in 2006.
Playing Rosalie fits with Nikki's trademark which is portraying characters who have grown up too fast, are very adventurous and somewhat damaged. Which definitely describes the blonde and beautiful Rosalie Hale.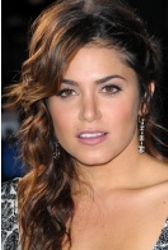 DailyCeleb.com All rights reserved - 2006.
In addition to being drop dead gorgeous, Rosalie is know for being self-centered, vain pig-headed (as a result of being a vampire) and spoiled. Rosalie loves high class cars and owns a BMW M3 convertible which she keeps out of the limelight to remain inconspicuous.
Rosalie was born beautiful and constantly praised, making her extremely vain, self-centered and stand-offish. Rosalie is just happy in the knowledge that she is Rosalie Hale, and that she is beautiful
Rosalie was changed into a vampire after being beaten by her finance because Edward's father wanted to have a soul mate for his vampire son. For whatever reason, Edward couldn't fall in love with Rosalie. Which was alright with Rosalie since she really just wanted to be normal; that's what she's always wanted.
Even when she was normal, she didn't want to be as beautiful as she was. She didn't want to stand out as much as she does. She just wanted to be like an average young woman who got married and had a family. "
Besides being described as incredibly beautiful, Rosalie is tall and statuesque, with an elegant figure similar to a model's. She has long blonde, wavy hair which cascades down to the middle of her back. Her vampire eyes are described as golden like the rest of the Cullen family although her eyes were described as being violet when she was still in human form.
Bella Swan's Friends Anna Kendrick - Jessica Stanley Christian Serratos - Angela Weber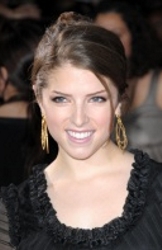 DailyCeleb.com All rights reserved - 2006.
Although Bella's life in the Twilight Movie basically becomes all about her attraction to Edward, she does manage to make a few new female friends that are not part of the Cullen Clan.
Bella makes friends with Jessica Stanley, played by actress Anna Kendrick. In the movie Jessica's hair is a cross between dark sandy blonde and very light brunette.
Off-screen Anna Kendrick is a rich brunette. with straight, medium textured tresses. She rocks a beautiful complexion and vibrantly blue eyes. Her face is a cross between oval and heart shaped.
Jessica is a known gossip girl and she is the friend who first clues Bella in about the unusual but strikingly beautiful Cullen family. She helps Bella adjust to her new school although the two girls eventually have a falling out over another high school heartthrob, Mike Newton.
Anna Kendrick, born August 9, 1985 in Portland, Maine, plays Bella's new classmate. The 5'4" actress is best known for her role as Ginny Ryerson in Rocket Science in 2007.
Even though Anna has a relatively small role in Twilight, her career is skyrocketing. She was recently picked to play the female lead opposite famed actor George Clooney in "Up in the Air". The part was sought after by some of the hottest young women in Hollywood including "Juno" star Ellen Page and Emily Blunt.
Anna also has roles in the upcoming Paramount Vantage comedy "The Marc Pease Experience" and the thriller "Elsewhere."
Although Anna has had a relatively abbreviate acting career she was nominated for a 2008 Independent Spirit's Award for best supporting female in Rocket Science. She was also nominated for Best First Feature and Best First Screenplay.
Angela Weber
DailyCeleb.com All rights reserved - 2006.
Another classmate of Bella's, Angela Weber, played by the stunning Christian Serratos (born September 21, 1990), is described as being kind, shy, and somewhat insightful.
The slightly nerdy Angela was in Bella's Biology II Class and was one of the first female acquaintances she made after moving to Forks.
Angela is described as a person who likes to give space to others, and this characteristic is very much appreciated by Bella. At one point Bella said "if Angela's a witch, she can join us".
Although Angela plays a minor role in Twilight she does play a more prominent role in some of the other Twilight books after Bella's depression over Edward leaving her.
She is portrayed as one of the the most decent human characters in the series. In one scene Angela goes shopping with Bella and Jessica Stanley for dresses for the spring dance in Port Angeles.
Even though the character of Angela Weber has a small role, actress Christian Serratos is a fan favorite and has won a lot of attention for her role in the epic love story.
Before appearing in Twilight the dark haired beauty appeared as Suzie Crabgrass on the Nickelodeon series Ned's Declassified School Survival Guide as well as having guest roles on the wildly popular Hannah Montana, Zoey 101 and 7th Heaven. She also co-starred in the Disney Channel Original Movie, Cow Belles.
Renegade Vampire Rachelle Lefevre - Victoria
Summit Pictures All rights reserved 2008
Victoria, a renegade vampire, is almost as well-known for her gorgeous wild cascade of rich strawberry blonde ringlets as she is for her need to cause trouble as a scary female vampire.
Victoria's gorgeous hair color showcases her brilliant blue eyes and her stunning complexion.
Victoria is not part of the famous Cullen family of vampires. She runs with her own vampire crowd and is part of a key team of three who conspire to attack Bella.
Canadian actress Rachelle Lefevre (born Rachelle Marie Lefevre on February 1, 1979) is spectacular as bad girl Victoria. This vixen is one tough cookie. She has a very sexy line where she aggressively says "I love it when men chase me!"
She explains her role as "a nomadic vampire who is "very, very feline and just pure instinct". She noted "this is a woman who is half-cat and is extremely powerful and enjoys her power. And she's got this flaming-red hair, which I kind of have"
When discussing her role, Rachelle told the media "hell hath no fury like a vampire scorned." Victoria just happens to be that scorned vampire. Watch out, she's on the rampage.
The 5'6" LA based bi-lingual actress has been appearing in films since she played the lead role of Stacey Hanson in 1999's Big Wolf On Campus. For that series she was always the damsel in distress, a departure from her role in Twilight. She appeared in 22 episodes of Big Wolf before deciding to leave the show and go back to college.
Rachelle became well-known to TV fans when she appeared on eleven episodes of Life With Brian as Heather from 2006 until 2007. She also stood out for her work on Swingtown as Melinda for five episodes in the Spring of 2008. The actress also had a small cameo in the movie Confessions Of A Dangerous Mind.
Her acting career has spanned a wide range of guest appearances on such shows as Veronica Mars, The Class, How I Met Your Mother, The Closer, CSI, Boston Legal, Life On Mars and Eli Stone.
Rachelle aggressively pursued the part of Victoria by writing a "three page" passionate letter to Twilight director Catherine Hardwick about her desire to be in the film. The letter worked and she found herself in the center of the film's frenzy, which she told the press "it's like being at a rock concert" with regard to the fan reactions.
It has already been announced that the vengeful vampire will have much more visibility in future Twilight movie sequels. Rachelle's character has a strong presence in Stephenie Meyer's second and third novels, New Moon and Eclipse. The New Moon movie is already underway with Eclipse expected to follow soon.
Rachelle is definitely up for the task of portraying the evil vampire in future Twilight films. She told the media she hopes to "show off her kickboxing" as well as her karate skills. She also hopes to use the role of the aggressive vampire to show off her acting chops. She is also working on trapeze classes to prepare for future vampire wire work.
Summary
The Women of Twilight all have unique hairstyles which are well suited to the personalities they demonstrate in the film. Although Rachelle Lefevre who plays the renegade vampire Victoria has almost an identical hairstyle on-screen, as she does off-screen. Many of the other Twilight women have completely different off-screen hairstyles, lengths and hair colors.
Regardless, hair and hairstyles play a major part of the Twilight film in helping to showcase the various women's styles and personalities.
What does the Twilight future hold for these gorgeous ladies? As Rachelle Lefevre told the media "I'm just going to hold on for the ride" since "this is by far the biggest thing I've ever been part of".
Indeed the next two Twilight sequels, if they are anywhere near as exciting as the original film are destined for huge success.
If you want to talk more about this or other hair care articles on HairBoutique.com or anywhere else, please post a message on HairBoutique.com's Hair Talk Forums.