Last updated on November 26th, 2001 by Karen Shelton
Introduction
Whether it's summer or winter, most people are exposed to constant artificial temperature management through either air conditioning or heating. To maintain a consistent comfortable environmental temperature most office buildings have blocked windows that do not open.
While your body may feel comfortable during different temperature shifts, your skin and hair may be challenged. Artificial heating and air conditioning along with constantly closed windows will accelerate the development of positive ions, toxins and dust in the air that you breathe.
When you inhale toxins that adds to the overall amount of free radicals that are released into your body. The gunk also lands on your skin and scalp, causing potential blockages of pores and cuticles.
Positive ions are thirsty ions that need constant moisture. If moisture is not readily available from humidifiers or related generators, the positive ions will literally suck off your hair and skin to satisfy their thirst. Yes, it is a lot like vampires that suck your blood.
As you can imagine, with the moisture being robbed from your skin there can be long term consequences. Skin, over time, may lose a lot of moisture necessary to fight off sagging, wrinkles and overall tone.
Your hair may become dry, brittle and even frizzy. Without normal moisture levels your hair will rebel. It has been proven that extended moisture loss to hair and skin is aging over time.
Some people may not experience dry skin and hair but will react instead to the increased exposure to dust and toxins. This may cause an opposite unbalanced reaction of oiliness. Skin may experience breakouts and hair may become greasy, lank and completely unmanageable.
What can you do to combat the ion vampires? You can make a conscious decision to replenish lost moisture to hair and skin. Make sure that you drink 10-12 glasses of water every day. Remembering to drink lots of water during winter and summer months is important to replenishing lost moisture.
When you notice that that your skin or hair feels more dry than normal, employ the regular use of humidifiers and moisture generators like waterfalls and fountains. You can also lightly spritz your skin and face with bottled water or special skin moisturizing sprays throughout the day.
It is also important to use hair and skin care products that will help to balance and maintain normal pH and moisture levels. If your hair and skin react by becoming dry, use moisture enhancing products. If oily, greasy conditions develop, select formulas to balance the pH to a normal state.
Tomatoes - Oily Skin Allies
Tomatoes are the darling of many industries these days. Known as a great cancer fighting food because of its special lycopene compounds, tomatoes are also popular for use in skin and hair care. More products are showing up on the market every day with ingredients derived from tomatoes.
So what is lycopene? It is a documented free radical warrior. Over time those nasty free radicals that can be released due to positive ion challenges (the ion vampires) will break down important support structures for the hair and skin. Tomatoes and lycopene will help fight off the moisture suckers.
Garden Tomato Vegetable Complexion Soap
Although comedians are not wild about getting pelted with tomatoes, when used as a cleanser, tomatoes in the face are fabulous for balancing and maintaining moisture and pH levels while also tightening pores.
One highly recommended skin care product is Burt's Bees Tomato Complexion Soap. The folks at Burts Bees are famous for their revolutionary soap made with naturally acidic fresh dried tomatoes. (HairBoutique.com reporter Jane Bullock tested several of the Burt's Bees products & gave them a big thumbs up).
Designed to capture all the advantages that tomatoes can offer skin, the Garden Tomato soap gently cleanses normal to oily skin and provides soothing relief for troubled complexions. It also helps to fight against aging of the skin.
The Burt's Bees Garden Tomato Soap is 96.80 percent natural. It contains a vegetable soap base, fragrance, tomato powder and aloe barbadensis.
Not only does the Garden Tomato Soap combat sagging skin and unbalanced pH conditions, it smells absolutely wonderful. If you love the aroma of freshly picked tomatoes you will love this soap. Your skin will love it too.
Garden Tomato Toner For Normal to Oily Skin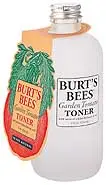 If your skin loves the Garden Tomato Soap it will probably also love the Burt's Bees companion tomato toner. The Garden Tomato Toner comes in a classy glass bottle. It removes residues of facial soaps, cleansers, and dead skin cells, while restoring natural pH balance to the skin. It is a wonderful companion product for the tomato soap.
The tonic benefits of tomato, cucumber and parsley extracts deep clean and tighten pores, leaving skin smoother, firmer, and more finely-textured.
Wild Lettuce Vegetable Complexion Soap For Normal To Dry Skin
Although the Burt's Bees Garden Tomato Soap and The Garden Tomato Toner are designed for normal to oily skin, it is not considered to be as beneficial for dry skin.
For dry skin Burts Bee created a wonderful 95.79% natural moisturizing Wild Lettuce soap with great ingredients. The soap is made from a vegetable soap base and contains freshly dried succulent wild lettuce, moisturizing aloe vera and comfrey leaf powder. The wild lettuce is freshly ground into a powdered form and is nutritionally rich yet mild to the skin. It will gently cleanse, soothe and refresh sensitive and dry facial skin.
Wild Lettuce Toner - For Normal to Dry Skin
Wild Lettuce Toner is the companion toner to the Wild Lettuce Soap. It gently removes lingering traces of facial dirt and makeup while restoring the skin to its natural pH balance. It is especially good for skin that tends to get dry and is 99.00% natural.
Formulated with a blend of botanical extracts known for their cleansing, toning and soothing benefits, this mild toner deep cleanses and refines the pores.
The Wild Lettuce Toner contains water, SD alcohol 40-B (from yellow corn), wild lettuce extract, cucumber extract, chamomile extract, lemon peel extract, glucose & glucose oxidase & lactoperoxidase (sugar and natural enzymes), citric acid, sodium citrate, fragrance.
Garden Carrot Vegetable Complexion Soap For Sun Exposed & Mature Skin
For skin that has been damaged by the environment or from too much sun exposure, Burts Bees make a special Garden Carrot Soap. This product works as a natural antioxidant, to help reverse free radical damage.
Vitamin rich, fresh dried and ground carrot powder is blended with aloe vera and rich beta-carotene to cleanse pores, improve skin tone and color, and help rejuvenate sun-exposed, mature and sallow conditions.
Carrot Seed Oil Complexion Mist
This 100% natural hydrating complexion mist is specially formulated for mature and sun-aged skin. Burt's Bees included essential oils of carrot seed, vetifer, and rose to tone, rejuvenate, and replenish moisture while stimulating circulation and softening the appearance of fine lines and wrinkles.
Carrot seed oil is also known as Daucus Carota Sativa which is a thin, yellow oil distilled from ground seeds. Rich in Carotene and valued for its soothing, relaxing properties. It stimulates cell renewal as well as the sweat and sebaceous glands, and is a great benefit to mature or dry skin.
The Carrot Seed Oil protects skin exposed to weather extremes and is indispensable for hikers, skiers and outdoor athletes. It has been proven to help deter or reduce wrinkles. It contains a wonderful woodsy, earthy, fruity scent.
This formula also includes Balsam of Peru or Myroxylon Pereirae. This essential oil contains a very rich, vanilla-like fragrance. It promotes healthy growth of skin, and can also be used for eczema and chapped hands and skin conditions.
Love Apples & Other Tomato Facts
Haap Media Ltd., All Rights Reserved
It is believed that today's version of the tomato is actually descended from a very small sized species that was no larger than a marble.
Tomatoes first showed up in the Andean region of South America and was first cultivated in Peru during the sixteenth century. The Spanish discovered the Peruvian tomatoes during their conquest of South America. Tomatoes were carried back to Spain, England and the Netherlands by the end of the 16th century.
The English actually called the first tomatoes "love apples" because of their color and size. Also, the tomato was presented as a token of love and affection. History reports that Sir Walter Raleigh presented a tomato to Queen Elizabeth to show his respect and affection.
M.F. Corne, according to some accounts, is credited with being the first man to each a tomato. A monument to his bravery for eating the tomato was erected by his fellow citizens of Newport, Rhode Island. Tomatoes were thought to be poisonous until Corne popped one into his mouth and proceeded to eat the red devil.
Tomatoes are officially classified as fruits and not vegetables. According to the experts, tomatoes are a soft juicy red or yellow "fruit" that is eaten raw or cooked as a vegetable. Of course this is confusing but now you have the official version. Some classify the tomato as a berry, since it is pulpy and contains one or more seed that are not stones.
Although they vary in variety, there are currently less than 25 varieties of the 90% grown in the United States today. Regular tomatoes are high in acid content. Green tomatoes have acid that is known to be detrimental to the body and hard on the kidneys.
Tomatoes are a common allergen and some people react by suffering itchy skin eruptions. The pre-dominant elements in tomatoes are potassium, sodium and chlorine. Tomatoes have historically been used in packs and poultices.
Tomatoes In Your Hair
Haap Media Ltd., All Rights Reserved
Everything from shampoo, cologne and candles are popping up on the market with tomato ingredients. Tomato paste is a known hair remedy that will help remove yucky green stains from hair that had a fight with pool chemicals and lost.
Tomato sauce, soup or juice are great soaking agents for hair that contains hard-to-remove odors. Tomato based Ketchup will also work to remove hair stains in some cases.
Although tomato products are great for emergency hair remedies it is important to remember that tomatoes can be acidic and drying. Using fresh tomatoes regularly on the hair is not recommended.
Tomatoes In Your What?
Some of the more unusual new tomato based products include Cellex C Eye Countour Cream, Nina Ricci and Demeter Fragrances and Tocca candles.
Cellex C has Eye Contour Cream Plus which is a light, rich, moisturizing formula designed to diminish the appearance of fine lines and crow's feet around the delicate eye area. It contains tomato extract, a powerful antioxidant.
Nina Ricci makes a fragrance that has notes of tomato leaves, tomato flower and tomato fruit along with mint, basil, raspberry and other notes. This fragrance is Les Belles - Liberty Fizz.
Demeter Fragrances has the Tomato Pick-Me-Up cologne spray that contains notes of tomato. If you want to evoke the aroma of tomato this is the spray to use.
Tocca makes a candle, the Sofia which consists of Tomatoes & Vine for $28. Sofia provides a fresh, pure tomato scent in your kitchen, bath or home.
Summary
Tomatoes can be fabulous for helping control aging and problems with skin. Although most people don't relish getting a tomato in the face, it can actually be very therapeutic.
Other garden veggies will help skin including lettuce and carrots. While tomatoes will help normal to oily conditions, lettuce and carrot based formulas will help dry and damaged skin conditions.
- Revised Publication Date: 03/03/11
For more details go to: http://www.amazon.com/exec/obidos/ISBN%B0027KUGW8/longhairvideoA/
If you want to talk more about this or other hair care articles on HairBoutique.com or anywhere else, please post a message on HairBoutique.com's Hair Talk Forums.