Last updated on May 1st, 2021 by Karen Shelton
Introduction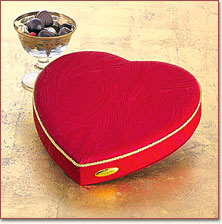 Godiva All Rights Reserved
The thought of chocolate can make most people weak at the knees. Chocolate is visually beautiful, smells fabulous and tastes heavenly. Think about it, chocolate is dark, sweet, dense, soft, creamy and sensuous. It's not only a wonderfully sweet treat, it's also reputed to be composed of magical properties believed by some to assist in the acquisition of power, love and money.
Many people throughout history have believed that chocolate is a very intense and powerful aphrodisiac. Modern Science has actually confirmed that chocolate does contain a natural substance that is reported to stimulate the same reaction in the body as falling in love.
A Brief History Of Chocolate
Historians have traced the beginnings of chocolate back to the period of 500-600 AD when the cocoa bean was revered by the Aztec and Mayan cultures. Only the highest and wealthiest members of the two tribes were allowed to partake of the cocoa bean which was considered the ultimate in status symbols.

Chocolate From Godiva 02-24-08
Godiva All Rights Reserved
It is written that both tribes actually used the cocoa bean as their currency. Some of the members of the tribe who were lucky enough to have a large number of the beans would make a type of cocoa or chocolate drink that was thought to contain magical powers and bestow power and wisdom.
In the late 1500s Christopher Columbus discovered the secret of the cocoa beans when he visited the Aztec and Mayan cultures. Ultimately the Spanish people tinkered with the original cocoa beans adding sugar to create a type of chocolate similar to what we have in modern times.
Chocolate is as popular today as it was when it was first discovered. It is estimated that 10-12 pounds of chocolate is consumed annually by people in the United States. It is also estimated that Europeans tend to eat as much as double the amount of chocolate that Americans consume.
Chocolate Is As Popular Today As Ever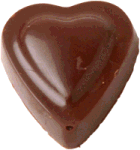 Chocolate From Godiva 02-24-08
Godiva All Rights Reserved
Chocolate is not only a food but a fabulous color. It is also valued for its aromatic properties.
The 21st century ushered in a new age of chocolate where you could buy chocolate colored nail polish, cocoa colored eye shadows, lipsticks and hair colors. In the late 1990s chocolate aromas became a big hit with chocolate scented hair care, soaps, bath and body gels and candles.
There is no question that chocolate has crossed the realm from food into the world of beauty and aromatherapy.
Valentine's Day is a big day for celebrating with chocolates since the date is historically reserved for love. Many a beloved will find themselves the recipient of a big heart shaped box stuffed full of the chocolaty nectar of the gods on February 14th.
One year in the past I was both lucky and cursed to receive a huge heart shaped box of Godiva assorted truffles from my sweetie. I was lucky to know that I was so cherished. Cursed because over time I ate every single goodie only to burst out of my favorite jeans. UGH.
Every day for weeks after Valentine's Day as I slaved extra minutes on my treadmill I cursed those delicious chocolates. Yes, I felt cherished because my love had honored me with the traditional gift of love. However, I also wished there was some way that I could indulge my love of the cocoa family without the added calories.
A Chocolate Experience Without The Fat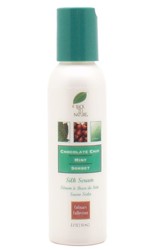 HairBoutique.com All Rights Reserved
Although I have continued to suffer the agonies and defeats of chocolate for many years, I was finally given some caloric relief when I discovered the Back To Nature Chocolate Chip Mint hair care line (shown to the side).
The luscious chocolate aroma is infused into a yummy rinse out conditioner and a special leave-in conditioner. You can also use the chocolate mint silk serum as well as a light hold hair spray/spritz product.
Back to Nature - Chocolate Chip Mint Sorbet - Silk Serum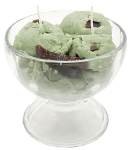 HairBoutique.com All Rights Reserved
If you are really crazy about the chocolate aroma like I am, you can even acquire the matching candle that looks like a dish of chocolate chip mint ice cream. Some of my friends have even mistaken the candle on my desk as a Baskin Robbins product.
I am always skeptical about everything. So of course I could not believe that this product could possibly be for real. I figured it was just a marketing gimmick to suck me in.
Imagine my shock when I poured the first glob of creamy rich shampoo bursting with chocolate mint scents onto my hair. It was downright decadent. The aroma was sinfully chocolate. In fact, the scent of chocolate seemed to capture the entire shower.
Did I like the shampoo? The shampoo was good. Definitely not as good as my favorite standbys like Phytologie. However, I was nuts for the Back To Nature chocolate mint aroma. It really was like washing my hair in liquid chocolate. The shampoo itself is a creamy vanilla color but the aroma is unmistakably chocolate mint.
Who could know that you could indulge in a chocolate extravaganza and not gain a pound? Unbelievable.
A Great Gift Without The Guilt
I love the scent of the Back To Nature Chocolate Mint so much that I keep a bottle on my desk at work. When I have a chocolate craving I just pop off the shampoo top and take a deep sniff of the fabulous scent. It seems to work just fine and keeps me away from the Godiva. I really do feel that I am getting the sinfulness of the chocolate without the guilt.
Guilt Free Chocolate Gifts
For me Back To Nature offers the perfect solution for indulging in my chocolate fantasies without suffering the weight gains. I realized that many sweethearts around the world would probably love to receive chocolate gifts that were wonderful but totally fat and calorie free. After some thought and Net surfing I have found some great chocolate gifts that will not do any weight damage. In fact, none of the chocolate gifts (except the coffees) are even consumed. They are for external consumption only.
Feel free to borrow some of the gifts from my list to give a beloved one a wonderful chocolate gift that they will enjoy without any major guilt.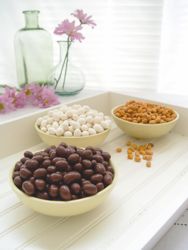 Revival Soy Chocolate Covered Nuts 02-24-08
Revival Soy All Rights Reserved
1. Revival Soy's yummy but-good-for-you and your hair - Chocolate Covered Soy Nuts (shown to the side), The Chocolate DaydreamT Shake and the yummy Chocolate Peanut Butter Paradise bar.
Not only do all the great chocolate treats from Revival taste great, they have been proven to be a long term boost for glossy strands.
2. If you like a little marshmallow with your chocolate without the calories, check out Jaqua's Marshmallow Cocoa Body Whip in a Collector's Tin. The soothing properties of marshmallow root extract combine with super emollient cocoa butter to deeply hydrate the skin. The subtle scents of chocolaty cocoa & marshmallow in this rich body whip will leave your skin deliciously soft and sweet.
3. Chocolate flavored lip balms give you a tiny taste without the fat, sugar or other annoying little things that blocks total enjoyment of chocolate. Rachel Perry has a wonderful version of chocolate delight for your lips.
4. Chocolate hued hair and fashion accessories will always satisfy chocolate lovers without the calories. Shop for chocolate, and mocha, hued headbands, cocoa colored beaded necklaces and chocolate cuffs. Also, check out the Karin Herzog Chocolate Skin Treats.
5. Books about chocolate are always a great non-caloric treat. Some of the current great books about chocolate something include:
The Chocolate War by Robert Cormier. Believe it not the simple act of refusing to sell chocolates for a school fund raiser throws an entire high school into the fray. By the author of When The Bumblebee Flies Away. A great book for 12-14 year olds.
Chocolate Passion Chocolatier Magazines provides incredibly sinful recipes and chocolate inspiration direct from their kitchen. Luscious desserts. Maybe you and your sweetie can whip up a few of these for a sensual bonding experience. Over 50 different chocolate recipes guaranteed to provide serious mouthwatering.
6. Send Virtual Chocolate. This site lets you send luscious chocolate postcards to a sweetie without spending a dime. Your intended gets to enjoy chocolate without the calories. While many loved ones will find your thoughtfulness endearing, some may find that virtual chocolate without a matching reality gift will put you in the cheapskate category. Depending on how you feel about your intended, you may want to send virtual chocolate as an additional form of sweetness after you have bestowed other gifts.
7. If you personally love the cocoa bean's offspring you can even treat yourself with chocolate wallpaper for your PC. 8. Chocolate Starfish & The Hotdog Flavored Water CD by Limp Bizkit. Warning x-rated lyrics. This CD is the result of merging infectious new metal, rap, funk and sterile electronica that is liberally laced with dark and intense melodies. (lot like a dark and intensely flavored chocolate truffle).
9. Hot Chocolate CD - 14 Greatest Hits. If Limp Bizkit is too racy you will love this G Rated soulster CD with lots of favorites. Get ready to groove on chocolate or at least dance up a storm and burn some of the Godivas off.
10. Chocolate soap, body paint & fat-free dessert body toppings. If you really want to go wild, you can even buy chocolate soap, hot chocolate bath salts, Chocolate Body Paint that you can even eat on ice cream. Who could know? We will leave it there for you to figure out.
11. Chocolate scented bath powders. Need I say more?
12. Chocolate scented candles emit a sensuous chocolate aroma for your enjoyment. Check out the chocolate candles at Chocolate Sensations.
13. If you want to wrap yourself in a total chocolate environment consider a chocolate travel fantasy. From chocolate theme cruises to chocolate weekends there are a variety of chocoholic travel fantasies to consider. How could you go wrong?
14 Films with chocolate titles can be watched while burning chocolate candles and drinking hot gourmet chocolate drinks. You can start with the foreign film, Like Water for Chocolate (available on DVD, VHS, Laserdisc) and finish up with Willy Wonka And The Chocolate Factory.
15. If you really want to make a commitment to your sweetheart give them the gift of a beautiful Chocolate Lab puppy that the two of you can raise together. This gift of chocolate will last for many years.
I am sure I missed some chocolate non-food groups. Just today I discovered chocolate "band-aides" at a European gourmet shop. There are also chocolate kittens and chocolate ferrets that you can give as pets to love and cherish.
Finally, if all this talk of chocolate is giving you the munchies, check out the following indulgences for approximately 100 calories per item:
Please note: If you are on a calorie, sugar or other restricted food plan please check with your physician before consuming the items listed below:
1/2 chocolate cupcake

2 tablespoons of chocolate topping

2 chocolate chip cookies

3 1/2 chocolate wafer cookies

3 After Eights chocolate candies

1/2 medium chocolate frosted doughnut

1/8 cup of chocolate mousse

1 1/2 pieces solid Godiva chocolate

1 ounce of chocolate cake with chocolate frosting

2 SnackWell's Devil Food Cookies

2 regular (not double stuff) Oreo cookies

25 regular M&Ms

1 tablespoon of chocolate sprinkles

4 Hershey kisses
Summary
When I originally wrote this article some years ago I found a great free online game from Lindt. Unfortunately I could not longer find the cool "match the chocolates" when I looked again for the update.
It is amazing the number of different web sites that I found that are still related to chocolate. Besides the traditional sites like Godiva, I found all sorts of bizarre chocolate things, but that is what the Net always promises.
Whether you use chocolate hair care products, coat your lips with chocolate lip balm or throw on a brand new Chocolate hued headband while you listen to Hot Chocolate CDs, you can rest assured that you can turn your entire world into a chocolate extravaganza and never gain a pound. No need to worry about chocolate dental damage, skin eruptions or extra love handles.
If you love chocolate or have a sweetie who does, you can buy just about anything you desire made of chocolate. So relax and enjoy this special nectar.
If you want to talk more about this or other hair care articles on HairBoutique.com or anywhere else, please post a message on HairBoutique.com's Hair Talk Forums.