Last updated on May 16th, 2006 by Karen Shelton
Introduction
Actress Sharon Stone has been very outspoken about the fact that she has very fine hair. Although the lovely Sharon (March 10, 1958) way went with longer hair extensions in the middle of 2005, she is most famous for her short hair styles.
Celebrity hairdresser Robert Hallowell has worked with Sharon's hair in the past, confirmed that Sharon used "to cut her own hair" when it was super short (image to the left). Robert used many of his fine hair styling secrets on the beautiful blonde star when he was working with her tresses for various events.
Sharon has gone on record in the past with the media telling them she "took a scissors to own hair and chopped it herself".
Although Sharon has baby fine hair, she has learned all the various hair styling tricks for dealing with her fine hair. Whether she wears it sleek and slicked down against her scalp or goes with a variety of faux mohawks, super ruffled or edgy hairstyles, she knows how to create lots of volume for her tresses.
Fine Hair Styling Secrets For Creating Volume
There are many secrets that hairdressers utilize for creating lots of volume for fine, thin short styles. Listed below are the most common followed by some unusual secrets: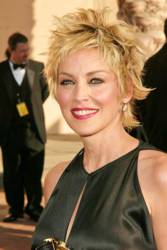 DailyCeleb.com All rights reserved.
1. Start With A Volume Enhancing Haircut
If your hair is fine to super fine, it is important that you work closely with your hairdresser to create a short cut that maximizes your hair fullness levels.
Robert Hallowell specifically advises against the use of the razor for cutting short styles on fine or thin hair textures. This is because he points out that "the razor can cause lots of end splitting". Also, "if the tresses are fine to begin with", the razor will cause the strands to be "too flyaway"
Robert works with a special scissors/shear combination that allows him to create beautiful chunky layers like he has done for many of his celebrity clients without risking razor damage.
Robert also points out that fine hair, if not cut with skill and the right scissors, may actually show scissor marks in the finished style. Razor cuts may also leave marks on a short hair cut.
Although many of Robert's celebrity clients prefer "baby bangs", Robert loves "heavy side swept fringes" for his fine tressed clients. He explained that "full bangs, especially when worn in a side swept fashion add a beautiful shape to fine hair. They also, according to Robert "give the illusion of thickness".
2. Consider Chemicals To Help Swell The Hair Shaft Robert pointed out that "highlights and hair color" will also help the hair cuticle to naturally swell giving the look of more texture.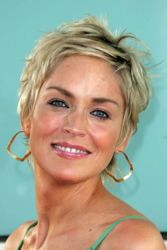 DailyCeleb.com All rights reserved.
Although some hairdressers also recommend chemical perm treatments, Robert is against them "due to the potential damage that they can cause to fine or thin strands".
He does recommend that "his fine haired clients go with highlights, lowlights or a beautiful demi or permanent color to help naturally fatten up" their tresses.
3. Crank Up The Volume In The Shower It is a well-known secret that cleansing hair with volumizing shampoos will definitely add body and fullness to hair that is straight, fine or thinning. There are many products on the market that offer documented proof of strand fattening.
4. Skip The Rinse-Out Conditioner Unless hair is damaged or tangles easily, a rinse-out conditioner is not recommended for helping to plump up fine strands. Conditioners will smooth the hair's cuticle which is great for hair that is curly, wavy or damaged, but it will tend to flatten hair that is naturally straight or slick and fine.
5. Finish Shampoo Session With Cool/Cold Water Rinse Hair experts argue about this point but many find that blasting fine hair with a cool or cold water final rinse will close the cuticle and help it to swell slightly. It also helps to add natural shine.
6. Use Detanglers And/Or Leave-In Conditioners Sparingly If fine hair tend to tangle easily, apply a very light detangling spray to only the area that tangles. Avoid adding conditioning detangling sprays or heat protecting leave-ins unless necessary. These will flatten fine strands.
Secret Detangling Trick For Fine Hair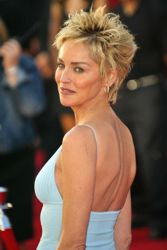 DailyCeleb.com All rights reserved.
One trick that will help to detangle fine hair without requiring heavy detanglers is to take one to two drops of pure rosemary essential oil and apply it to the palms of your hands.
Massage the oil well into your palms and then use fingers to lightly run through damp hair in the areas that tangle.
A few drops of rosemary oil can also be applied to your favorite hairbrush and used when your detangle your hair with your brush.
7. Use Volume Enhancing Products At The Roots To Provide Lift, Separation And Good Foundation Towel blot hair to remove moisture and then apply products designed to give fine hair fullness. Many people with fine hair find that they achieve the best results when they use a different product for their roots then they use for the rest of their strands. Many people with fine tresses get great results when using a root booster along with a very light styling mousse designed to add lots of volume to hair.
Celebrity hairdresser Robert Hallowell specializes in creating beautiful texture, lift and shape for his many fine tresses celebrities such as Sharon. He also creates big beautiful hair looks for Lucy Liu, Geena Davis and Ever Carradine.
Robert specifically created his own prawduct hair care which features a volume enhancing root spray known as super volumizing spray. Britney Spears has been rumored to love PhytoVolume Actif spray for adding lots of fatness to her roots.
Apply the root lift product of your choice and then finish by using fingertips to distribute a volumizing mousse throughout the rest of your strands. If your hair tends to frizz, you may wish to add a tiny bit of defrisant cream. The key is to be sparing with any creams but make sure that frizz is contained.
8. Use Styling Tools With Precision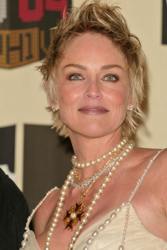 DailyCeleb.com All rights reserved.
A common mistake that hair consumers make is not using their hot styling tools in the best way for their hair type. For fine tresses it is important not to "overblow" the style which can cause fine strands to flatten.
Many hairdressers suggest blow drying fine hair on the slowest hairdryer setting and only to remove excess moisture. Many stylists recommend that fine hair be allowed to "air dry" which naturally builds in a fuller look to fine strands.
If you prefer to blow dry your hair, you have several options but should experiment with drying on the slowest and coolest setting. Cold air will also help the cuticle to swell and it will add shine. To get maximum fullness use a small to medium round brush and separate hair into 1-2" sections. Blow dry by directing the air flow of the dryer from the ends up to the roots around the individual sections. This naturally "ruffles" the sections building in fullness. To build in extra fatness at the roots, experiment bending over at the waist and drying hair "upside down" focusing the direction of air flow up from the ends of the hair to the roots.
Hairdressers have different opinions about the value of blow drying hair upside down. Some highly recommend it while others debunk its value.
Wet sets where hair is washed and then set of pin curls, rag rollers or similar will help get a much fuller look for many fine haired people. Wet sets can be allowed to air dry or can be dried under a hood dryer.
Regardless of what technique you use to blow dry, make sure that you focus a lot of attention on building in fullness at the roots where is it most needed.
9. Backcombing Techniques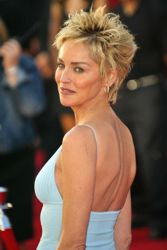 DailyCeleb.com All rights reserved.
Backcombing or "ratting" hair can damage smooth, shiny hair. If done correctly, it can add instant fullness and movement while still maintaining healthy shine.
Note: If your hair is damaged or fragile, read Step 10 below which explains how to get lots of root lift without back coming.
Robert also explained that is you "use a small-diameter curling iron (about the size of a pencil) you can get lots of fullness created with the hot iron". Robert recommends "using the hot iron wherever you want lift".
Take an individual section of hair where you want to build in lots of volume that is "about the size of a fat piece of spaghetti, lift the hair at the base (near the root) and wind the curling iron down the section, getting as close to the base as possible".
If you're starting at the crown area of the head, "spiral the hair inward, towards the center".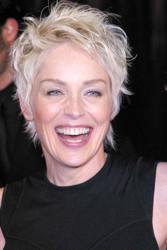 DailyCeleb.com All rights reserved.
Directly opposite to this first section, create a second identical section of lift, also directing this second section inward towards the center. This way the two sections move towards one another, creating subtle lift at the base. When you are finished working with the iron through the sections of hair, let the hair completely cool. Then rough up the sections a tiny bit with your fingers and flip hair back into place.
For natural-looking volume that stays, always start with a volumizing tonic or a dime-size amount of gel. Too much gel can make hair sticky. Always be super conservative.
Lift a few sections of hair at the crown only or work completely around your entire head creating scrumptious, show-off strands. Remember to always work in paired sections so that the strands flow towards one another.
10. Building Big Bodacious Roots Without Backcombing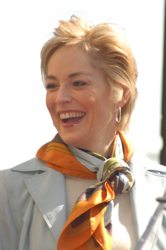 DailyCeleb.com All rights reserved.
Robert has lots of experience giving Jennifer Love Hewitt big beautiful roots. He uses "a combination of silver colored hair clippies (traditional salon clips" or even bobby pins to give her luscious root lift or direction.
Robert creates Jennifer Love's fat roots on dry strands. He likes to "use hairspray that contains alcohol because it dries the fastest, especially if he is not using heat, which he doesn't use on dry hair".
To create quick lift on the part line, "take individual sections of hair from both sides of the part (about the amount of hair that will fit in a silver color salon clip "clippie". Hold the strands straight up in the air, mist on the hairspray and slip in the clippie".
The clippie holds "the base of both section straight up in the air". Wait a few minutes for the hairspray to completely dry. When hair is dry, carefully slip out the clippie and then use fingers to style.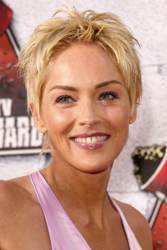 DailyCeleb.com All rights reserved.
You will get great subtle fullness and lift, right where you want it. When he is working on set, Robert puts in all the clippies where he wants direction lift, sends his celebrity client to makeup which can take about 30 minutes and then removes the clippies. This trick works well on fine hair that can not handle lots of backcombing.
To add a chunky, jagged feeling, take a small amount of Dream Cream, rub it between your fingers and finger comb the ends, flicking them up and out lightly.
Use the clippies to add lift at the hairline or to trick a cowlick into submission. For thicker, heavier hair, take smaller sections and use extra hairspray. The whole idea is to direct roots wherever you want them to go.
For stronger separation on thicker hair, bend ends up with the fore and middle finger of one hand while you rake through the protruding ends with the fingers of the opposite hand.
11. Adding Chunky, Jagged, Full Look
To steal Sharon's chunky, jagged look, break-up ends a little or a lot.
To add a chunky, jagged feeling, take a small amount of Dream Cream, rub it between your fingers and finger comb the ends, flicking them up and out lightly.
For stronger separation on thicker hair, bend ends up with the fore and middle finger of one hand while you rake through the protruding ends with the fingers of the opposite hand
12. Skip Heavy Hairsprays Or Shine Products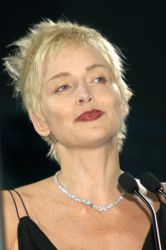 DailyCeleb.com All rights reserved.
One potential mistake that people with fine hair make is finishing their style with heavy hairspray that will cause all that newly added volume to flatten over time.
Use a very light hairspray that will help hold the shape you desire without flattening the volume. If you must use a shine product, use only one or two drops and apply to the palms of the heads.
Massage well into the palms and then lightly brush over the top or your finished style. This technique will transfer just a tiny bit of shine product without weighing it down.
To achieve a piecey look on just the ends, use a styling wax or paste or balms and apply just to the very edges of the style.
Additional Volume Tricks
DailyCeleb.com All rights reserved.
Many celebrities use other tricks to get instant fat hair. Darryl Hannah is famous for her very fine strands. She uses hair extensions, both spot extensions that are applied to add volume as well as length extensions to create long tresses.
Many celebrities use hair extensions for volume enhancing reasons. They also will utilize half-wigs, clip-in ponytails or clip-in temporary hair.
Other celebrities utilize hair accessories such as headbands with circular teeth that help give instant root lift or a variety of barrettes that will instantly lift hair, giving it a fuller look. In the image to the side Sharon Stone has lots of curls and volume extending from the back of her crown. This look could have been created either from an add-on half wig or through the use of hair combs strategically positioned to lift hair up and concentrate the curls along the back of her head. This look could also have been created with bobby pins, barrettes or hair clips.
Many people overlook how helpful the right headband, bobby pins, clips, combs or barrettes can be when adding side, root or crown lift to fine strands.
One thing to remember, when buying hair accessories for fine hair, make sure that the accessories can work with your hair texture. If you find that headbands or other accessories easily "slip" out of your fine strands, utilize bobby pins to anchor underneath the headband, comb or barrettes or use them to hold accessories in place.
Summary
Just because you have short hair that fine or thinning, you don't have to settle for slicked back looks that hug your head.
With the right styling tools and several of the tips included in this article you can build lots of fullness and volume into your strands.
If you want to talk more about this or other hair care articles on HairBoutique.com or anywhere else, please post a message on HairBoutique.com's Hair Talk Forums.