September 25th, 2000 by Karen Shelton
Introduction
The lines have definitely blurred between what is happening in fashion and what designers are showing for brides. Just as "anything goes" in the fashion world brides are stepping up and branching out into fashionable wedding statements as well.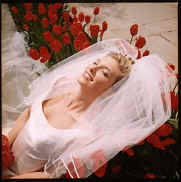 Stylish photo shoots are replacing the boring old standards we in the wedding industry have become accustomed to. Today's brides have grown up in a visually and audibly stimulated world. Fashion whips across the Internet the day it happens!
Top wedding consultants are telling me their clients are hiring fashion photographers to shoot their weddings.
As a stylist I have been bitten by the fashion bug and enjoy doing wedding shoots of the unconventional norm.
90's minimalism is being replaced but a feast for the eyes! Asymmetrical lines, lovely deep pleats and puckers are taking shape at the neck line, in the back and at the waist of
many current gown designs. Beautiful fabrics are the wrappings of the new bride.
Ruffles, soft bustles, sheer lace, and quiet elegant beading swathe her in elegance. Colored nail polish, color on the eyes and unique wedding jewelry are also fun additions to the bride's statement.
Have fun! Enjoy!
Hair: Gretchen Maurer, Photos: Stephane Colbert
If you want to talk more about this or other hair care articles on HairBoutique.com or anywhere else, please post a message on HairBoutique.com's Hair Talk Forums.