Last updated on February 27th, 2005 by Karen Shelton
Introduction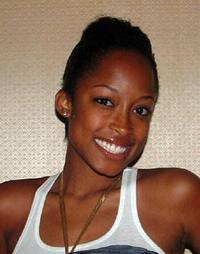 Hair is political!
Take the case of Russell Gorman III who took on St. Raphael's Academy in St. Louis, Missouri and won the legal right to wear his hair six to eight inches below his shirt collar against the wishes of the school administration.
Why?
(Image of Keenyah "Before" hair makeover in America's Next Top Model - Season #4 on UPN - 2005 CBS Broadcasting Inc.)
Judge Scott O. Wright issued a seven-page order in late December of 2003 that basically said "regulating a male student's hair length was arbitrary and capricious because it bears on rational relation to the legitimate mission state of the school, nor does it inhibit the learning process". Russell Gorman III was allowed to retain his lengthy locks.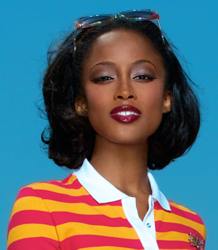 (Image of Keenyah in an 1-800-Flowers ad shoot "AFTER" hair makeover - in America's Next Top Model on UPN - Photo: Danielle Levitt/UPN - 2005 CBS Broadcasting Inc.)
There are tons of similar hair related legal cases out there on the law books. Including the one with Booneville, Missouri high school basketball player Kolby A. Hurt who refused to remove his braids and was benched as a result.
The courts sided with the basketball coach on that hairy battle stating that Hurt "knew in advance that he would have to honor a predefined hair appearance code that did not include his style of choice". Bottom line, Hurt could lose the braids or lose his budding basketball career.
America's Next Top Model
Which brings us to the fourth edition of America's Next Top Model (ANTM) on UPN. In a recent episode, the models were escorted to a famous LA hair salon for their traditional hair makeovers. Anyone who is a fan of the show knows that the model wannabes are completely revamped with a range of hair changes that scale from going to an almost shaved look to adding a range of extensions. Hair hues are also radically modified along with textures. Curly is often straightened, straight is sometimes waved and brunettes become blondes, or vice versa.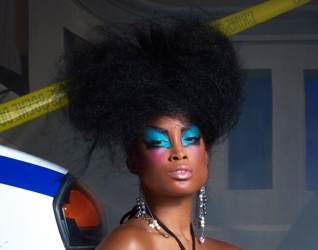 (Image of Keenyah - above - in her model shoot as an alien in America's Next Top Model on UPN - Photo: Nigel Barker/UPN - 2005 CBS Broadcasting Inc.)
Models Must Transform
Anyone in the modeling world, understands that this is the reality of the biz. After all, models are supposed to lose their personal identities at the designer's doors so that they can morph into an extension of gowns that they will jiggle, wiggle and glide into for the runways.
Like high school basketball player wannabe, Kolby Hurt, the ANTM contestants are informed going into the competition that they would have to subject themselves to all manner of real world model events. Hair and makeup changes is just part of the gig. In fact, truth be known, they probably have to sign a stack of legal documents giving up all rights to their pre-ANTM tress styles.
Unfortunately, two of the ANTM models balked when their recent makeovers went against their preference. Contestant Brandy's bright red weave with loud dark black roots was shaved down to the nub. The good news? The new style showed off her beautiful face. Model-in-training Keenyah was transformed from naturally curly and nappy strands to sleek and straight tresses.
Bad Attitude Loses The Game
The ANTM cameras caught both young ladies displaying "attitude" about their new dos. Even worse, Keenyah appeared to immediately defy her newly assigned look by almost immediately wearing her hair back in its original curly form during the judging segment of the show. Not only did Keenyah and Brandy's negative attitude anger Tyra Banks - the show's creator, and a key judge for the ultimate winner, she gave both young ladies a firm lecture right on camera.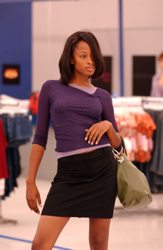 (Image of Keenyah in her model shoot as an alien in America's Next Top Model on UPN - Photo: Nigel Barker/UPN - 2005 CBS Broadcasting Inc.).
Although it looked like Keenyah and Brandy might be cut because of their moaning about their hair makeovers, ultimately they were spared for another week and someone else hit the pavement.
One week later, after being warned Brandy was sent home for taking her unpleasant behavior patterns to the next level. Meanwhile, Keenyah learned her lesson and has managed to survive and learn from the makeover experience.
Reality of The Model World
Some fans expressed outrage that Keenyah's naturally curly hair was made over to eliminate her genetically provided ringlets.
Other fans questioned whether their was a possible racial motive behind the makeover. However, all of the models regardless of race, age, hair length, type or color, were changed. Many very dramatically. Some not as much.
(Image of world-renown supermodel Tyra Banks who is the creator and executive producer of AMERICA'S NEXT TOP MODEL on UPN. Gallery Photo: Daniel Garriga/CBS. 2005 CBS Broadcasting Inc.)
The same thing happened in Season #3 when the beautiful contestant Jennipher Frost was shorn of her luscious brunette long locks and changed in a blonde with a long choppy bob.
The reality of the situation is that neither anti-curlism or racism was involved. Quite simply, to be a world class model, you have to constantly change your hair and makeup to fit the project. Which explains why super models, their hair and their overall appearance, never really seem to look the same.
Fallacy of Hair Models
Another real world fallacy is the concept of the existence of "hair models". While some non-celebrity posers may be utilized to hawk products for companies like Pantene or Clairol, ultimately they are selected for the "total package" and not just the hair. While there is a call for parts models that are used only for their hands, feet or other isolated body parts, it is rare for someone to be signed just for their hair.
With the easy access to lifelike wigs and hair extensions, super models can and do have horrible strands and still look amazing for their print or media work.
Summary
Whether you want to make it in the world of reality TV or modeling, you have to play by the rules to win. To soar as a model you also have to temporarily check your individuality and bad attitude outside the hair and make-up trailers. No matter how beautiful or talented, divas with chips on their shoulders won't last long.
And yes it really is true. Whether you're talking about attending private school, playing high school basketball or winning a reality model television contest, hair will always be political.
For more on America's Next Top Models watch on UPN - Wednesday - 8:00 - 9:00 ET/PT. For more information log on to www.upn.com.
If you want to talk more about this or other hair care articles on HairBoutique.com or anywhere else, please post a message on HairBoutique.com's Hair Talk Forums.