Last updated on December 1st, 2000 by Karen Shelton
Introduction
I recently read an article in a major beauty magazine which indicated one of the hottest hair colors right now is ice blonde.
That news brought back many memories of my own quest for ice blonde hair in the 80s when it was cool to have Farrah inspired pure white blonde hair wings.
Super white blonde hair usually looks best on women (and yes, men) who have fair skin and light colored eyes.
Luckily I am very fair with light blue/gray eyes and back in the 80s the white blonde was a good shade for me. For many years I lived life as a Clairol Nice' n Easy white blonde with dark roots and fried ends.
Yes, I did my own hair color at home. I thought I looked just great, thank you very much. My mirror told me that my hair looked very glamorous and was a gorgeous snowy blonde.
I didn't figure out that my hair was fried until a talented colorist explained that the reason my hair had not grown past my bra strap for years was because it was a chemical disaster area.
The colorist who helped me hit bleach bottom pried my Clairol NnE out of my hands, chopped off 6 inches of my brillo-like burnt blonde fried hair and then convinced me to try not coloring my hair for a few months to give my hair a much needed break.
Don't get me wrong. I think Clairol makes fabulous products for both the professional and home hair color market.
I was just not well schooled in the artful use of the Nice n Easy product line. Just call me home hair color challenged.
Color Nirvana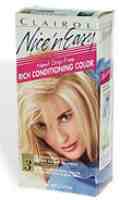 Clairol All rights reserved.
It is ironic that in current times dark roots are considered a great way to have a sassy look ala Sarah Jessica Parker on TV's Sex In The City. Unfortunately, back in the days of my old Nice n Easy addiction dark roots were a big no-no.
So after suffering through months of hideous roots and Nice n Easy withdrawal, I found hair color nirvana with my new colorist and Matrix Socolor.
Part of my new blonde heaven involved a little plastic cap that threatened to remove my double chin with three hours of zero circulation while carefully planned strands were pulled and painted with a color application that involved no bleach.
Note: To find a salon that features Matrix Socolor go to the salon selector on the Matrix webpage.
The results were fabulous. Not only did I lose my obvious roots forever, my hair was soft, shiny and just gorgeous. I got lots of compliments on my "natural" blonde hair. I would chuckle and confess my dirty little Socolor secret to amazed brassy blondes who would grab my colorist's card and hightail it for the capped torture treatment.
My first blonding with a good colorist happened in 1988. I have never turned back. When I pass the Clairol permanent colors in the grocery aisles I just wave at my old buds. Never again will I ever do my own color. Why? I want the best color and condition for my below-the-waist hair and I have figured out that I need the help of the experts.
Do I think that consumers should do their own at-home hair color? Although there are exceptions to every rule, any coloring that is complicated, requires multi steps or is done on virgin hair, in my opinion, should be done by a color expert.
Can people learn to color their own hair at home? Absolutely. Again, there are exceptions to every rule.
Although I did switch colorists in 1997, my new colorist was also a Matrix Socolor fan. Luckily nothing changed for me or my highlights.
Although we talked seriously about switching from caps to foils, for a number of reasons, the cap won. Yes, it takes a long time for my highlighting treatment, but I only go for re-application every 14-16 weeks.
Luckily I am blessed with naturally wavy hair that hides any obvious roots during the growing out stage. Also, I keep my hair very clean, use little tricks to extend the growth cycle and only have my hair touched up when I absolutely can't stand it a minute longer. (Photo of Karen Shelton copyright of HairBoutique.com.)
Unlike in the Nice n Easy days where I did my roots every 2-4 weeks, my hair is now quite healthy and has managed to snake three inches below my waist. This was never possible with my past home coloring disasters.
For most people the current rule of highlights requires touch-ups after 10-12 weeks. The more highlights you have, the faster you will need to do the touch-up trip.
Highlights that cover a good percentage of your head will show roots much faster (8-10+ weeks) than highlights that are more limited in scope (10-12+ weeks.)
Showing dark roots is no longer a social faux pas if you are intentionally doing a Sarah Jessica routine. If you want to flaunt your roots then by all means do so.
If you don't want roots then you will have to work at keeping the highlights fresh. The straighter your hair, the more obvious re-growth will appear.
As your roots start to become more obvious you can cheat time with zigzag parts, super clean hair, hair mascara applied at the roots and curly, wavy styles.
Doing The Coloring Homework
It's important at this point for me to point out that I am not a colorist, a color expert or even a professional hair care expert. I am a hair consumer advocate that tries to help consumers understand more about their hair care options.
Although I have recently been accused of not doing my homework when I advise consumers, in reality, I try very hard and spend quite a lot of time doing hair care and color research so that I don't lead any consumers deliberately to hair color disasters. I have been fascinated with color since 1988. I have been doing haircoloring homework for years.
Note: For a good book (written more for colorists than consumers) on haircoloring check out Milady's Standard Hair Coloring Manual & Activities Book: A Level System Approach by Deb Rangl.
Yes, I have not gone to school to be a colorist but I have read every book I could find, interviewed talented colorists like Henry Amador in Florida and asked a zillion questions of many of my hair color consultant.
Every time I get a highlighting treatment I show up at the salon with a list of 20 questions about hair color, treatment options and hot new color brands. My stylist knows I will quiz her about new color products, how to deal with gray hair and just about any questions that I have been thinking about.
We spent my last highlight treatment talking about the benefits of using scalp bleach rather than regular bleach. Yes, there is a bleach designed just for use on the scalp. Who could've know? Certainly not me.
Do I think consumers should do their own hair color? Although it depends, I tend to lean towards having hair colored by the experts. Yes, there are always exceptions and some people can learn to do a great job coloring their hair at home.
Of the approximately 250 emails that I get every day, some of the most common hair disasters are related to home hair color nightmares. It breaks my heart to read some of the horrible hair coloring stories.
What do I tell every one of the people who write me with orange, green, and broken off hair from disastrous home color experiments? I tell them to run, not walk, to the nearest color expert for color correction treatments.
Hair color is complicated. It involves a lot of knowledge to come up with the right formula for every client. (Photo of gorgeous bold red color for L'Oreal Professional, hair by Jean-Marc Maniatis.)
My worst nightmare was when Rene Russo showed up on screen with her gorgeous Beth Minardi induced multihued reds. Every day for weeks I received emails asking how to recreate the Rene Red at home. Although it was impossible, no one wanted to hear that.
Steps To Find Your Dream Colorist
Okay, now that I have admitted that I have the utmost respect and admiration for colorists who know their coloring stuff, how do you find one of these glorious creatures to transform your hair into spun shades of gorgeous?
There are several techniques you can try for finding a great colorist:
1. Surf the Net and get a list of American Board Certified Colorists (ABCC) in your local area. The list of all the ABC colorists is located on the Net at Haircolorist.com. This site provides a list of some the most educated and talented colorists in the United States. All of the 400+ colorists listed on this site have passed stringent examinations by a panel of certified hair colorists.
Note: Although the current list contains some of the best colorists in the US, it does not contain all colorists.
Check out this great site which lists certified colorists according to location. I have been in contact with some of the ABC colorists listed on this site. The ones that I have personally talked to have impressed me with their knowledge and commitment with doing quality work for their customers.
2. Ask someone with gorgeous, healthy, shiny color if they have it colored and where. Some people will lie about their color. Some will be flattered and will spill their guts about their fabulous colorist. You can also ask friends and family if you think they would be comfortable recommending their colorist. Some will, some won't. Be prepared for anything.
3. Check out where the models and celebrities go. These people are required to sport great hair color and styles for their careers. Call the largest modeling agency in your area and ask who colors the model's hair.
Although this method can be helpful finding good colorists, it is also important to remember that just because a colorist is a "celebrity" colorist, doesn't automatically guarantee that they will do a great job. Once again it is important for you to judge the results for yourself. Don't be afraid to ask if the colorist maintains a color book with case studies of color treatments. Many colorists will keep color books for customers to look at for color ideas.
There are a lot of very talented and amazing colorists that may not be "celebrity" colorists. In some cases they may be even more talented and creative than the big names. Don't go to a colorist just because they work on someone famous. Go because you believe they will do a great job for you and your hair.
4. Read the local hair and beauty columns in your local newspapers. Over the years I've discovered several good Dallas hair and color professionals based on interviews they gave in either the Dallas Morning News, D Magazine or other local news media.
5. Pay attention to the work of colorists that are featured in national or International beauty magazines. Beauty magazines will often feature models with gorgeous color and the credits for the colorists or stylist will be listed under the photographs. If you love the color work that you see and are willing to travel, call or write the magazine to locate the colorist in question.
6. If you can't afford expensive color treatments call the best salons in your local area and see if they have special new consultant training nights. You may be surprised to find that many top salons do have training nights and they require consumer volunteers. Remember that all work is done or closely supervised by hair care professionals being trained in advanced techniques. Volunteer your time and your head and reap the discounts. These training nights are often heavily booked in advance so ask often and early about opportunities to volunteer.
7. If you can't locate any salons doing training nights and still can't afford the best colorist in town, consider going to a local beauty college. Most will have color experts on staff as teachers. Call the school and make an appointment for a consultation. Again, don't decide to do any color treatments to your hair until you have had time to meet and consult with the colorist first.
After You Find Your Colorist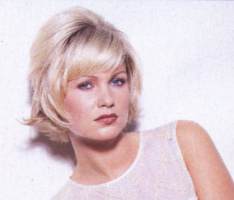 Once you have tracked down a few potential colorist candidates you still have a few steps to develop a great relationship. (Hair by Graham Webb, Kent)
1. Call and ask brief questions about prices, available color treatments and in some cases, products used. Some people like me know exactly what products work best for their hair.
Although my hair works great with Matrix Socolor it did not react well to Framesi color or Wella colors. This doesn't mean that they are not great color products, because they are. Just not for my hair type. If you know that you need a special type of color, ask if the colorist works with it. If not, go to the next person on your list.
2. Always pay for a separate color consultation first. Never show up and tell the colorist to "do whatever". Be very clear that you want to pay for a consultation only. Don't expect to take the colorist's time without paying for it. A great colorist is an expert and very busy. If necessary come back later for the treatment you decide to have done to your hair.
3. Take responsibility to figure out what you really want and then be prepared to discuss your color goals. Do you want a fabulous multihued Rene Russo look that requires lots of upkeep and touchups? Or would you rather sport carefully woven highlights like lazy me who only has to go back every 4 months? Think about your budget, time constraints and willingness to sit for an extended treatment.
New York hairstylist Max Pinnell has been quoted in Allure Magazine as saying that "everyone can improve their haircolor." Max recommends that people locate photos of people who have hair color that you like and then take those photos to your colorist for "reverse engineering" to a shade that is good for you.
Keep in mind that not all shades work for all people. Let your colorist advise you and listen to what they recommend. If you don't agree, consult someone else. It is also very important to remember that the color that can be achieved is directly related to the starting color of your hair. Not all colors will work the same on all types of hair. There are a lot of factors that have to be considered. Make your own decisions but remember to listen to what the colorist advises. After all, you are paying them for their expertise.
4. Do your homework. The better informed you are, the better the outcome of your color. Surf the Net for articles are color. Stop by Robert Craig's excellent hair color site and see what he recommends. Robert also offers great advice for home colorists. With his help you may or may not feel comfortable doing your own color. That is a decision only you can make for your hair.
5. Don't give up. Even if the results are not exactly what you had envisioned, be realistic. Sometimes it takes a few treatments to get to the exact shade that you desire. Be willing to give the colorist a chance to achieve the outcome you desire.
6. Communicate with the colorist. Ask questions, express concerns. Ask the colorist how to help maintain your new color. Ask for recommendations on color extending shampoos or products.
7. Say thank you for a great job, tip well and give your colorist referrals. This is the best way you can show appreciation for a job well done.
A Special Thank You To All Who Helped With This Article
A lot of color experts, when asked, have voluntarily helped all of us at HairBoutique.com with detailed information, articles and abstracts on how various hair coloring products work We sincerely appreciate all the time and help that has been provided to help us educate consumers about hair color and about finding a good colorist.
A very extra special thanks to Andre Nizetich of Andre's Hair Studio in San Pedro, CA. (310-547-1168). They both gave willingly of their time and expertise for this article.
Social Media Network Information
Please follow me on Twitter at: http://Twitter.com/HairBoutique. I look forward to meeting new people from all walks of Twitter and learning from their Tweets.
Visit us at Hairboutique.com located at: http://www.HairBoutique.com, on Facebook, MySpace and YouTube. Please favorite us on Facebook. We would be honored.
Thank you for visiting us at The HairBoutique Blog and for leaving your comments. They are very much appreciated. We apologize in advance but must remove any direct advertisements or solicitations.
If you want to talk more about this or other hair care articles on HairBoutique.com or anywhere else, please post a message on HairBoutique.com's Hair Talk Forums.