Last updated on February 17th, 2010 by Karen Shelton
Introduction
If you have naturally curly hair achieving perfect spirals and ringlets may or may not happen instantly. Some natural curls will easily form ringlets when cut by a skilled curl expert so that the ringlets form.
Other curly folks may need to work at their ringlets and can benefit from the steps provided in this article.
For those with straight, wavy, kinky or combination tresses, these instructions can help with achieving spiral or ringlets.
Of course ringlets and spiral curls are not possible for every head of hair. Some hair may be thin, soft or slippery to successfully hold spirals.
If you have your heart set on ringlets and spirals there's no reason you can't experiment with different setting products and the steps listed below.
Keep in mind that starting with the proper haircut will go a long way for all hair textures towards creating the ultimate style you desire. Be sure to discuss your options with your professional hairdresser.
Follow the steps below to create gorgeous spiral curls: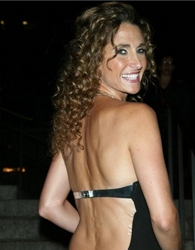 1. Detangle hair completely from ends to roots before washing. 2. Cleanse hair either with Water Only (WO), Diluted Shampoo (DS) or Conditioner Only (CO). Use products designed for your hair type, texture and current length and condition. If your hair is colored or chemically treated be sure to use appropriate products. 3. Condition hair according to your hair's type, texture and condition. 4. Finish with a cool/cold water rinse. 5. Towel blot hair to remove excess water. 6. Apply a styling cocktail consisting of leave-in conditioner, defrisant and any desired styling products. 7. Detangle gently from the ends towards the roots. 8. Create your desired part and/or fringe. Both are optional. 9. Starting on one side of your head, select a section of hair that is approximately 2" thick. 10. Clip the rest of the hair out of the way with hair friendly clips. 11. Blow dry target section with a round brush and a blow dryer with an optional concentrator nozzle to help create ringlets. When the section is 100% dry, roll the section in a self adhesive roller or similar or with fingers into a spiral form. Pin to the scalp. If your hair is naturally curly you may prefer to use a long finger diffuser dry attachment and allow curls to lay in the basin of the diffuser. 12. Repeat with the entire head drying all of your hair until all sections are completely dry and rolled.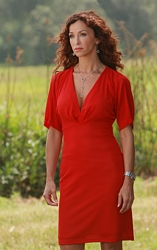 13. Allow hair to cool completely while rolled and pinned to the scalp. 14. Remove the rollers one section at a time. 15. Starting with one section of hair, roll around a medium sized (smaller or larger depending on the size of the ringlets you desire) curling iron in a spiral pattern. 16. Gently slide the curling iron from the curl and pin in a spiral pattern against your head. 17. Work around the entire head until all sections are curled, pinned and cooling. 18. All hair to completely cool. 19. Remove each spiral curl one at a time. Do NOT brush or comb. Use your fingers to arrange the spirals. Gently pull on them with your fingers to loosen. 20. For a more unstructured look use fingers to rake curls or bend over at the waist and shake all of the curls. 21. Finish with a spritz of firm holding hairspray and a swipe of shine serum. 22. To add structure and definition consider accessorizing with a headband, bobby pins and/or barrette.
Styling Options
Although ringlets look gorgeous when allowed to cascade down around the shoulder in bouncy spirals, they also can be pulled back into a very loose nape based chignon. They can also be coiffed into a half up/half down style with part of the hair above the ears pulled back at the crown allowing the rest of the coils to cascade down.
Creating a deep side part or adding a few ringlets along he hairline completely alters the look.
Be bold and experiment depending on the event and your outfit.
Social Media Network Information
Please follow me on Twitter at: http://Twitter.com/HairBoutique. I look forward to meeting new people
from all walks of Twitter and learning from their Tweets. Visit us at Hairboutique.com located at: http://www.HairBoutique.com, on Facebook, MySpace and YouTube.
Thank you for visiting us at The HairBoutique Blog and for leaving your comments. They are very much appreciated. We apologize in advance but must remove any direct advertisements or solicitations.
Original Publication Date: 1998 - Revised Publication Date: 11/01/10
If you want to talk more about this or other hair care articles on HairBoutique.com or anywhere else, please post a message on HairBoutique.com's Hair Talk Forums.