April 16th, 2000 by Karen Shelton
Introduction
SportsLine.com wire reports for April 12, 2000 made a point of commenting that "the Dallas Stars are trying to defend their Stanley Cup with the same boring style that won it." (Photo of a Before Blonde Darryl Sydor from SportsLine.com).
Ahem, guys, I think you are missing a major hockey happening that is turning the playoffs into anything but boring.
A few days ago, naturally dark headed Stars defenseman Darryl Sydor skated out of the shadows and onto the ice with an edgy new shade of hot golden blonde (see photo below).
Well maybe the rest of the hockey world was only watching the puck, but I was definitely excited to be witnessing a changing of the Hockey Guard.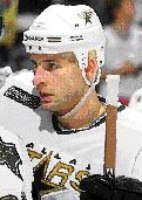 Darryl is showing that he has that definable "something extra" that makes him a prime candidate for hockey greatness along with becoming an emerging sports fashion icon worthy of his own cover of a major men's fashion magazine. (Hey GQ are you listening?)
Darryl is not only dripping with athletic talent, he is demonstrating his willingness to make a definite fashion statement and shake it up in the normally stodgy, sterile fashion hockey world. (Photo of the newly blonde Darryl from The Edmonton Journal - Robin Brownlee, Journal Hockey Writer).
I don't know about you, but when I used to think of the sports trend setters I would never think of hockey players. I would instead think of Dennis Rodman's multi-hued hair and Sacramento's stylish Jason Williams.
Hockey trend setters of the past went the way of Derian's Hatcher's mullet do, nicknamed the infamous hockey head. Not to say that the mullet was a fashion hot scene by any stretch.
Darryl's hot blonde do suggests that he is pioneering a brand new era of the hockey player as fashion leader.
Was I surprised at Darryl's gorgeous new blonde do? Well not exactly. A few weeks ago while dining at my favorite North Dallas Morton's I heard vague rumblings that Darryl was contemplating a journey into blondeness.
HairBoutique's favorite brunette-to-blonde Tom mentioned that Darryl was toying with the idea. Would he really do it?
Not only did he do it, the reports from Morton's indicate that Darryl looks fabulous up close and personal in his golden blonde tresses that reek of a hot new fashion trend for the hockey world.
According to a Morton's staff, Darryl went high class in his quest for blondeness. Darryl headed straight for the famed North Dallas shop of Jose Eber. Darryl plopped down some serious bucks for a stylish cut and a glittering two step blonding process.
Forget about Hockey's Jaromir Jagr blowing kisses after a goal or bad-boy Rodman's bad-boy antics, I for one would rather see Darryl throw off his helmet and show off his stereotype-smashing blonde locks.
Darryl is showing that besides a hot stick he has chutzpah and personality. Bravo Darryl. Keep shaking things up.
If you want to talk more about this or other hair care articles on HairBoutique.com or anywhere else, please post a message on HairBoutique.com's Hair Talk Forums.