December 10th, 1999 by Karen Shelton
Introduction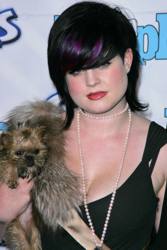 Before we even discuss some great styles for round face shapes, we should discuss the best way to determine what shape your face it.
Image of Kelly Osbourne to the side who has a classic round face that is balanced with full side-swept bangs, hair worn below her jaw and one lightly flipped.
(Image of Kelly from the 1st Annual Teen People "Young Hollywood" Issue Party at Teen People Mansion, August 7, 2004 - Photo by David Edwards - Daily Celeb.com - all rights reserved).
While there are lots of suggestions on how to figure out your shape, from outlining your face shape on a mirror with lipstick to draping it with a towel and asking others to help you guess the shape, there is actually a scientific way to determine your face shape once and for all.
To find out the shape of your face measure it with a soft adjustable tape measure or ruler. You will need to take the following facial measurements. If you are unsure ask a good friend, significant other, spouse or family member to help you do the measurements.
1. Measure your face across the top of your cheekbones. The measurement should extend from the edge of one cheekbone to the exact point on the other cheekbone. Once you have the measurement, record it on paper.
2. Measure your jaw line extending from the widest point on one side of your jaw to the widest point on the other side. Record the measurement.
3. Measure across your forehead at the widest point. Generally speaking the widest point will be about halfway between your eyebrows and your hairline. Record the measurement.
4. Measure from the tip of your face line to the bottom of your chin.
Round Face Dimensions
If you have a round face your face will be as wide as it is long. This may vary a little where your face is not quite as wide as it is long, but within 1/4 to 1/2 inches.
(Image of Drew Barrymore who has a classic round face at Mann's Chinese Theatre honoring Hollygrove, Mann's Chinese Theatre - June 17, 2003 - Photo by Stephen Shugerman - DailyCeleb.com - all rights reserved).
If you have a round face you will have fullness at and below your cheekbones. People with round faces also tend to have wide hairlines and their necks often seem short.
If you measure your face and it doesn't fit the round shape according to the prescribed measurements, you may have a different face shape. Or you may have mostly a round face with some minor differences. Keep in mind that most human face shapes do not perfectly fit into one category and may include features of other face shapes.
For example, a round face may have a slight hint of a squared off jaw. A square face may have a hint of a heart shaped chin, which tends to be pointed or prominent.
Listed below are the most common shapes besides round. It is possible that your face may not fit exactly into any one category and may be a combination of shapes.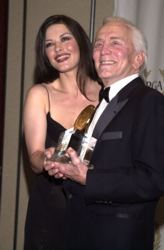 (Image of Catherine Zeta Jones, who has a round face shape & Kirk Douglas - 12th Annual Golden Laurel Awards - Marcy 3, 2001 - Image from DailyCeleb.com - David Edwards - all rights reserved).
Most people will fit into one of the major categories which include:
Oval Face - Length equal to one and a half times width.
Long - The face is longer than it is wide.
Heart - Narrow at jaw line, wide at forehead and cheekbones. Usually has a prominent or pointy chin.
Square - Forehead, jaw line and cheekbones are almost equal in width.
Diamond - Wide cheeks, narrow forehead and jaw line.
Round Face Styles For Women, Men, Teens Or Any Age
Several hairstyles are discussed that can actually be adopted for any sex or age. Just apply the same principles to your selected style.
Hairstyles For Round Faces
There really is no "one perfect hairstyle" for a round shaped face. Many things factor into the total equation. The length of your hair, the texture, your age and lifestyle requirements all play a part in the best style which should be keyed towards you.
There are good general guidelines that you can follow but the best solution is to find a style that works best for you and all your beauty needs.
If your face is definitely round according to the above criteria, the best hairstyles generally include:
1. Layered rather than straight or heavy bangs.
2. Short styles which provide instant height at the crown.
3. Styles that add length under the chin towards the top of the shoulders such as shags.
4. Styles that keep the sides of your hair short or closer to the face.
5. Curls around the crown, but never near the cheeks, to create height. Keep the sides of your hair short with a curly style.
6. Long to very long styles with bangs and a graduated shag or layers so that the face and the neck are given a slenderizing shape.
Dealing With A Double Chin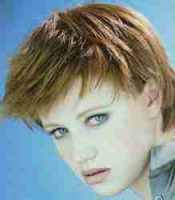 If you have a double chin keep the hair around your face above chin level to draw the eyes upwards.
The back may be grown a little longer. A bob would be ideal.
If you have a short neck, a short cropped style will make a short neck appear longer.
Long hair worn up will give the same effect. Well placed highlighting will also slenderize the face.
Highlights that are woven around the face in an "angel halo" effect will also slenderize an overly round face.
Don't be afraid to wear your hair any length that you like. Long hair can be worn just as easily as short or medium length hair as long as you wear your hair "forward" onto your face to create a more "oval" appearance.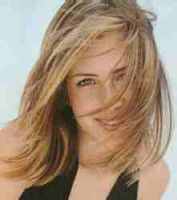 While you select your style be sure to take into consideration the texture or your hair. If your hair is thick and coarse you would do well with a style that benefits from the "Bed Head" look around the crown.
If you have curly hair you can use the curls by letting them add height at the crown. You can also wear your curly hair longer with the bulk of your hair pulled back behind your ears or with just a very few ringlets along your face to minimize the fullness.
One thing to keep in mind is to find a style that you enjoy. There is no point is selecting "the perfect style" if it is impossible to maintain or you don't enjoy wearing.
The Practice Star Camryn Manheim is a classic example of letting her hair be the way she wants it to be and not following the strict rules for a round face.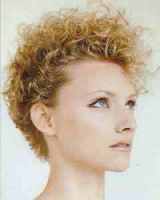 Another star who throws the rules to the wind is Baby Spice of the Spice Girls. Her very round face is often coiffed in styles that would not normally be considered the "perfect style" for her face shape.
One great way to find the best style for your face shape is to buy fashion, beauty and hair magazines and look through them for examples of hairstyles that you like and think would be flattering to your face shape and hair texture.
Make a special hairstyle scrape book of the styles you like best and then take the entire book to your stylist and ask them to advise you on some styles.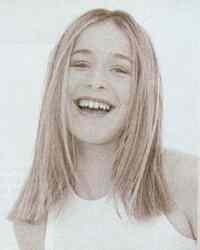 One trend that is definitely emerging in the hair and beauty industry is true individuality.
If you see a style that you love and it doesn't fit the "rules" wear it anyhow. Or modify the style slightly so that it works well for your face.
The bottom line is to have fun with your hair. If you are happy with your look, whether it fits the rules or not, you will look better because you will be pleased with yourself.
Summary
Face shapes which are round have many different options for hairstyles that can looks spectacular.
Whether you wish to follow the traditional hairdresser belief that you should minimize the roundness in order to go with a more oval shape or not, make your own decisions and follow your gut.
For more information on styling your hair for your hair shape...
If you want to talk more about this or other hair care articles on HairBoutique.com or anywhere else, please post a message on HairBoutique.com's Hair Talk Forums.