Last updated on March 4th, 2004 by Karen Shelton
Introduction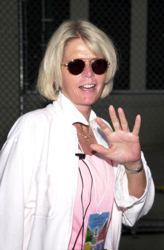 I hate to admit that I first became a fan of Meredith Baxter when she starred as Bridget Fitzgerald Steinberg in Bridget Loves Bernie in 1972. Of course, I was very young then so to me, Meredith was a vision of blonde beauty, elegance and sass.
(Image of Meredith Baxter at the 8th Annual Revlon Run/Walk for women's cancer research, Los Angeles, Coliseum on 5-12-01 - Photo by David Edwards - DailyCeleb.com).
I became reacquainted with Meredith's great acting when she starred as the tortured Nancy Lawrence Maitland on TV's Family from 1976 until 1980 along with the very respected late actor, James Broderick.
Of course how could anyone forget her as Elyse Keaton on the wonderful Family Ties show? Her Elyse character won millions of undying fans. Meredith displayed her dramatic acting chops as Betty Broderick in 1992.
In 1996 she starred and was a producer on TV's The Faculty. She played the character of Flynn Sullivan.
Over The Years Since Family
Although Meredith has not been consistently appearing in long running TV series, over the 30 years that she has been acting, she has been extremely busy not only as an actress in tons of films, including All The President's Men, but producing as well.
In 2004 she starred in the USA TV Movie - Angel In The Family. For 2005 she has worked on The Mostly Unfabulous Social Life of Ethan Green and On The Rocks. She has also appeared as a guest star in some recent TV episodes.
A Great Acting Career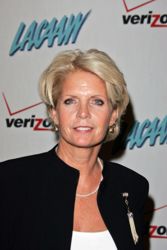 The mother of five and grandmother was born June 21, 1947. Over the years she has remained true to various shade of blonde hues. The color suits her well and plays off her deep blue eyes and flawless complexion. Meredith looks so fabulous, it is hard to believe that she could possibly be a grandmother, but she is.
(Image of Meredith Baxter at the 33rd Humanitarian Awards Dinner hosted by the LA County Commission on assaults against women, Beverly Hills Hotel, Beverly Hills, CA. October 01, 04 - Photo by David Edwards - DailyCeleb.com).
During her years as Bridget Fitzgerald and as Nancy Lawrence Maitland, she work her tresses in below the shoulder styles that played up curls and waves.
In her most recent appearances, Meredith wore her silky white blonde strands in a stunning bob style that extended to the top of her collarbone. She also wore the front in side-swept, forehead brushing, bangs. In 2004 she wore her hair in a gorgeous layered crop with a side part and a soft side-swept look that perfectly framed her beautiful face.
Steal Her Look
The key to stealing Meredith's look is to work with your hairdresser and start with a great haircut that works in conjunction with your natural face shape, hair texture and type. Meredith has an oval face shape with hints of some squareness around her
Summary
Meredith is an incredibly talented actress. I hope that we see a lot more of her in the future.
If you want to talk more about this or other hair care articles on HairBoutique.com or anywhere else, please post a message on HairBoutique.com's Hair Talk Forums.