October 7th, 2007 by Karen Shelton
Introduction
Watch for the new season of Girlfriends on September 23, 2002, produced by Fraiser's Kelsey Grammer on UPN at 9:00 PM EST on Mondays.
Joan, Maya, Lynn and Toni are friends – best friends – and no one can say they're not. This does not mean there aren't bumps in the road. Sometimes it's one for all; sometimes it's "me for me," and sometimes it's "you're getting on my nerves – call me in the morning," but they are still girlfriends. Not the politically correct girlfriends who get together every now and again, but the true girlfriends who have the task of calling each other to their better selves.
And although their friendship can face tough tests and sometimes score no better than, say, a C minus, they remain together when all else fails. Friendship is like that. This is the springboard for the hit comedy series "Girlfriends" airing MONDAYS on UPN.
Creator/executive producer Mara Brock Akil ("Moesha," "The Jamie Foxx Show") and executive producer Kelsey G rammer ("Frasier") are responsible for this sophomore series, which stars Tracee Ellis Ross ("Hanging Up"), Golden Brooks ("Linc's Place"), Persia White, Jill Marie Jones and Reggie Hayes ("Getting Personal").
The girlfriends are:
Joan (Tracee Ellis Ross), a first-class attorney, is doing just fine on the fast-track professionally, but she's stumbling along in her romantic life. Joan is knocking on 30 and feels the pressure to catch up with the husband and child that are supposed to be a part of her having-it-all lifestyle. She's a beautiful woman with sound judgment and exquisite taste, but unfortunately, her unfailing taste and judgment haven't put a ring on her finger. Tracee Ellis Ross represents a generation of young women who can do anything and be anything when they set their minds to it.
The daughter of a rather famous singer is a graduate of Brown University and the esteemed William Esper Acting Studio. In addition to her success as an actress, writer, and producer, Ross has been a model - having worked with top photographers and gracing the pages of numerous fashion magazines. She has also hosted her own television program, the acclaimed "The Dish."
UPN - All rights reserved.
Maya (Golden Brooks) would appear to be the outsider in this gathering. On the surface she's a home girl, but look deeper and she's the grounded voice of morality and the first to say "Oh hell no!" when someone crosses the line.
She does not see herself as an outsider anywhere, and her tongue has an edge sharp enough to cut down any haughty overachiever who suggests that she is. Maya is Joan's assistant at the law firm, and Joan's designated gladiator when the battle heats up.
She's also the only one who has what they all envy: a loving husband and child.
Born in San Francisco, Golden Brooks exhibited her athletic prowess as a figure skating competitor and won several trophies in a well-rounded upbringing which involved ballet, gymnastics, church plays, and eventually the world of theater. She went on to study at The University of California at Berkeley and Sarah Lawrence College. In her spare time, she enjoys working with inner city youth - teaching them empowerment through education, spirituality, eating right and a positive attitude.
UPN - All rights reserved.
Lynn (Persia White) and Joan are friends from college – the difference is that Lynn, the perennial student, never left: she is living rent-free with Joan while she pursues her eighth year of graduate school. For Lynn, who would have been right at home in the '60s, life is combat and there is no cause too small to deserve a rally, but her specialties are feminism, African-American pride and safe sex…lots of it.
Born in Miami, Florida, Persia White - named after the Persian Empire, considered the meeting of the east and west as well as the birthplace of civilization - was raised along with her two brothers and sister, by her mother, Louise, a writer, teacher and political activist. White hopes to represent a generation with no clear racial labels and a future of new understanding born out of past ignorance. In addition to acting, White is also passionate about music. In addition to performing live as a member of the band Black In White, she has written and recorded music for three films.
UPN - All rights reserved.
Toni (Jill Marie Jones) has a perfectly acceptable career going, too. She sells real estate, but that's just a temporary stop on her true path – finding a fabulously wealthy man to share her life with. Joan is her absolute best friend ever, no question about it, and she would never do anything to hurt her in any way.
However, Toni is on an upward trajectory and is not always aware of those she stepped over on her way to the top. An avid fan of soap operas since early childhood, Dallas native, Jill Marie Jones always knew she wanted to be an actress.
A talented dancer, Jones was a Dallas Cowboys Cheerleader for two years, a Dallas Mavericks Dancer for one year and toured with the USO and DOD (Department of Defense) Tours to Korea, Japan, Israel, and Egypt.
In addition to dancing, Jones' interest including shopping for shoes, playing card games on her computer, watching old television shows in syndication, and hanging out with her friends.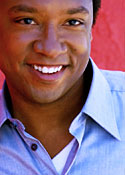 UPN - All rights reserved.
And then there's the honorary "girlfriend":
William (Reggie Hayes) is Joan's friend and colleague at the law firm. He's a buttoned-up conservative guy who suffers from the "nice guy" syndrome.
Women, like Joan, see him as "brother" material, not "husband" material. So he accepts his role as big brother and delights in tormenting the four women with his slant on the male point of view.
A Chicago native, Reggie Hayes attended Northwestern Military Naval Academy and Illinois State University, from which he graduated with a B.S. in Acting and Honors in Performance. Hayes' interests include working out, shopping - "I'm a shopaholic!" - and classic cars.
The executive producers are Kelsey Grammer, creator Mara Brock Akil, Dee LaDuke, Mark Alton Brown and Rudy Hornish.
Filmed before a studio audience in Hollywood, the series is a Grammnet Productions in association with Paramount Network Television.
Girlfriend's Cast For 2002 Season include the following players:
Joan Clayton .........Tracee Ellis Ross Maya Wilkes........ Golden Brooks Lynn Searcy.......... Persia White Toni Childs............ Jill Marie Jones William Dent.......... Reggie Hayes Tanya Searcy......... Eliza Schneider
Note: UPN was merged into the current CW Network. Girlfriends survived the move and is on the Fall 2007 schedule with the same cast except for Jill Marie Jones and Tanya Searcy.
If you want to talk more about this or other hair care articles on HairBoutique.com or anywhere else, please post a message on HairBoutique.com's Hair Talk Forums.