May 5th, 2002 by Karen Shelton
Introduction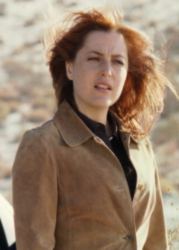 Gillian Anderson in her now famous role as Agent Dana Scully (shown to the side) has suffered through many tragedies in television's role as the super X-Files medical sleuth and FBI agent.
(Photo from THE X-Files Finale Sunday, May 19th on FOX. ™ 2002 FOX BROADCASTING COMPANY. CR: Larry Watson/FOX).
While Dana's life on the X-Files has evolved, so has her chemically enhanced lustrous red locks. Her hairstyle has morphed through a series of lengths, styles and hues during her many years as the brilliant Agent Scully.
Ironically Gillian is a natural blonde with naturally curly hair. In her long role as Agent Scully, Gillian left her blonde curls behind and became famous for her straight bobs and her various red inspired hues.
First Season September 1993 - May 1994
Agent Dana Scully appeared in the pilot of the X-Files with a long, sleek dark cinnamon red bob that nestled at her shoulders. Her hair was pulled back from her face with no bangs. The look was serious if not overly severe.
As the first season progressed, Scully's hair appeared to get more fashionable and better coiffed. Her style appeared to become fuller and shorter. By the last show of the first season, which aired in May of 1994, Scully was sporting a full, cinnamon red, straight bob with side swept bangs. Her hair appeared to be slightly shorter than the pilot although her hair was still touching the top of her shoulders. Even though Gillian's hair appeared to be styled in a straight modified Dutch boy bob, a hint of her natural curls could be seen around the ends of her do.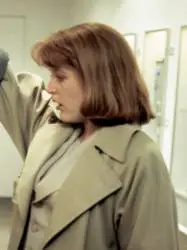 During the long nine season run of the X-Files, Gillian's hairstyles evolved away from bangs like the ones she wore in the first season. As a professional FBI agent, Scully often was coifed rather conservatively and with minimal accessories.
Photo of Gillian Anderson (Scully) where she trades an alien fetus for Mulder (David Duchovny) who has been kidnapped on the very last episode of season one of THE X-FILES "The Erlenmeyer Flask," which originally aired on May 13, 1994. ™ 1994 FOX BROADCASTING COMPANY. CR: FOX.
January 1997
In a more serious hairstyle befitting her professional role as a medical doctor, Agent Dana Scully (Gillian Anderson) searches for a man with unimaginable regenerative powers in THE X-FILES episode "Leonard Betts" which originally aired on Sunday, Jan. 26, 1997.™ 1997 FOX BROADCASTING COMPANY. CR: FOX.
During late 1996 and early 1997 Agent Scully's hair was worn darker and closer to the face which signified her evolving role as a serious scientist. Starting in 1996 her hairstyle was much shorter and during the early 1997 episodes her hair was worn either with one side behind the ear (Demons episode) or pulled back completely from her face.
November 1999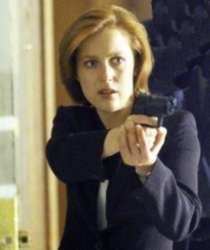 THE X-FILES - SEASON 7: Agent Dana Scully (Gillian Anderson) investigates a number of murders that lead to the discovery of a "monster" who kills to feed a gruesome habit in the "Hungry" episode of THE X-FILES which originally aired Sunday, Nov. 21, 1999 on FOX.™ 1999 FOX BROADCASTING COMPANY. CR: FOX. During the Fall of 1999 Agent Dana Scully's hair took on a much sleeker, short bob shape with interwoven hues that gave her hair a lighter and brighter look.
January 2000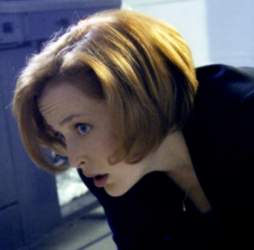 THE X-FILES - SEASON 7: Agent Scully (Gillian Anderson) finds Agent Mulder (David Duchovny) collapsed from snake bites in the "Signs & Wonders" episode of THE X-FILES which originally aired Sunday, Jan. 23, 2000 (9:00-10:00 PM ET/PT) on FOX. 1999 FOX BROADCASTING COMPANY CR: Carin Baer/FOX.
During the early part of 2000 Agent Scully had a very short bob worn at her cheeks. Although it was a totally different look, it gave her a more intense and harder image.
November 2000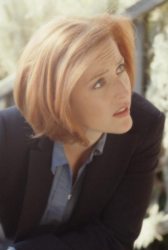 I personally thought that Gillian had her best look in the Fall season of 2000. Her hair was styled in a very sleek full bob that feel softly around the face. The color was created with lighter highlights that had light strawberry blonde hue. Although Agent Scully still appeared to be very professional, this style gave her a softer and more flattering appearance.
THE X-FILES - SEASON 8: and Agent Dana Scully (Gillian Anderson, R) investigates a case involving a series of gruesome murders linked to a bat-like creature, in the "Patience" episode of THE X-FILES which originally aired Sun., Nov. 19, 2000 on FOX. 2000FOX BROADCASTING CR:Randy Holmes/FOX.
December 2001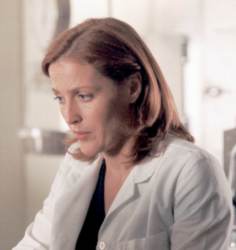 As 2001 drew to a close, Gillian's hair was worn much longer than it had been since almost the beginning of the series. Although she wore a straight, sleek bob, the ends were slightly curled right below the shoulder. The color was much darker from the previous year.
(Gillian Anderson), investigates the bizzare murder of a teenager on THE X-FILES episode "Lord Of The Flies," which aired Sunday, December 16th (9:00-10:00 PM ET/PT) on FOX.™ 2001 FOX BROADCASTING COMPANY. CR: Larry Watson/FOX.
May 2002 - Finale Show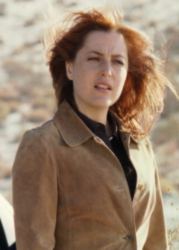 For the final show Gillian appeared with a much softer hairstyle. Her natural curls were more evident and the color was a vibrant red.
Her hair reflected her character's evolution from a naive FBI medical doctor to a seasoned agent who had survived her own abduction by aliens, a bout with cancer, attack by a wild cast and crew of X-file freaks and monstors, the birth of her miracle "super baby" and her own personal love relationship with Mulder. Her maturity and strength are reflected her last hairstyle for the final show.
Steal Agent Scully's Soft "Barely There" Curls
To copy Scully's season finale (shown above) finger-fluffed curls have your stylist shear your hair into a long layered bob that falls a little below your shoulders. This style is perfect for hair that is naturally wavy or moderately curly.

1. Shampoo with a product that adds moisture unless you have thin/fine hair that needs volume. Follow with a rinse out conditioner and a cool/cold water rinse to seal the hair cuticle.
2. Towel blot hair to remove excess water.
3. Apply a straightening balm like Mine Smooth Sailing or Phytotherathrie's Phytodefrisant Balm and detangle hair with a wide-toothed comb or pick. If you want to add more volume, apply a root volumizer like Matrix Amplify or PhytoActif Volume.
4. Part hair slightly off-center like Scully.
5. Blow dry hair (use a Conair Ion Shine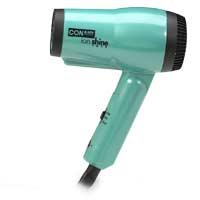 dryer for extra shine and softness) on a warm setting using a round brush to style as you dry. Focus the dryer's air-flow at the crown of the head to make the layers near the crown smooth and soft. After the crown is completely dry direct the air flow from the roots to the ends to help the cuticle to lay flatter and reflect more shine.
If you wish to add more volume, first direct blow dryer air flow to the root area. Use the brush to lift the roots and then direct the air flow from the ends to the roots to add fullness.
6. After the hair is 100% dry separate the hair into one inch sections. Focus on the ends of the hair around the perimeter of the style.
7. Apply a good heat styling protection spray like Phytologie's Heat Protection Spray.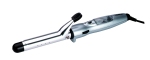 8. Use a Conair Steam and Shine curling iron with a 1/2 to 1 1/2 inch barrel depending on the desired curl size. Work from one side to the other and use the curling iron to create soft curls.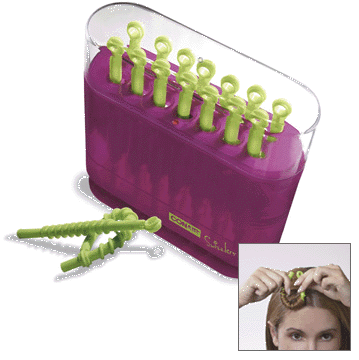 If you prefer ringlets use the Conair Spiral curling iron or the new Conair Swizzler curlers.
9. Let the curls completely cool. Use your fingers to carefully fluff the top layers of you style to add height. Spray with a good styling spray. Hair should have volume on top and soft "barely there" curls at the ends nestled into the nape of the neck and behind the ears.

10. Rub a small amount of Phytotherathrie Defrisant Serum or Mine's Barbee Blast into the palms of your hands and glide over your style for added brilliance and shine. If you prefer a chunkier look, add a good wax like Kusco Murphy Cinnamon Wax or Beach Wax and apply to the curls to style.
11. Spray the entire style with a light spray to set.
Instantly dress up the style by brushing hair behind one ear and pin a large bright flower in place ala Jennifer Lopez.
Gillian The Actress
Gillian's love of theater began in high school, when she participated in community theater productions. Later, Anderson studied with the National Theatre of Great Britain at Cornell University in Ithaca, NY, and then at the Goodman Theater School at Chicago's DePaul University, where she obtained her BFA degree.
Now the recipient of two SAG Awards, a Golden Globe Award and an Emmy Award for Best Actress in a Drama Series, Gillian's first big break came when she was cast in one of the starring roles in The X-FILES which premiered in September 1993. Earlier, Anderson had gained recognition as an actress for her notable Off-Broadway performance in Alan Ayckborne's "Absent Friends" at the Manhattan Theater Club, for which she won a Theatre World Award. Gillian also appeared in Christopher Hampton's play "The Philanthropist" at the Long Wharf Theater.
Anderson's feature film credits include "The Mighty," "Hellcab," "The X-Files," "Playing By Heart" and she recently completed production on "House of Mirth." Anderson resides in Los Angeles.
The X-Files Series
Chris Carter's The X-Files was and will continue to be a ground breaking series that gave birth to a genre, helped brand a network and became an international pop-culture icon and syndication phenomenon.
Throughout its nine year network run on Fox, it held #1 time period ratings and was awarded over 40 honors, including 16 Emmys, 5 Golden Globes and the prestigious Peabody awards.
If you want to talk more about this or other hair care articles on HairBoutique.com or anywhere else, please post a message on HairBoutique.com's Hair Talk Forums.