Last updated on March 6th, 2002 by Karen Shelton
Introduction
EC Mode's New Color Prepare Pak
EC Mode's New Color Prepare Pak insures your hair color lasts. Want a guarantee that your hair color's hue and shine will last and last?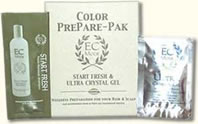 Just use EC Mode's new Color Prepare Pak before your hair color service to free your hair from environmental elements that could interfere with the chemical process. "Think of EC Mode's Color Prepare Pak as $5 insurance on your $45+ color service," says Tom Porter, company founder and CEO. "If your color is coming up different from what you expected, not matching the color chart of fading in a week or two, it's usually not your colorist's fault - it's due to the environmental factors acting on the hair that you can't control. The Color Prepare Pak guarantees that won't happen."
The EC Mode Color Prepare Pak contains EC Mode's Start Fresh resin removing shampoo and the patented EC Mode Ultra Crystal Gel Treatment. Both feature natural, fresh-dried Vitamin C and Vitamin E to protect against oxidation so your color, perms or relaxer will take properly.
EC Mode's Start Fresh Resin Removal Shampoo
EC Mode's Start Fresh Resin Removal Shampoo deep cleans styling product build-up without ruining the integrity of your hair. Rich botanical nutrients, like chamomile, hops, nettle and rosemary, leave the hair and scalp healthy-looking and clean, while a vitamin complex wraps around the hair's cuticle to remove the build up. Hair is infused with strength and moisture, leaving it soft, manageable and radiant.
EC Mode's Ultra Crystal Gel
EC Mode's Ultra Crystal Gel prepares the hair and scalp for chemical services by providing a nutritional foundation with fresh-dried Vitamin C. The fresh dried crystals reduce the ionic charge of the environmental elements, such as minerals and oxidizers from the water, and lift them with nutritional chelators to revitalize the hair and even the porosity, leaving it in optimum condition. The power beads lay down a primer on previously colored or damaged hair, which helps the hair color adhere evenly, appear more vibrant and last longer.
With its patented fresh-dried vitamin technology, EC Mode is a leader in providing Wellness solutions for hair, scalp and skin that have been subjected to the rigors of oxidation.
EC Mode products are only sold in professionals salons and spas dedicated to wellness. To learn more, call 1-800-622-7332 or stop by for a visit with Wellness Salon. Suggested retail for the EC Mode Prepare Pak is $5.
Conclusion
For more information about this professional product contact the folks at EC Mode.
The EC Mode Collection 1550 South Franklin Road, Indianapolis, Indiana 46239 317.375.3165 1.800.622.7332 Fax: 317.375.3175 www.ecmode.com
If you want to talk more about this or other hair care articles on HairBoutique.com or anywhere else, please post a message on HairBoutique.com's Hair Talk Forums.