Last updated on April 1st, 2000 by Karen Shelton
Introduction
Ever wonder why some women always look like they just walked out of a salon when you often feel like wearing a paper bag over your head?
You'll be surprised (and delighted) to know that all you need to join the ranks of the "always put-together" is a little bad-hair know-how. Or rather, a little bad hair know-how-not-to. Here it is!
Every season brings a new trend in hairstyles. In fall, the perfect flip is de rigueur, by spring undulating waves and crop cuts are hot.
The problem with all this whimsy is that you barely learn how to do one "do" when another takes its place. And even if you aren't a dedicated style-swapper, you always want to adjust your hair or slightly change it to suit your mood or the occasion.
Add to this the fact that most of us want what nature didn't give us and the result is a whole lot of fussing, twisting and tugging. And after all that mussing around comes the bad hair day, which is now the national euphemism for anytime something goes wrong. That's true tribute to just how much hair means!
To get back on track, vow to banish bad hair days forever. Throw away those hats, turbans and other hair-hiders, unless you want to use them as great hair accessories. Rely on the following top 10 commandments of control and you'll be the one who looks like she has a hairdresser in the house.
1. Start With a Great Cut
The most obvious clue to a great cut is that it falls right into place and is simple to style. If your hairdresser spent 45 minutes fussing to finish it, chances are you won't be able to re-create the look once you get home.
When you get a good cut, it'll fall in place even on windy days. It also works with your hair texture and type, so that if your hair naturally frizzes when it's humid outside, that won't become a major problem for you. A good cut even controls frizz.
Without a great foundation, all the styling tricks in the world won't work. The best cut takes "physical hair" into account. That is, the stylist designs it for all the physical components which exist, including hair type, texture, density, curl, facial shape and so forth.
Talk to your stylist about these elements, then ask him or her to explain the "why" of her suggestions. Tell your stylist what you don't like about your hair (the cowlick, the frizz, how it hangs limp in humidity), and ask for solutions.
Chances are, you'll get the great cut you need. The final way to recognize a great cut? It's still easy to style 6 weeks after you got it and you can go longer between trims.
2. Don't Fight Nature Too Much
You can fool mother nature, but if you perm super-fine hair into tight curl and bleach black hair to an arctic blonde, you'll become a slave to either upkeep or bad hair days. Even if you're willing to pay for the upkeep, chemicals take their roll on hair's health.
Three perms and two color services later, your hair could end up looking like three-day old spaghetti. A shorter cut and a few layers control fine hair as much as a perm can; a rich, warm brown probably looks better on a dark brunette than arctic blonde does.
3. Don't Overuse Products
If you mix a gel and a silicone shiner, use too much (more than a dime-sized amount for starters), then add hair spray over the top, you'll get dull-looking locks that have a gummy feeling. A small amount of product gives you control; too much weighs hair down.
According to Ken Paves of Ken Paves Salon in Beverly Hills, California, how much product you should use depends on the texture, length and density of your hair, and the type of product you're using.
You can use lots more mousse than super-hold gel. In general, start with a dime-sized amount of gels and setting lotions; use a half-dollar-sized dollop of mousse; mist on just 3 to 4 pumps of spray-on gels, leave-in conditioners, volumizers and finishers; use just a drop or two of shiners, glossers and pomades.
Remember, you can always add more, but you don't want to start all over at the sink.
4. Use Rollers Right
Rollers are super-popular these days, whether they're Velcro, hot rollers or self-adhering ones. If you are using unheated rollers, set hair when it is just damp.
Don't apply any product until hair reaches the damp state; it'll just take longer to dry. Add a bit of product when hair is barely damp and roll up rollers, positioning largest-diameter ones at the top for maximum volume. Allow them to dry completely (you can speed this with a blow dryer), then unwind rollers carefully.
If you use hot rollers, allow them to cool completely before gently unwinding them. Umberto of Beverly Hills then suggests that you bend at the waist and finger comb curls to break your hair up.
This is how models get their "natural," sexy style. Add a small amount of finishing spray or hair spray underneath, if desired.
5. Think Roots First
When you're blow drying, lift hair and blow dry the root area first. Also, concentrate the most volumizing product at this area, bringing just a small amount through to the ends. This gives you height and volume. Once you've dried in "root lift," continue to dry the ends, using a smaller-diameter brush if you want end curl.
6. Be Prepared
If your hair starts out great and poops out on you mid-day, be ready for it. A small bottle of water can be used to mist hair lightly and "re-activate" mousse and gel.
Today, there are lots of purse-sized curling irons and setting tools that you can use for quick touch ups between office and dinner. If you have long hair, wrap it into an updo during the day; when you let it down, you'll have instant, long-lasting volume.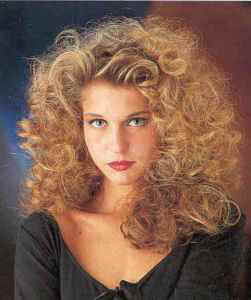 If it's humid and your hair frizzes up, carry a small size of a frizz control product, such as John Frieda's Frizz Ease. If hair goes limp when it's humid, get a shorter cut that looks more controlled, consider a body perm or a root perm, or wait until you get where you're going to completely comb through set-in body.
Separated curls are in vogue and you may not want to completely brush through locks anyway.
A pin curl set with setting lotion will hold fine, limp locks the longest.
7. Add Body
In a recent survey, most women described bad hair days as times when hair was flat, limp and lifeless.
To add body, always start with freshly washed hair. Bend at the waist and begin drying hair as you finger style it. When 50% of the moisture has been removed, add most of your gel or mousse and lift hair with a vent brush or a large-toothed comb.
Continue drying, then flip your head up. If it is humid outside, use a tiny amount of mousse to re-define waves. Rub it between your palms and finger style it into dry hair.
8. Easy Updo
If you're having trouble putting your hair up and having it look neat, try one of updo tools from drug stores or infomercials, such as the Houdini, Hair Scroo, Topsy Tail or the hair "ratt," which is a padded form you wrap your hair around.
The secret to the updo is to gather all your hair together neatly and high enough on your head. Then carefully roll or wind it in the desired direction. Conceal bobby pins under a seam or a chignon.
9. Tame That Cowlick
Cowlicks are usually at the hairline or at the back crown area. A hairline cowlick can be used to advantage if you lift it and use it for added height. Let the cowlick determine your part line. Or, brush hair in the opposite direction for extra-high lift. A bit of gel before drying is all you need.
If your hair "splits" at the back crown, set just this section on hot rollers. For short hair, set rollers two in alternating directions or take a very large, horizontal parting and weave out half the section with the end of a rattail comb, using an in and out weaving technique.
Set one half to move down; set the rest to move up. Once rollers have cooled, lightly backcomb the area, smooth the surface and comb the ends for control.
10. Get Regular Trims
Because the best way to avoid the bad hair day is a great cut, regular trims are essential. In fact, most women who have bad hair days go for much longer than 4 to 6 weeks between trims.
Even if you want to grow your hair longer, keep it neatly trimmed. If hair is grown out so much it has little shape left, use gel to smooth it or flip up ends if they are long enough. If your hair has none of the shape of the original cut, that's when you find yourself resorting to ponytails, hats and paper bags.
About Victoria Wurdinger
Victoria Wurdinger is an award-winning writer and researcher who specializes in business and beauty.
She has written for dozens of magazines, including Longevity, Drug Store News, Beauty Digest, Drug & Cosmetic Industry, Modern Salon, Art Business News, British Hairdressers Journal, Celebrity Hairstyles, Color & Style, Beauty Store Business, Studio and Day Spa.
Victoria has also authored several books, including "Competition Hairdesign," "Home Haircutting Made Easy," "The Photo Session Handbook" and "Multicultural Clients."
She has won several American Society of Business Press Editors awards, not only for her writing but for her design and layout concepts.
If you want to talk more about this or other hair care articles on HairBoutique.com or anywhere else, please post a message on HairBoutique.com's Hair Talk Forums.