May 2nd, 2002 by Karen Shelton
Introduction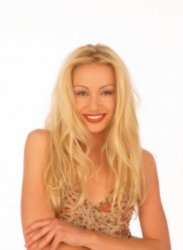 Beautiful blonde Portia shot to television fame as the no-nonsense long tressed blonde legal eagle on Fox TV's Ally McBeal. (Portia de Rossi as Nelle. CR:Aaron Rappopport/FOX 2002 FOX - All rights reserved). Even though Ally McBeal goes off the air at the end of May, many fans will never forget Portia's gorgeous long blonde looks.
Although Portia has long locks that flow down her back, she loves to mix it up with her onscreen styles. To achieve a no-nonsense frosty legal presence Portia wears her lovely locks in a variety of tight buns on top of her hair. She lets her beautiful tresses flow free in a variety of wavy, curly and twisted dreads styles for more romantic or fun scenes.
In her private life Portia loves to surprise with everything from a head full of super tight ringlets to soft ponytails and twists. Portia proves that long hair offers the opportunity to try on a wide range of hair styles and looks.
Portia's Acting Fate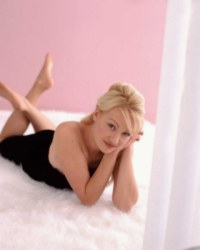 Unlike many actresses, Portia de Rossi did not intentionally seek out an acting career. Instead, she was pursued by it. Portia de Rossi as Nelle. CR:Aaron Rappopport/FOX 2002 FOX - All rights reserved
She was enrolled in law school and well on her way to becoming an attorney in her native Australia when movie stardom beckoned. Local film producer John Duigan asked her to audition for an independent film he was making. The film turned out to be "Sirens," which co-starred Hugh Grant, Sam Neill and Elle MacPherson. de Rossi got the part of Giddy, a 16-year-old caught between the notion of being a wild and free "siren" or being a conventional and sophisticated woman. The film became an international and critical success.
Her other starring role was in the mega-hit "Scream 2" as Murphy, a social-climbing sorority girl who, along with Rebecca Gayheart, recruits Neve Campbell's character to join their elite group. (Nelle "In Search of Barry White" episode of Ally McBeal Monday, April 23 (9:00-10:00 PM ET/PT) on FOX™ 2001 FOX BROADCASTING CR:FOX)) Also for the big screen, de Rossi will soon be seen in several new films, including "A Breed Apart" with Andrew McCarthy; "The Invisibles," a two-person film with Michael Goorjian; "American Intellectuals," an ensemble piece about a clique of upper-class kids who experiment with smart drugs; and "Girl," a coming-of-age story with Dominique Swain, Summer Phoenix and Sean Patrick Flannery.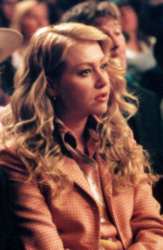 Photo to side: Nelle (Portia de Rossi) tries to figure out a way to keep the peace between a minister and his ex-girlfriend vs. current girlfriend on Ally McBeal, (Photo courtesy FOX 2001 CR:Gale M. Adler/FOX - All rights reserved).
For television, de Rossi starred in FOX's "Too Something" as Maria, a junior account executive at a financial corporation. Most recently, she guest-starred on "Veronica's Closet" and was a series regular on "Nick Freno." She lives in Los Angeles.
Steal Her Twists - Faux Dreads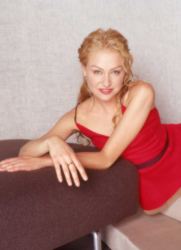 Portia loves to wear her hair in a variety of ways. She looks especially gorgeous with her long blond locks spiced up with soft faux dreads and twists and either pulled back off her face or softly flowing around her gorgeous skin and eyes. (Photo of Portia de Rossi as Nelle on Ally McBeal on Fox™ 2000 FOX BROADCASTING CR:FOX - All rights reserved).
To recreate Portia's twisted look complete the following steps:
1. Shampoo with a product designed for your hair type. If you need extra volume, shampoo with Phytotherathrie's Volume or the new Volume Mousse Shampoo. Follow with a rinse out conditioner if appropriate. Finish the cycle with a cool/cold water rinse to add extra shine.
If you have colored or highlighted hair consider using color enhancing shampoo and conditioner to keep your hues looking spectacular.
2. Towel blot hair to remove moisture. Apply a good detangler and remove all tangles working from the bottom to the top of the head. If you wish to create Portia's side part, use a comb with a pointy end and create a part from the front to the back of your head.
3 For extra fullness apply a volume enhancing product like Phytotherathrie Actif at the roots. If extra volume is not required, apply a good leave-in conditioner or heat protectant spray to protect strands from blow-dryer heat. If you prefer, apply a gel or styling mousse to add overall control and body.
For hair with slight natural curl or wave apply a straightening balm or defrisant balm to help straighten as you blow dry.
4. Separate your hair into sections and blow dry using a boar's head paddle brush. Told the hair taut with the brush and direct the air flow of the dryer from the roots to the ends to add natural shine. (Photo of Portia de Rossi as Nelle Porter. CR:George Lange/FOX 2002 FOX)
5. Once the hair is 100% dry separate hair into one or 2-inch sections of hair. Remember that the smaller the section, the smaller the twist. Apply a gel, paste or wax to the palms of your hands and then mix well with the heat of your palms. Glide your fingers from the roots to the ends of each section.
6. Twist each section of hair clockwise from the roots to the ends. Clip the new twist at the end. Wrap a piece of aluminum foil around the twist lengthwise.
Experiment with twisting your hair both clockwise and counterclockwise for a different look.
7. Roll the foil up to the root until you have only a small knot like piece of aluminum foil at the roots.
8. Use a blow-dryer on a high setting and direct the air flow towards the knotted twist at the top of your head. Blow dry for approximately 3-5 minutes or until the foil feels hot. Let the foil completely cool while you work on the next twist. Complete Steps 5-8 until you have twisted, wrapped, dried and cooled your entire head.
(Photo of Portia on Ally McBeal: on FOX - All Rights Reserved).
You have the option to just twist a few select strands or to twist the entire head. Portia appears to prefer only twisting a few select strands around her hairline. Other stars like Heather Graham seem to prefer having their entire head of hair twisted.
9. To finish the look unwrap all the foil and use your fingers to carefully smooth the new twists into place. For a looser look use a small barrel curling iron to form ringlets mixed in with the twists. Spritz your entire head lightly with a good shine spray like Mine Barbee Blast. If you prefer, use your fingers to smooth your hair into place then add a few drops of Phytotherathrie Serum to the palms of your hands and smooth over the top of your hair from roots to ends.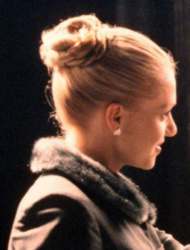 Wear hair parted from the side like Portia or jazz up the look with a messy part. (Photo of Portia de Rossi, Ally McBeal episode "Happy Trials" on FOX. 2002 FOX Cr: Carin Baer/FOX - all rights reserved).
Instantly dress up the look with hair snaps or magnets, beads or a light amount of sparkly gel. A spectacular and edgy look.
If you get tired of wearing your hair down in twists you can also do what Portia does for court appearances and neatly wrap her twists and waves into a beautiful twisted chignon that rests at the back of her crown.
If you want to talk more about this or other hair care articles on HairBoutique.com or anywhere else, please post a message on HairBoutique.com's Hair Talk Forums.