Last updated on May 9th, 2006 by Karen Shelton
Introduction
Although Chris De Burgh wrote his famous Lady In Red song about a gorgeous lady in a red dress, he might have been describing the stunning red tresses of superstar Jessica Simpson worn over the weekend at the star-studded ALMA awards.
The blonde bombshell was radiant in a sassy chin-length red wig that is part of the new Jessica Simpson/Ken Paves hairpiece line coming out soon.
Jessica's longtime celebrity hairdresser and best friend, Ken Paves (image at bottom left of this page), confirmed "the amazing color was officially called "ginger" and was the "perfect shade of neutral red" to work in harmony with the "hair and fashion icon's golden skin tones".
Ken confirmed that "the stunning wig was tested on Jessica in a recent photo shoot" that is hush hush for the moment". Sharing inside hair scoops, Ken confided "Jess has always wanted to be a red head" and the "sizzling 100% all human hair wig" offered Jessica a "hot new hair look without commitment". After all, Ken pointed out, "who better to take the sassy new wig, designed as a special tribute to Norma Jean, than Jessica?"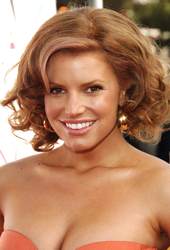 Steve Granitz/WireImage All rights reserved.
The star, who "played a major role in all the new hair line designs with Ken", also happens to be "the President of their new hair company."
Explaining that Jessica's friend, "CaCee Cobb first braided all of Jessica's natural hair down flat", Ken then skillfully positioned the silky hair piece "right at the star's hairline". After sliding on the stunning wig, he styled her bangs in a seductive side sweep "from a deep side part". He carefully "smoothed one side behind her ear using his fingers to pull some of the back curls forward so that they gently caressed her cheeks".
In preparation for the Jessica's appearance at the ALMA awards Ken wet set and pin curled the custom colored and cut hair piece the night before the show with Paves Professional FLAWless Red Carpet Mousse. He then let the piece "air dry" for the best results.
The hair wizard then styled and curled the hairpiece, utilizing his best selling Paves Professional products such as Paves Professional - FLAWless Convertible-Proof Firm Hold Repairing Hair Spray and Paves Professional - FLAWless In The Spotlight Greaseless Essential Oil Shine Serum (the entire Paves Professional line of award winning products is available at HairBoutique.com).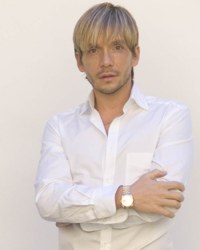 Courtesy Ken Paves - All rights reserved.
Ken painstakingly used "a middle barrel curling iron to create the sexy tousled texture along the edges of the hair piece". He finished with "a Mason Pearson brush and his famous finger styling" to achieve the perfect look.
After the gorgeous "is it really a wig" shimmering red hairpiece was snuggly in place, celebrity make-up artist Mary Phillips set to work skillfully designing Jessica's makeup to perfectly match her saucy new hair hue.
It is obvious the star was having a lot of fun as a spicy redhead. As Jessica laughingly explained on the ALMA Red Carpet, to the myriad of frenzied reporters, her current blonde hairline (only the hairline) was "carefully covered with matching red eye shadow to match the wig".
Summary
It seems impossible that this gorgeous woman could be any more beautiful as a redhead than she is as a blonde. The truth of the matter is that Jessica looked absolutely radiant in her new hair hue. The good news for her millions of female fans is that very soon they will be able to follow the star's example and achieve her exact ginger hued look on their own heads when the Jessica Simpson/Ken Paves new hair line is available.
Jessica's fans, as Chris De Burgh wrote" will never forget the way that she looked" in her sassy new style.
If you want to talk more about this or other hair care articles on HairBoutique.com or anywhere else, please post a message on HairBoutique.com's Hair Talk Forums.