July 24th, 2006 by Karen Shelton
Introduction
Patrick Cameron is a world famous specialist in the long hair arena. Besides his tremendous knowledge and expertise with long hair, Patrick does amazing things with bridal and formal even hairstyles for medium to longer hair.
Patrick has published two gorgeous stylist books and three incredible videos that showcase his styles. This is permission we are able to present this gorgeous soft updo hairdo, compliments of Patrick Cameron's Dressing Long Hair book.
As you can see, this style requires shoulder length hair or longer hair. If your hair is naturally curly or wavy you will need to blow dry it straight before you create this nape knot.

This gorgeous hairdo, compliments of Patrick Cameron's Dressing Long Hair book, requires shoulder length hair or longer. If your hair is naturally curly or wavy you will need to blow dry it straight before you create this nape knot.
Now available in HairBoutique.com's Marketplace Patrick's Long Hair Videos, Bridal Videos & Books. They will knock your socks off. Check them out.
Step By Step Instructions For Creating Nape Knot Updo Style
This style actually works best on hair that is "aged. If possible, apply this style to hair that is not freshly washed. If you allow time for the oils to build up on the hair the style actually looks more sophisticated and elegant.
If you are not comfortable with wearing "day old" or "aged" hair, wash and dry you hair as far in advance as possible.
Towel dry and then apply a leave-in hair conditioner that will also protect your hair against blow drying. Use a good leave-in conditioner to give your hair some weight and manageability.
Use a hair pick or wide toothed comb to carefully detangle your hair. Always remember to start at the bottom of your hair and work your way up to the roots. Take your time so you don't snag or break your hair.
Blow dry your hair upside down so that it is as straight as possible. If your hair is naturally wavy you may want to consider using a good temporary straightening balm. Right before blow drying, apply a good gel at the roots of the hair to add volume if you want a fuller look at the roots.
When your hair is dry, finger pick it smooth and then brush it carefully. Use a paddle brush.
Smooth your hair into a low ponytail. A low ponytail is a tail that would have the knot gathered close to the nape of your neck (As shown in the photo).
Put a "hair friendly" elastic coated hair band in your hair to hold the ponytail. You may want to use a band that matches your hair color.
Take the entire length of the ponytail and fold the ponytail under to form a large soft curl with about 1/2 the length of the ponytail sticking up close to the back of your head.
Put a clip on the extra hair so that you can pin the first big curl close to your head.
After you have pinned the ends of the ponytail take the remaining hair and wrap it up and over the ponytail holder. Pin the remaining looped ponytail to the other side of your head.
Use a good hair spray and lightly spray the new knot to hold in place.
This simple, but elegant style, can be dressed up in a variety of fabulous ways. You can add a few gorgeous hair sticks, some beautiful sparkly pins or you can also add seasonal flowers to the top and sides of this loose chignon. You can make the knot as tight or loose as you like. It will create a soft look at the nape of your neck.
It is always important to remember to spray your hair before you add any hair jewelry like hair sticks, floating hair gems of the like. It is always helpful to carry a few extra hair pins in your purse in case you lose some of the pins in the process.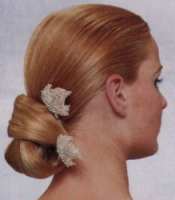 This gorgeous hair style looks great on a bride, the bridal attendants or for anyone that wants a fabulous, but simple style. It is great from Prom or dressy hair events.
Of course keep in mind you don't want your hair to upstage the bride.
This hairstyle instantly dresses up your look.
Note: If you enjoyed reading about this hairstyle you will probably also enjoy his three long hair videos, 2 bridal videos & 3 books available from the HairBoutique.com Marketplace.
If you want to talk more about this or other hair care articles on HairBoutique.com or anywhere else, please post a message on HairBoutique.com's Hair Talk Forums.
Social Media Network Information
Please follow me on Twitter at: http://Twitter.com/HairBoutique. I look forward to meeting new people
from all walks of Twitter and learning from their Tweets. Visit us at Hairboutique.com located at: http://www.HairBoutique.com, on Facebook, MySpace and YouTube.
Thank you for visiting us at The HairBoutique Blog and for leaving your comments. They are very much appreciated. We apologize in advance but must remove any direct advertisements or solicitations.
Original Publication Date: 3/1998