March 1st, 2006 by Karen Shelton
Introduction
Jessica Simpson, Jaime Pressly and Sarah Jessica Parker are famous for their luscious blonde locks. Ironically, while their atomic kitten white, honey and dark golden shades are the constant subject of the entertainment, beauty and fashion media, their dark re-growth roots are also buzzed about.
Recently a well-known celebrity watcher's website publicly chided celebrity hairdresser Ken Paves for the fact that his famous client, Jessica, had very obvious dark roots. (See image to the side).
Ken laughed about the dark root mention as we recently chatted while he took a quick break from working on Eva Longoria's hair.
These Roots Are Made For Showing
"Jessica has dark roots on purpose", the famous celebrity hairdresser pointed out. Ken explained that "during the initial hair design phase for Jessica's new movie", Employee of the Month, Ken and Jessica "discussed at length how Jessica's character might wear her hair".
Since Jessica's character works "in a Costco-like store" and "is a real woman who has a busy life" Jessica and Ken decided to go with a more "realistic and less glamorous look for the character's hair." Ken and Jessica wanted to honor how her character might really deal with her own hair.
In preparation for her role "Jess and I decided to just let her darker roots grow in" he explained. "Once the roots appeared, I added hair extensions for the movie". After the roots had grown a bit, Ken and Jess decided that "they really liked the look" (with the darker root area) and agreed that "with the added extension length", Jessica's hair "was exactly what they were going for".
The people (producers, director) with the movie also "really liked the contrasting dark root look with the added length". As a result, Jessica has made it a point to avoid having her hair colored since well before the movie started filming.
Resulting in the noticeable and intentional dark roots that Jessica has recently been photographed wearing. Note the word "intentional". Which makes the attack on Ken's talent as a celebrity hairdresser completely unwarranted, unfair and not based on fact. The man is a true hair genius and one of the very best in Hollywood.
Ken also reported that Jessica's on-set hairdresser, Jessie Holiday, recently slightly touched up her roots, but left them darker for continuity".
Move Over Joy On Everyone Loves Earl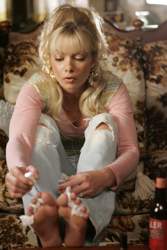 NBC All Rights Reserved.
Famous celebrity hair colorist Rita Hazan (of the Rita Hazan Salon in New York City - 212-735-4757) has been "working with Jessica's hair color for several years".
She also personally tends to the custom weaving of the glorious golden hues of sizzling star Jaime Pressly. Not only has Jaime been working with Rita for "quite some time" the two women are "very good friends".
Earl's Joy is the queen of trailer trash. Her hair is often teased into an array of big hairstyles with very prominent dark roots. While the brassy blonde hair and dark root line is perfect for Joy, it can cause some challenges for the actress when she is doing a Red Carpet gig.
I spoke to Rita right before the recent People's Choice Awards show. She had just recently "freshened up" Jaime's blonde hues and "made it a point to leave the darker roots intact".
Rita explained that when her famous clients like Jessica, Ashlee, Jennifer Lopez and Jaime are working in a specific role, she is limited to what she can do with their current color. Rita also confirmed that Jessica Simpson's current hair roots are intentional for her Employee of the Month character.
Rita reminded me that Jessica also had roots in her Dukes of Hazard role because it went with the "true character of the role and how Daisy Duke would have really worn her hair" After all, Daisy Duke was a busy young lady who most likely didn't have time to hang out getting her foils redone on a regular basis. In fact, Daisy was probably a fan of the Wal-Mart hair colors.
Natural Hair Color?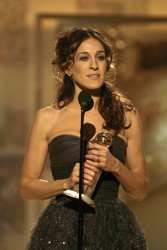 DailyCeleb.com All Rights Reserved
If you consider carefully the fact that most actresses (and actors), are often required to jump though all sorts of appearance hoops to portray film and TV characters, the viewing audience should be more surprised when the celebrities don't have odd hair color anomalies then when they do.
I was personally surprised to learn that there was any buzz about Jessica's latest root appearances. After all, Jessica is blessed with access to the very best celebrity hairdresser and colorist in the industry at this time. Certainly it would never occurred to me that she would have root growth looming from her follicles unless there was a very good reason.
Ken and Rita are very protective of their famous client. They also consider her part of their families. I would never believe that Jessica's hair would be intentionally ignored by either celebrity hair icon.
Hue Happenings?
Rita Hazan understands better than most hair colorists the constraints of constant hair color changes that her celebrity clients and their delicate strands must endure.
She explained "whether the challenge is freshening up the surrounding color while maintaining the roots or dealing with drastic color changes, her goal is always ultimately to honor her client's performance requirements" and to make sure "their hair stays as healthy as possible".
Color And Conditioning At The Same Time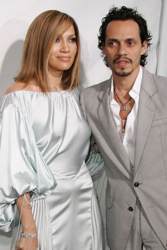 DailyCeleb.com - All Rights Reserved
Regardless of the color constraints that Rita has to live with, she confessed that she always "loves the color she utilizes on all of her clients to be really vibrant" regardless of the shade.
To guarantee perfect hues, Rita always finishes off her highlights and color treatments with "a glossing treatment" that adds "shine and prevents frizziness". Rita insists that her famous clients "have a series of deep conditioning treatments to maintain the health of their heavily treated tresses".
Rita confided that she has other tricks that allow "Jessica, Jennifer, Jaime and her other famous celebrities to get their tresses conditioned while they are being colored or highlighted". Rita's secret? She "mixes Phyto's Huile D'Ales - Intense Hydrating Oil Treatment with the color chemicals".
Rita loves the results that she obtains with the Huile D'Ales. She pointed out that it is a fabulous "revitalizing botanical oil that smoothes & hydrates dry, brittle hair & mends splits ends". The oil is also 100% natural and it includes essential oils of sage, rosemary & juniper. It is ideal for color-treated & long hair.
Rita encourages her clients "to use the Huile D'Ales at home in between their color treatments". She promised using this product "makes a significant difference" and makes her celeb's tresses "super shiny, healthy and luscious".
Summary
Never judge a celebrity by their hair roots. Afterall, if the actress has darker roots, it probably just means that she is very sought after in her acting field since working actresses are most likely to be required to color their hair for their latest role.
It could be a lot worse. They could be required to gain or lose large amounts of weight for a character and that is a lot harder to do then let a few roots go dark.
Social Media Network Information
Please follow me on Twitter at: http://Twitter.com/HairBoutique. I look forward to meeting new people
from all walks of Twitter and learning from their Tweets. Visit us at Hairboutique.com located at: http://www.HairBoutique.com, on Facebook, MySpace and YouTube.
Thank you for visiting us at The HairBoutique Blog and for leaving your comments. They are very much appreciated. We apologize in advance but must remove any direct advertisements or solicitations.
- Revised Publication Date: 05/22/10
If you want to talk more about this or other hair care articles on HairBoutique.com or anywhere else, please post a message on HairBoutique.com's Hair Talk Forums.