Last updated on November 19th, 2001 by Karen Shelton
Introduction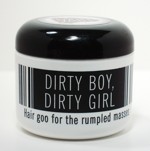 Those of us who love and need (ok, ok, are HOOKED on) hair gel every day, here's a new line for you: VAIN. I tried the Vain Dirty Boy, Dirty Girl (Hair Goo for the Rumpled Masses). Previously I tried the Vain Big Hair Hold. Always a sucker for catchy names, I loved these.
The spray truly is versatile, and can be used either to style or simply finish your 'do. It makes the hair pliable and easy to work with, but doesn't cause those annoying flakes you often get with other sprays. You can use it on wet or dry hair, and it also contains a sunscreen to protect your precious hair from punishing UV rays!
The hair gel is pretty neat. It's billed as 'a flexible sculpting gel that helps you create that just bedded look'—just think of the possibilities! It, too, has a sunscreen in it to protect the hair.
How I Tested VAIN Big Hair Hold and Dirty Boy, Dirty Girl Hair Goo
Let me create the scenario for you—I had to beat the rest of my town in to my service station for an oil change at 7am on a Saturday morning, after which I planned to spend a fun few hours at work. So I needed the maximum look in the minimum amount of time.
I didn't even take the time to shampoo my hair, just jumped in and out of the shower. I scooped out about a nickel-sized glob of Dirty Boy, Dirty Girl Hair Goo out, and worked it into my towel-dried hair. Get this—the goo is bright PURPLE! That will wake you up without the coffee! It also has a pleasing, jelly-like feel, and distributes easily into the hair. I found it very easy to form my trademark spikes and bangs. So far, so good.
Gel Ingredients
Purified water, PVP, phenyl dimethicone (silicone), carbomer 940 (thickener), extracts of matricaria, sage, cranesbill, yarrow, balm mint, lemon grass, oak bark, wirch hazel, rose hips, comfrey leaf, aloe, panthenol (Pro Vitamin B5), propyl glycol (humectant), dimethicone copolyol (silicone), triethanolamine, diazolidinyl urea, methylparaben, propylparaben, fragrance, D&C Red #33, D&C Ext. Violet #2.
NOTE: Use caution—do not expose to temperature exceeding 120 degrees. Do not use near fire or flame.
Fragrance
The aroma of this gel is something else entirely. It has a sweet, candy-like scent, but you can detect the mint balm as well.
Packaging
The VAIN gel comes in a neat white plastic jar with a black top and lettering, and of course—VAIN's distinctive logo on the top.
Conclusion
This is the first time I've used VAIN products, and I was favorably impressed. The Vain Dirty Boy, Dirty Girl Hair Goo does all that it promises, plus it contains a great sunscreen. Since I regularly fry my hair in the relentless Dallas summers, a good sunscreen in hair products isn't just a convenience but a necessity.
Jane's Rating
On my own scale of 1-10, 10 being the best, I give VAIN Dirty Boy, Dirty Girl Hair Goo a 9.5.
If you want to talk more about this or other hair care articles on HairBoutique.com or anywhere else, please post a message on HairBoutique.com's Hair Talk Forums.